Qualcomm Snapdragon 845 SoC Promises To Boost Performance, Security and Immersion
By
Qualcomm introduced the Snapdragon 845 Mobile Platform yesterday at the Qualcomm Snapdragon Tech Summit 2017 and gave more details on the upcoming "premium' mobile SoC during the second days keynote presentation. Qualcomm said it's focusing on five key areas with this new processor – AI, security, connectivity, performance and immersion.
Immersion
The first area Qualcomm talked about was immersion and that basically means the ability to capture and render the world around you at higher resolutions and better quality than ever before for more realistic results. Qualcomm says that consumers will be able to blur the lines between physical and virtual worlds now. The Snapdragon 845 will feature a Qualcomm Adreno 630 graphics processor and Qualcomm's Spectra 280 image signal processor (ISP) that we learned about a few months back. Snapdragon 845 will be able to captures 64x more high-dynamic range color information for video capture and playback on Ultra HD Premium displays, compared to the previous generation. That means 10-bit color depth can be pushed to wide Rec. 2020 gamut displays for 4K/Ultra HD videos unlike anything you've seen on a mobile device. Think about brightness of up to 10,000 nits with this platform! Snapdragon 845 is the first mobile platform to enable room-scale 6 degrees of freedom (6DoF) with simultaneous localization and mapping (SLAM)for features such as wall-collision detection
AI: Snapdragon 845 is Qualcomm Technologies third-generation AI mobile platform and they are seeing a delivering 3x improvement in overall AI performance of the prior generation SoC. It doesn't matter if you are interested in XR (extended reality) or AI (artificial intelligence), the new Snapdragon 845 is said to be the fastest solution on the planet. Qualcomm sees your smartphone being your personal assistant as AI will help manage your pictures and videos how you like and will enhancing your VR games. The Snapdragon 845 voice-driven smart assistants work so well due to the Qualcomm Aqstic audio codec (WCD9341) and low-power audio subsystem that was designed for all day battery life. The Snapdragon Neural Processing Engine (NPE) SDK now supports Tensorflow Lite and the new Open Neural Network Exchange (ONNX) for Caffe2, CNTK and MxNet support in addition to the existing support for Googles TensorFlow and Facebooks Caffe/Caffe2 frameworks. Snapdragon 845 also supports Googles Android NN API.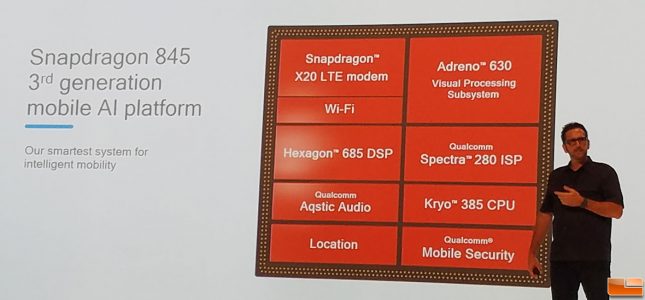 Secure: You need to your biometric data safe, so Qualcomm has adaded a 'Secure Processing Unit' (SPU) that is on its own 'secure island' to the Snapdragon 845. This section of the SoC has its own microprocessor, random number generator, memory and power island to defend against hackers. This security vault provides a third level of security on top of the two existing layers, and is designed to protect biometric information better than anything on the market today.
Connect: When it comes to connectivity the Snapdragon 845 the latest in LTE, Wi-Fi, and Bluetooth features. On the LTE side of things the Snapdragon 845 features the Snapdragon X20 LTE modem. This will allow you to download a 3GB movie in less than 3 minutes thanks to the Snapdragon X20 modem supporting an expanded range of technology and frequency band configurations across licensed, unlicensed and shared radio spectrum. The modem supports LTE Category 18 peak download speeds of 1.2 Gbps, up to 5x carrier aggregation, License Assisted Access (LAA), Dual SIM-Dual VoLTE as well as 4×4 MIMO on up to 3 aggregated carriers. For Wi-Fi lovers you'll find 60GHz 802.11ad Wi-Fi for multi-gigabit coverage at speeds up to 4.6 Gbps, and integrated 802.11ac Wi-Fi to fall back on for older networks. Bluetooth fans aren't left out either as Bluetooth 5 support allows broadcast audio simultaneously to multiple wireless devices at the same time.
Perform: The Snapdragon 845 offers significant improvements in performance and battery life. . The new Qualcomm Kryo 385 architecture is built on the latest Arm Cortex technology and that means you will see a 25 percent performance uplift across gaming, application launch times, and performance intensive applications compared to the previous generation (Snapdragon 835). .Qualcomm went with the ARM Big.Little CPU arrangement and they are using Cortex A75 for the big corses and Cortex A55 cores that little cores. The design on these cores would be considered semi-custom, so Qualcomm doesn't call them that. The four performance cores ramp up to 2.8GHz while the efficiency cores clock up to 1.8GHz. Graphics performance efficiency is up by roughly 30 percent on the new Adreno 630 GPU and it is said to support the Vulkan 2 API that we've not even hard of until today.
As for availability, we are looking at sometime in early 2018 for Qualcomm's partners to roll out smartphones using the Snapdragon 845 SoC. The highly anticipated Samsung Galaxy S9 smartphone wasn't mentioned at the summit, but we expect it to be one of the first phones to rock this SoC and might be announced at MWC 2018.