QNAP NMP-1000 Network Media Player Review
By
Introducing the QNAP NMP-1000 Network Media Player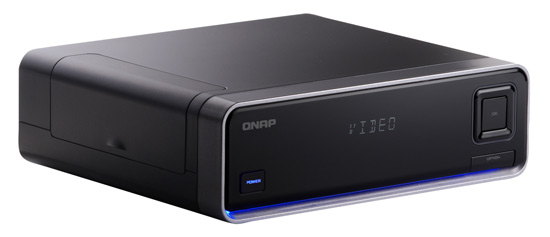 Today we look at QNAPs Network Media Player, the NMP-1000 that features a robust multimedia server and can serve as a very capable Network Attached Device. We have seen QNAPs products in the past mainly in network storage where their attached devices have performed superbly. The NMP-1000 is a sort of hybrid dual functioning media player and storage device. Whereas some players only have the ability to connect to their televisions and stream multimedia, the NMP-1000 can not only play multimedia files, it can host them on an optional hard drive and become a network attached storage device.
At a retail cost of $439.00, this is the most expensive media player we have seen so expectations for this player are very high. Well, boy does it look good on paper! At the heart of the NMP-1000 is a Sigma SMP8635 SoC hardware-based decoder that can output multimedia content via an HDMI 1.3 interface at resolutions up to 1080P. The NMP-1000 can play almost all audio and video file formats such as the popular file files: MKV, M2TS, AVI, FLAC, WMA, MP3, and WAV.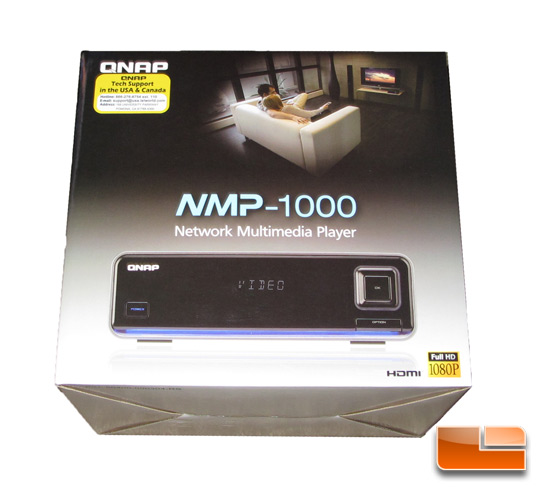 Besides the HDMI 1.3 output support, QNAP really does make this a tricked-out player. As with most of the media players we have seen, the NMP-1000 was designed to breathe life into your existing home theater and home network. You are able to view your local multimedia files and also view your multimedia files that you have stored on the internet. The NMP-1000 allows you to access the latest YouTube videos, Apple movie trailers, Flickr photos, and even get real-time weather information and forecast for your location. It has a SATA HDD interface, support for Gigabit networking, and support for network shares.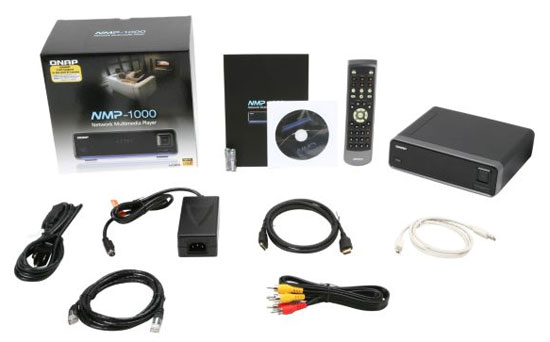 QNAP NMP-1000 Media Player Featured Specifications:
Processor
Sigma Designs SMP8635 Memory
Memory
256MB DDR RAM, 64MB flash
HDD Capacity
1 x 3.5 SATA I/II HDD, up to 2TB
LAN Port
1 x Gigabit RJ-45 Ethernet port
VFD Display
9 alpha-numeric character
LED Indicators
Power/ Status (Player mode: blue; NAS mode: red)
Direction key (OK)
USB
2 x USB 2.0 host (for storage expansion) , 1 x USB 2.0 device (to PC, NMP works as a mass storage device)
Supports 802.11b/g/n by USB wireless adaptor (optional purchase)*
eSATA
1 x eSATA port (to PC; NMP works as a mass storage device)
A/V Output
HDMI v1.3a, component (Y, Pb, Pr), composite video, S-Video, analog stereo out, S/PDIF optical and coaxial
Buttons
Power button
OK/ play button, four direction buttons, option button
Form Factor
Portable
Dimensions
204 (H) x 176.4 (W) x 62 (D) mm
8 (H) x 6.9 (W) x 2.4 (D)
Let's take a closer look at the QNAP NMP-1000 and see what it is all about!