Prescott Temperatures Examined
By
Introduction: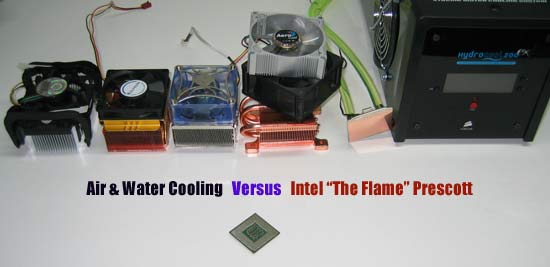 We didn't mention specifics about temperatures in our original Prescott review since we wanted to test a number of cooling solutions. We thought you'd like to see a number of cooling solutions rather than just the one we used on our test system! We first noted an issue with heat when running the 3.2GHz Prescott at default and on the open bench with the retail heat sink. Our initial experience with the Prescott was short since the temperature monitor alarm went off (meaning we hit the max we set 72C) while running our benchmark suite.
Looking at the paper work that came with our Prescott press kit it was clear that high temps were expected and is something that end-users will have to learn to live with. Intel gives the Thermal Design Power (TDP) rating of their processors and below are some of the ratings.
Northwood 3.2GHz: 82W
Prescott 2.80GHz & 3.0GHz: 89W
Gallatin 3.2GHz: 92W
Gallatin 3.4GHz: 103W
Prescott 3.20GHz & 3.40GHz: 103W
As it can be seen the more recent chips are consuming a good dose of power and in turn are putting out more heat than we have ever seen. Our 3.2GHz Prescott defaults to a very low Vcore of 1.35, but since Intel has moved to a 90nm manufacturing process and strained silicon lattice we are seeing more heat.

The above image shows how the strained silicon has been "stretched" to allow better/faster electron flow. While the method works it also allows for increased leakage. If you look at the arrow on the left the gaps between molecules are small, which makes it hard for them to escape. The arrow for the image on the right shows how on the new strained silicon it is easier for leakage. The energy lost due to the gaps in strained silicon is released in the form of heat. Thus leading to increased temperatures and the need for better cooling!
Let's take a closer look at the cooling solutions that we will be testing!