PolarFLO TT Series CPU water block
By
Installation:
Usually there isn't much to talk about when it comes to mounting kits. They all have 4 posts, eight nuts, eight washers, and most of the time some springs. I ALWAYS hate such mounting kits, if you don't loc-tite the nuts on the backside of your motherboard; you usually end up pulling your whole system apart sooner or later as when you tighten a nut, the one on the back spins off. I was pleasantly surprised to see that PolarFLO used 2 screws instead of posts, thereby negating the need for loc-tite, simply slide on a nylon washer, slide the screw through the board, and secure it on the top with another nylon washer and a nylon thumbscrew. Extremely simple, yet very much appreciated.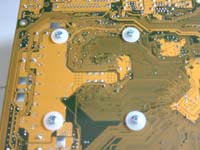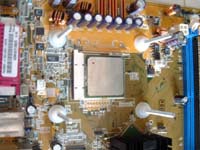 I'm not sure that springs would have made a difference with mounting the block, but I wish that PolarFLO would have included some, or some kind of mounting plate for the rear as I'm sure there are people out there who will over tighten the thumbscrews. Another fantastic aspect of this block is how the mounting plate is separate from the block itself, this allows you to align the barbs however you wish, preventing kinks in the tubing or changing the routing of the tubing. The mounting plate itself is very nicely configured with 5 holes on each side to allow for mounting on almost all board types (no socket 462). I was worried about the overall size of the mounting plate, especially with the layout of most new boards, but Steve rightfully pointed out that if people are advanced enough to go with water cooling, then they should be able to trim down the mounting plate itself, fair enough. My only other concern was the proximity of the barbs themselves, I personally don't use Tygon tubing because of price, and the fact I'm constantly changing the configuration of my system, but I can see where using a thicker walled tubing might cause problems with this block, there isn't a lot of room between the barbs for the included hose clamps, which also wasn't a problem for me as I only use zip ties. Both were very minor issues, but things that need to be pointed out.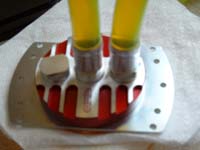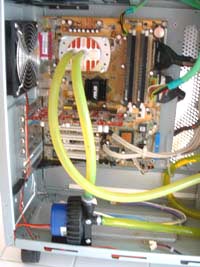 Test system:
I used my P4 3.2 E as my test processor for two reasons. First, the Prescott is notoriously hot, maybe the hottest CPU out there. Second, I chose it because my current favorite water block, the Danger Den TDX, is currently mounted on it, and I'm tossing the TT straight into the fire, almost literally. A couple of notes before we continue, I had PolarFLO send me their two barb setup, as I am comparing it to the two barb setup of the TDX, and, for this test only, I am removing the rest of my blocks (no chipset or GPU blocks) as I want nothing to compromise the test results.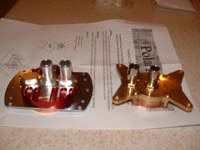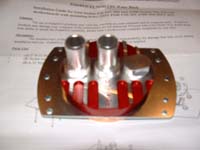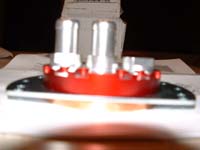 P4C800 E Deluxe Motherboard
P4 3.2 E Prescott CPU
1GB Corsair XMS Pro 4000
ATI Radeon 9600XT.
Danger Den DD12V-D4 pump
Black Ice 120mm Extreme radiator w/ two Evercool Chrome 120MM fans in a "push/pull" configuration
3.75 ft of generic ID tubing.
80/20 mix of distilled water and Zerex
* All tests were run at a temperature of 77F (+/- 1F) using ASUS' Probe and CPU Burn-In v 1.01
Testing:
For testing purposes I first started up my test system and let it idle for 30 minutes. I then recorded the temps and proceeded with 30 minutes of CPU Burn-In. The first thing I noticed at stock speeds was that both the Danger Den TDX and PolarFLO TT blocks had the exact same idle temp. I was pleasantly surprised that both kept my CPU at 32C at 3.2 GHz. with a v-core of 1.42.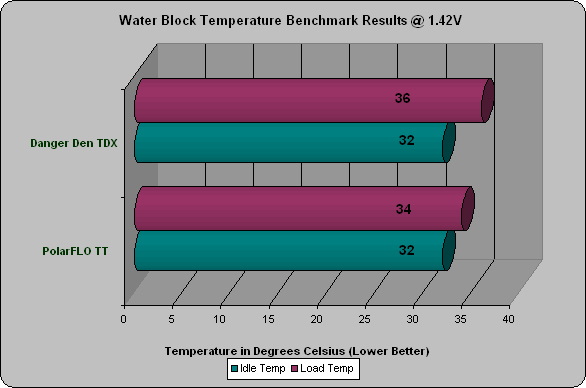 Things changed a bit when put under stress however. While the TDX ran at a very nice 36C, I was amazed that the TT rose only to 34C! I was so amazed in fact that I ran the test again, and came up with the same readings.
I then over clocked the CPU to 3.71 (1.475 v-core) and reran all of the tests. The TDX idled at 33C, as did the TT. When put under stress the TDX temps increased to 39C, still very good (And the reason I use Danger den equipment on all my stuff), but yet again I was shocked to see the TT's load temperature at only 36C!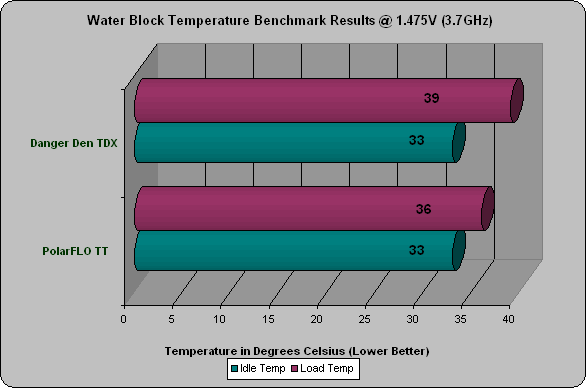 I have taken my Prescott over the 4 GHz barrier without too much problem. I really would have liked to have done that here, but I feel the test wouldn't really matter much as I would need to include additional cooling for the chipset and video card, which would be pointless and dilute the test results of the blocks themselves.
Needless to say, the Danger Den has some new company at the pinnacle of water blocks. I am a little disappointed in that I didn't have a wider variety of. blocks to test, I would very much like to put the TT in direct competition with its cousin, the PolarFLO SF, the Danger Den RBX, and the D-Tek White Water. Overall both blocks performed extremely well in all the testing and in a little everyday usage (Doom 3).
Conclusions:
Rich's Thoughts:
PolarFLO is fast developing a great reputation among water cooling enthusiasts as a premier maker of water blocks. Their SF series is widely regarded among the very best available and I was very curious to see whether their new TT block continued their success, or whether it was just another pretty face. At stock speeds, the TDX and the TT were evenly matched. When over clocked or stressed, while both blocks performed very well, the TT really stood out as an outstanding performer (note: Rich also only tested in 2 barb configuration to be fair in benchmarking, my guess its it will perform slightly better with all three barbs). I am sure that if paired with their chipset and VGA coolers, this system would satisfy even the most diehard over clocking enthusiasts.
On a personal note I'd like to add that I wish PolarFLO would stock such items as radiators, coolant, tubing, and reservoirs. I know from personal experience that being able to gather all the items you need from one spot makes life much simpler. It gets really hectic, and expensive, when you have to go to 3-4 different web sites to order everything you need.
PolarFLO offers their TT block in four two-tone colors, red, blue, black, and the very "bling-bling" chrome, these blocks are also offered in either or 3/8 inch configuration. PolarFLO also offer a variety of matching chipset and VGA blocks in the same colors and configurations.
PolarFLO definitely has a winner on their hands, this block is competitively priced, and as you can see it matches the best of the best performance wise. I highly recommend this block to anyone looking for the very best in water cooling. Look forward to a future article where I review and entire PolarFLO water block set.