PolarFLO TT Series CPU water block
By
Can the performance match the looks of this incredible looking water block?
Today I'd like to share with you my experience with the new PolarFLO TT CPU water block. PolarFLO is a division of the Horse Of Iron metal shop located in Bozeman, Montana.They are rapidly developing a fantastic reputation as makers of high performance water blocks and I was very curious to check out their new CPU water block for a couple of reasons. First, their SF universal block has developed quite a reputation as an incredible performer, plus the fact that it is "universal" means that it can be used on a wide variety of processor types. Second, after looking at the TT block I was very interested in a couple of their design ideas and how it would affect overall installation and performance. I was especially interested in the mounting design and the ability to use either two or three barbs. I was also extremely interested to see what makes their design so efficient at cooling the processor.
Impression:
When I opened the small carton I was very pleased to see the water block enclosed in a small foam envelope, also included were some very easy to understand instructions, a set of 5 hose clamps, and a mounting kit.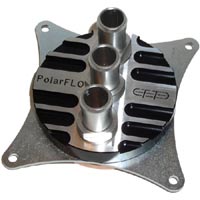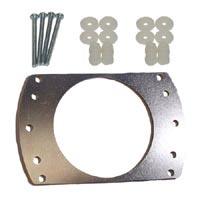 After seeing the previous generation water block designed by PolarFLO ( SF Universal block), I was very eager to see the new TT block and wasnt disappointed. I have spent hours with 2000 grit sand paper and polishing compound, and have never come close to having a base look as good as this! Aside from one of the most important aspects, the base, this is the best looking block I have ever seen. Definitely a looker!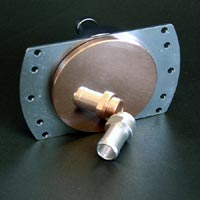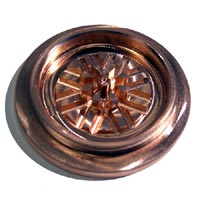 The inside of the block itself is very unique, it almost remind me of an old orange juice squeezer. One thing that I think needs to be pointed out is that some people who choose to use a two barb configuration will use the two outside barbs. In theory this would work, as it would draw water across the heat spreader. Though in this case I think that would be a mistake as the center barb injects the water over a post, which in turn spreads the water over the base, which has several ridges to create turbulence, thereby maximizing the heat distribution.
Features:
2 part design for easy assembly and disassembly
Designed for processors with Heat Spreaders (Semi-Super Finished to lower cost)
High performance heat transfer geometry (diamond machined flat to 0.0003″ – 0.0005″ with a 0.000009″ surface finish)
Low flow resistance
Low flow resistance
Low profile (great for ever-shrinking PC systems)
Universal mounting plate fits AMD socket 754, 939, 940 and Intel socket 478, 603 and 604. (Not for use on AMD socket 462)
Universal mounting plate has intrinsic spring force for uniform mounting
Future proof (when a new enhanced performance copper base is released you may purchase only the base)
100% Interchangeable parts (available separately)
Unique mounting system allows 360 degrees of rotation to relieve hose stress (kinking)
2 port or 3 port configuration
Threaded copper base for uniform assembly force (assembly does not distort base flatness)
Uses Posi-Seal barbs and plugs (ensures positive sealing every time)
3 two tone colors (red, blue and black)
Chrome plating available
Made in the USA!
Included:
Mounting hardware
(4) 6-32 x 2″ Screws
(8) Nylon Thumbnuts
(8) Nylon washers
Instructions
Y-splitter (only included with 3 port configuration)
(2) Hose clamps ( 5 hose clamps included with 3 port configuration)
Now that we know what we are looking at today we can go ahead and move on to installation and benchmarking!