PC Power & Cooling Silencer 750 Power Supply Review
By
Introduction and Specs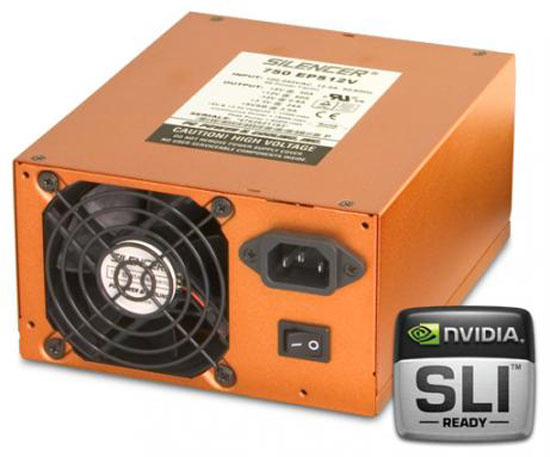 I have always been a proponant of spending as much as you possibly can on a power supply, because your system will only be as good as your power supply. If you are going to skimp on something, this can't be it. With so many companies having entered the power supply market, it is important that each company do something with their product that makes them stand out from the rest. PC Power & Cooling has been around for quite some time (22 years says their website). During that time they have developed a reputation of being a very high quality power supply company. With that high quality usually comes a high price, and PC Power & Cooling has always been on the higher side of cost. Is it worth it? That is for you to decide, but read this review before you make your decision! Let's look at the specs of the Silencer 750, and see if it is worth your hard earned dollars.
Silencer 750 Quad (Copper) Technical Specifications*
AC Input
Operating Range:
90-264 VAC
.99 power factor
Frequency:
47-63Hz
Current:
12A
Efficiency:
83%
EMI:
FCC-B, CE
DC Output
Output:
+5V @ 30A
+12V @ 60A
-12V @ 0.8A
+3.3V @ 24A
+5VSB @ 3A
continuous = 750W
peak = 825W
Regulation:
3% (+3.3V, +5V, +12V)
5% (-12V)
Ripple:
1% (p-p)
Hold Time:
16ms
PG Delay:
300ms
Safety
OV Protection:
+3.3V, +5V, +12V
OC Protection:
135% OPP
Agency Approval:
UL/ULC/CE/CB/RoHS
Environmental
Temperature:
0 – 40C
Humidity:
20% – 80% RH
Fan Type:
22 – 55 CFM ball-bearing
Noise:
26 – 40dB(A)
Miscellaneous
Compatibility:
EPS12V / NVIDIA SLI certified
M/B Connectors:
24-pin, 8-pin, 4-pin, quad 6-pin Video
See Diagram
Drive Connectors:
15 (6 SATA, 8 Molex, 1 mini)
MTBF:
100,000 hours
Dimensions/Harness:
See Diagram
Power Cord:
6′ 14AWG (incl.)
Warranty:
3 Years
*It should be noted that this unit actually has two different models. One is called the "Quad," and has four pcie power connectors, so you can run a quad sli setup. This is what you are seeing the specs here for. All the other specs are essentially the same.