Patriot Viper V570 RGB Blackout Gaming Mouse Review
By
Patriot Viper V570 RGB Blackout Edition Laser Gaming Mouse
California-based Patriot has been in business since 1985 and while their gaming division Viper might not carry the name recognition of Logitech or Razer, they are aiming to grow their market share with unique, quality products aimed at PC gamers. I recently had the opportunity to review the Viper Gaming LED Mouse Pad, which was a solid product that had good build quality. Along with the Gaming LED Mouse Pad, Viper also shipped me their V570 RGB Blackout Edition Gaming Mouse, which is an update to their popular V570 RGB. I've looked at quite a few gaming mice lately, but none of them have had the array of buttons present on the V570 RGB Blackout Edition, which has Omron main button switches and is outfitted with an Avago ADNS-9800 Laser Sensor. With 13 programmable macro buttons and seven zones of programmable RGB lighting, the Viper V570 looks like it has some nice tricks up its sleeve.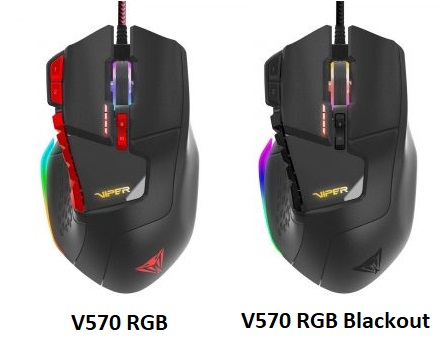 The $59.99 Viper V570 RGB Blackout Edition Gaming Mouse is pretty much the same exact mouse as the original V570 RGB ($49.99 shipped), but Patriot listened to consumer feedback and instead of bright red buttons and a red Patriot logo, they've blacked out the side thumb and DPI adjustment buttons on the Blackout iteration of the mouse while toning down the logo to a subdued black. Another small but significant change, the braided USB cable of the mouse is now a flat black instead of being lined with red and black. The small aesthetic changes implemented by Viper make the V570 RGB Blackout look much better than the original.
Viper V570 RGB Blackout Edition Features:
Xtreme Precision Laser Sensor
Up to 12000 DPI
Multi-zone customizable RGB LED management
Advance MMO+FPS all-in-one ergonomics
RGB customizable profiles
13 programmable macro keys
Ceramic foot pads for maximum performance
DPI LED indicator
Adjustable weights of up to 34.2g
Zero Delay
Viper V570 RGB Blackout Edition Specifications:
Part Number:

PV570LUXWAK

8000 DPI hardware/12000 DPI software
Light source: Laser
IPS: 150
Polling rate: 1000Hz
Switch: Omron (10M clicks)
Sensor: Avago ADNS-9800
Controller: Sonix
Weight: 159.2 Grams/0.35 lbs
Warranty: 2-years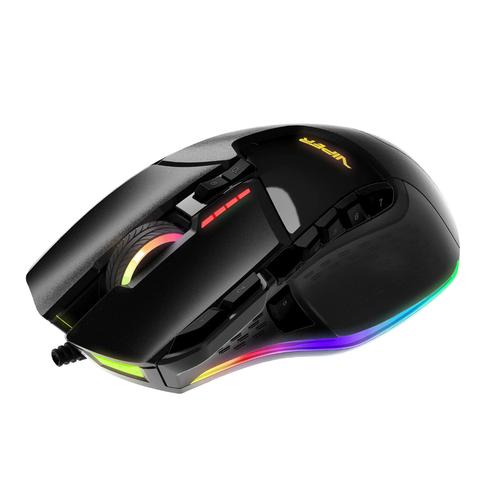 I don't want to harp on Viper right off the bat, but the V570 RGB Blackout Edition is using an ADNS-9800 laser sensor. Now, don't get me wrong, the ADNS-9800 is a quality laser sensor, but for gaming, it's not on par with the Pixart 3300 series stuff that has been on the market for years. The Avago ADNS-9800 laser sensors are fine for desktop environments and their shortcoming would probably never be noticed in day to day use, but the reality is that acceleration is there and laser mouse tracking variance can still be in the 6% range, while the Pixart 3360 optical and comparable sensors have a variance of less than 1%. Whether or not a user will ever notice the difference between a quality LED optical sensor vs laser optical sensor is going to depend on the person, but I can say from experience that even the best laser sensors can be prone to spin outs and aren't pixel precise, by nature of their design.
On the plus side, Viper has gone with Omron for the main button switches. A Japanese company who has partnered with Logitech and Razer to make them custom switches, Omron makes the best mouse button switches out there and their keyboard switches aren't half bad, either. While 20M and 50M click certified switches are available from Omron, the 10M click switches are still decent and they offer responsive, satisfying clicks when implemented properly. We'll see how the switches feel under the buttons of the Viper V570 RGB Blackout.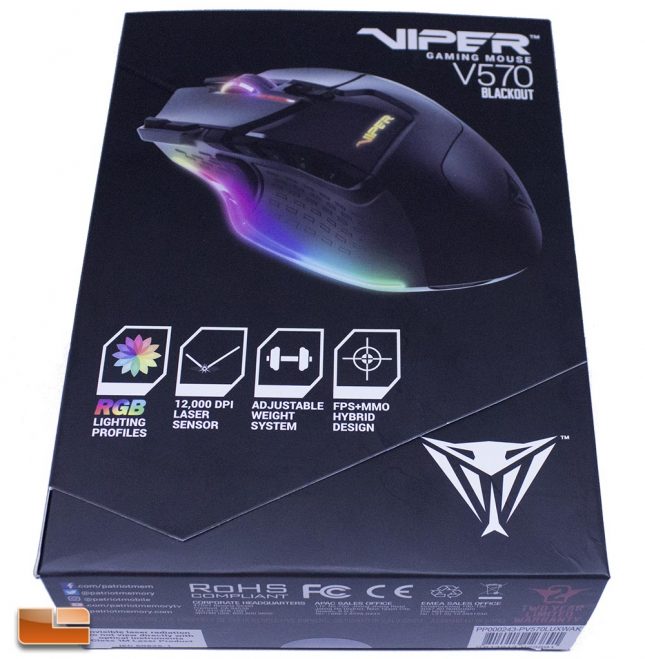 Viper packages the V570 RGB Blackout in a cardboard box that looks good, but doesn't stand up to the quality packaging we see from companies like Corsair, Logitech and Razer. When you're in a competitive market like PC gaming peripherals, you have to cover all your bases and packaging is the first impression a customer is going to get when they see your product on store shelves, or open their Amazon box. I am not saying Viper did a bad job with the V570 RGB Blackout, as the box looks good and the packaging is descriptive, but compared to the recently reviewed Logitech G603 and SteelSeries Rival 310 that I am currently in the process of reviewing, Viper definitely could step up their packaging game with some higher quality materials and graphic design changes.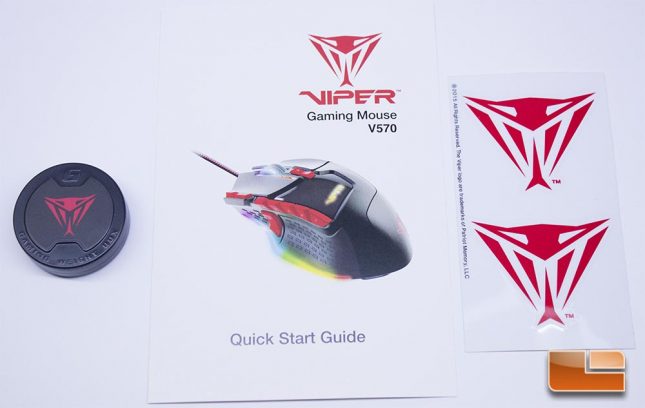 Viper includes a single-page manual and two stickers with the V570 RGB Blackout. In addition, a carrying container with 34.2 grams worth of weights which can be installed under a cover in the base of the mouse, is included. Since the Viper V570 RGB Blackout already weighs in at 159.2 grams it is pretty hefty by modern gaming mouse standards.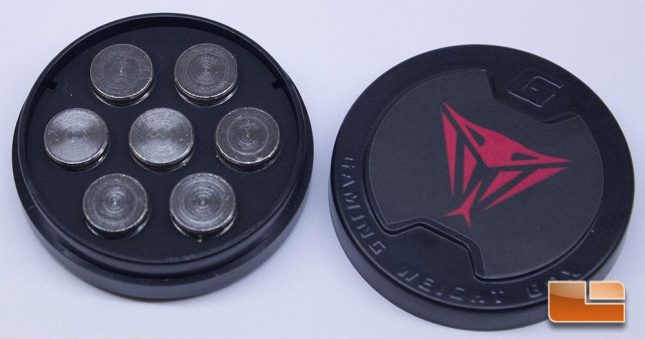 I am not sure if many users will find the additional weights necessary, but I won't ever knock a company for throwing in some extra customization on their products if it makes sense and doesn't take away from the product.
Let's take a closer look at the Viper V570 RGB Blackout Edition, now.