Patriot Fuel+ 5200mAh and 7800mAh Mobile Rechargeable Battery Review
By
Patriot's Fuel+ Keeps Your Mobile Devices Powered Up!
We rely on our smartphones and tablets to get us through the day, but quite often we find the battery needing to be recharged before we are able to charge our devices. There are literally hundreds of companies around the world that have introduced mobile rechargeable batteries, so it can be tough to find the right one for your needs and from a brand you can trust. Patriot Memory is a much loved brand in the PC component market and they have recently been expanding into other growth markets to keep the company alive and relevant.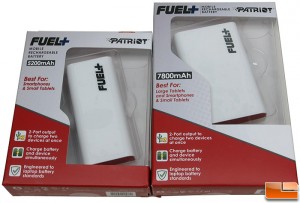 One of the more interesting new product lines from Patriot Memory would certainly have to be the FUEL+ mobile rechargeable batteries. Ranging in size from 1500mAh up-to 9000mAh, the FUEL+ product family features a full line of Li-Ion battery sizes to fit the needs of pretty much every tablet and smartphone user. The larger Patriot Fuel+ batteries (5200mAh to 9000mAh) come with dual USB charging ports, so you charge not one, but two devices at a time. This is crucial as most people these days have both a tablet and a smartphone!
In the past we've had issues with wall chargers and these mobile recharging packs being able to charge power hungry tablets that need more than 1 Amp of power. The Patriot Fuel+5200mAh and larger batteries have a 5V 2.5A port and a 5V 1A port, so you can charge one tablet like an Apple iPad or iPad mini with no issues at all. Not too many Li-Ion battery packs have a 2.5A charger on them, so this is certainly a key differentiating feature that helps Patriot's Fuel+ lineup stand out from the crowd.
Patriot FUEL+ Mobile Rechargeable Battery Lineup:
Pricing ranges from $27 shipped for a 2200mAh battery to $71 shipped for the monster 9000mAh battery. Which is right for you? It really depends on your budget, how big the battery is in the device you are charging and how large of a spare battery you want to lug around with you. A Samsung Galaxy S4 Smartphone has a 2600mAh battery inside, so if you want a full recharge you'll need to go with at least the Patriot Fuel+ 3000mAh battery. The Apple iPad mini has a 4400mAh battery inside, so the Patriot Fuel+ 5200mAh battery with the 2.5A USB port is ideal. The new Apple iPad with Retina display has a monstrous 11,560mAh battery inside, so none of Patriot's battery packs will give you a full charge! The key point here is that you need to find out the battery capacity of the devices you want to charge and make sure to get a battery that you enough juice to last the rest of the day! We will be looking at the Patriot Fuel+ 5200mAh and 7800mAh battery today.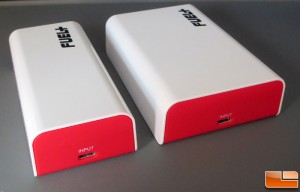 The Patriot Fuel+ 5200mAh and 7800mAh batteries have the same overall look and shape, varying only in their width, due to the size number of battery cells inside cell inside. They are just under 4-inches in length and have a thickness of about once inch. Each comes with a short micro-USB cable for charging and a quick-start guide. You need to provide your own Apple Lightning or USB charging cord. The Patriot FUEL+ features power pass through technology that enables the battery to be charged when plugged in to a USB or wall outlet, while charging devices. The battery pack has also been made to laptop quality standards, so you shouldn't have to worry about it catching on fire like other Li-Ion batteries have done in recent history. To safeguard against under-discharge, over-charge, and short-circuit, the FUEL+ comes with built-in protection to ensure efficient and safe charging cycles.