Patriot Fuel+ 12000mAh and 6000mAh Portable USB Battery Pack Review
By
Legit Reviews hasn't taken a look at many products from Patriot this year, but when we found out Patriot updated their popular FUEL+ series of portable USB battery packs we had to get our hands on them. Over the past several years we went from sporadically using portable USB batteries when we had to travel out of town for business meetings to using them frequently around the home and office for a variety of tasks. For example we use them to re-charge smartphones and tablets, but we also use them to power wireless security camera in places where wall power isn't accessible and we've even modified a number of baby toys to run off USB battery packs instead of using several traditional batteries. There are thousands of devices that can be powered by portable USB chargers and the need for them is growing.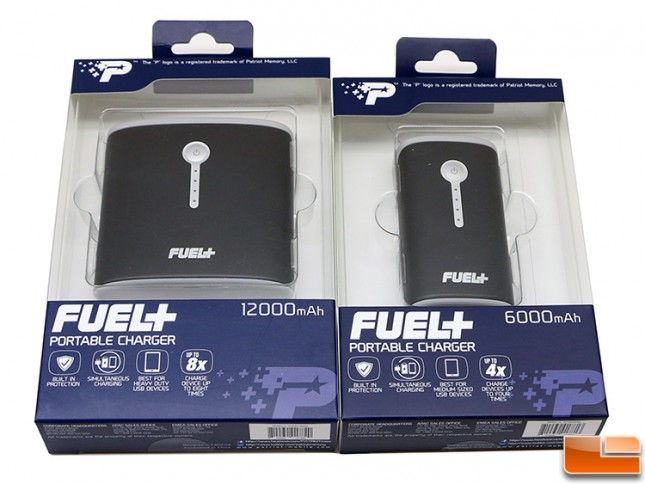 The two new Patriot Fuel+ Portable Chargers would be the FUEL+ 12000mAh (part number PCPBF12000) and 6000mAh (part number PCPBF6000). The FUEL+ 12000mAh (44.4Wh) and FUEL+ 6000mAh (22.2Wh) are both available now with an MSRP of $79.99 and $49.99, respectively. For that price you get the battery, a short USB to Micro-USB cable and a 2-year warranty. We found the Patriot FUEL+ 12000mAh for $71.84 shipped and the and FUEL+ 6000mAh for $50.71 shipped on Amazon. These prices are slightly higher than competing products, but we expect them to fall in the very near future to be more competitive. For example the Anker 2nd Gen Astro 6400mAh can be bought for just $25.99 shipped albeit only charges a single device at a time and has some other differences. Last years Patriot Fuel+ 6000mAh battery can be had for $29.99 shipped, so you'll be paying 67% more for the new version versus last years model.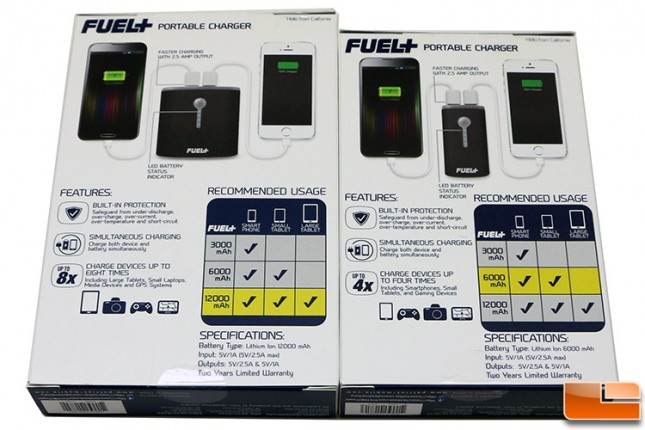 The back of the retail packaging also mentioned a Fuel+ 3000mAh battery that we assume is based on the new 2014 design, but it doesn't appear to have been announced yet.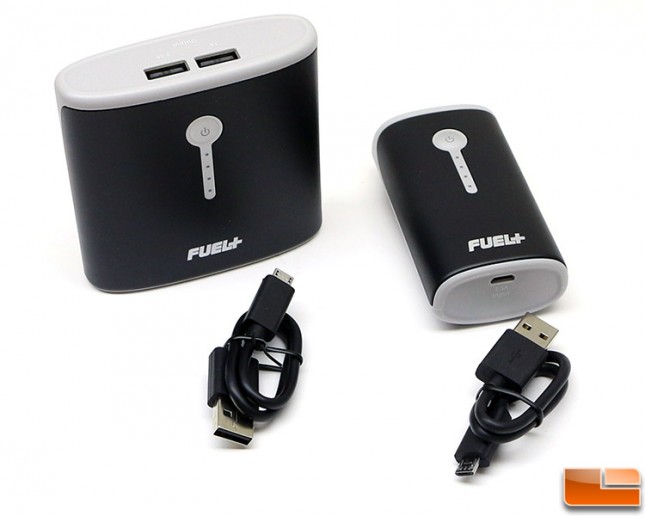 Both feature two USB charging ports that allow for the simultaneously charging of two devices. One port is capable of 2.5A power output for power hungry devices like tablets and the other is rated at 1A. On the opposite end you'll find the Micro-USB port that is used for charging the Fuel+. Patriot claims that the 6000mAh model can charge a smartphone up to four times before needed to be recharged while the 12000mAh can charge one up to eight times, but it really depends on how big the battery is in your device and of course the power level it has when you go to re-charge it. The Patriot Fuel+ 12000mAh portable charger looks like an alcohol flask from the front! The 12000mAh battery measures 3.25″ x 3.25″ x 1.125″ and the 6000mAh battery pack comes in at 3.25″ x 1.8125″ x 1.125″, so they only differ by the width.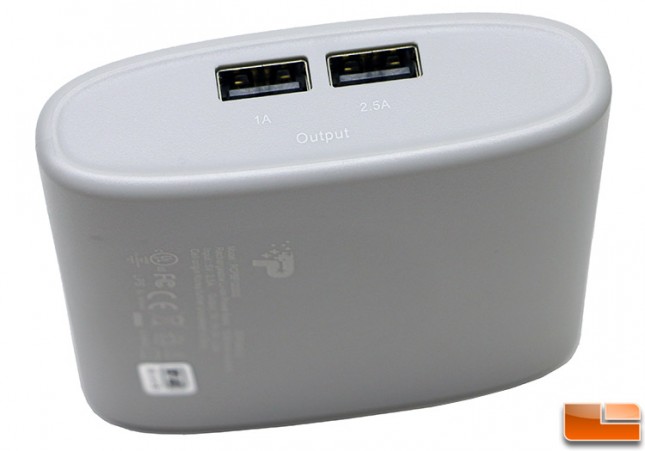 The Patriot FUEL+ series also features pass through technology that enables the battery and device(s) to be charged simultaneously when plugged into a USB or wall outlet. To safeguard against under-discharge, over-charge, and short-circuit, FUEL+ portable chargers come with built-in protection to ensure efficient and safe charging cycles. This is good should eliminate the worry that many have when differing from the Original Equipment Manufacturer (OEM) of the device you are looking to power or charge.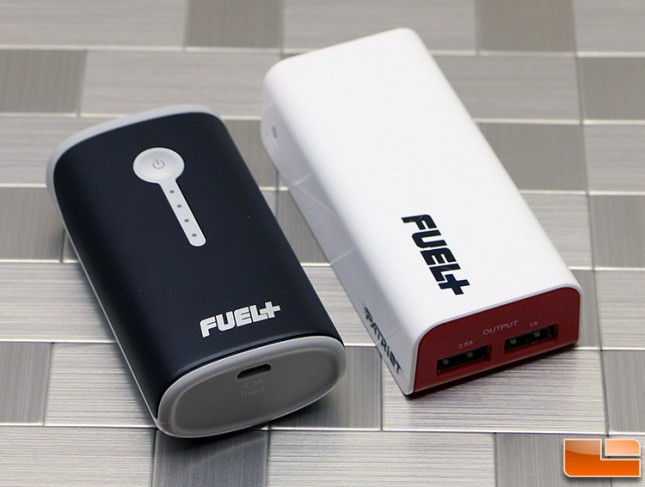 Here is a picture of the new Patriot Fuel+ 6000mAh battery on the left next to Patriot Fuel+ 5200mAh battery from last year. The new Patriot Fuel+ has a shorter overall length, but is just slightly thicker with a rounded body. Not bad considering it has 800mAh more juice stored inside. The rounded body feels better in your pocket, but the new battery pack back now wobbles around if you lay it flat on a surface like we did in the image above. The other thing we noticed is that the battery status indicator light is easier to use as the button no longer needs to be pressed into the device housing.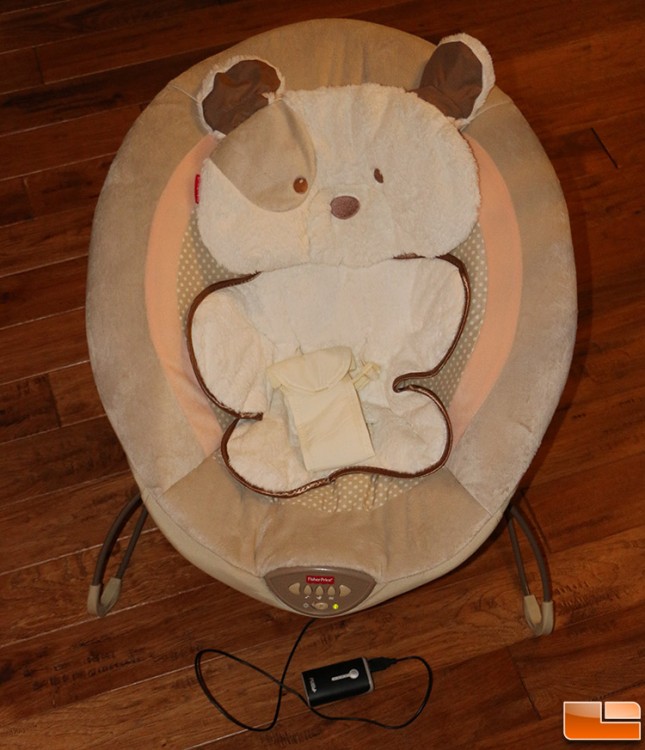 We have used the original Patriot Fuel+ chargers for more than a year and have had pretty good luck with them overall. The new version visually looks better and works exactly the same, so we are pleased with the new models. So many products are USB powered these days that every family should own at least one portable USB battery pack for emergency situations. If you are a bit handy you can even modify some non-USB powered devices that run on common household battery sizes to run on portable USB charges. For example we took a Fisher-Price My Little Snugapuppy Deluxe Bouncer that ran on three C batteries and successfully modified it to run off of USB power. A Patriot Fuel+ portable charger can be used on thousands of devices and we highly suggest giving one a shot.
When it comes to pricing the Patriot FUEL+ 12000mAh runs $71.84 shipped and the and FUEL+ 6000mAh is currently $50.71 shipped on Amazon. The larger the battery the more charge you'll have, but you also need to keep in mind physical size of the battery pack and what you'll be doing with it. We recommend giving a portable battery pack a shot, but there is nearly a 70% price premium for the new version versus last years model. Patriot will likely be discontinuing the old models, but for the time being the best bang for the buck is certainly with those!