Overclocking the Intel Core 2 Duo E6300 Processor
By
For $193 a Allendale Can Be Yours!
With the Intel Core 2 Duo E6300 priced under $200 it's the processor that many mainstream and budget shopers are picking up for use in their back to school computer systems. We have found that this entry level Intel Core 2 processor might cost just $193, but the performance that it offers is much more than what you're paying for. With a little extra work and buying the right motherboard the Intel Core 2 Duo E6300 is by far one of the best overclocking processors that we have ever seen on the test bench here at Legit Reviews. Today Legit Reviews takes the Intel Core 2 Duo E6300 Processor and overclocks it to see what that means in terms of real world performance.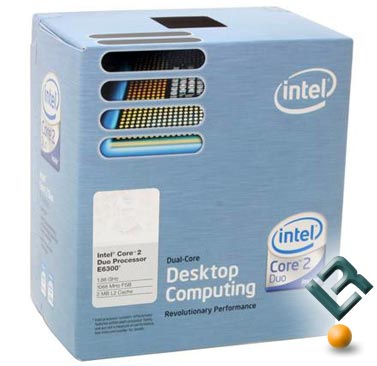 When it comes to pricing the Intel Core 2 Duo Processor E6300 is still selling for a slight premium on the market, but rightfully so as you will soon find out. According to the July 27th, 2006 price sheet the E6300 processor lists for $183 when purchased by the thousand, so the market price of $193 isn't that much of a premium for buying a single processor. With the E6300 retailing for under $200 it's attainable by many, but with the Core 2 Duo Processor family does come some issues.
One of the main stumbling blocks for Conroe and Allendale is the lack of chipset options and the few number of boards on the market. If you want run NVIDIA SLI graphics and an Intel Conroe/Allendale based processor you are limited to one board choice that is currently available on the market and that is the ASUS P5N32-SLI SE Deluxe motherboard. All of the other boards use the Intel 975x or 965x chipsets, which both support ATI's CrossFire technology. For our overclocking adventures we stuck with the Intel D975XBX 'bad axe' reference motherboard as it's known for it's overclocking abilities within reason and is readily available. We did have to do some minor adjustments to our motherboard to help out overclocking functionality, but our modifications can be done by anyone that can use a pen or pencil.