OCZ's EL PC-3200 Gold VX Memory
By
Overclocking / Conclusion
Overclocking
Overclocking on the DFI LanParty SLI-D motherboard can be tricky, but by using the BIOS, a clockgen, and AMDTweaker we were able to overclock the motherboard with ease. Most overclockers buying this memory want to have 2-2-2 timings, so we overclocked with very aggressive timings set in the BIOS on our AMD 3500+ Venice processor. With 2-2-2-6 timings at a 1T command rate and 3.3V we were able to reach 524MHz with a solid Sandra 2005 score of roughly 7100Mb/s. When overclocking the modules we noticed that they were a bit different from some other modules since they didn't like really high voltages. When running 3.7V through them they performed worse than with only 3.3V on them. Keep in mind when overclocking your memory modules that not all modules like max voltages and you should always try different voltages trying to find a spot that works best for your platform. These were our findings on the DFI LanParty SLI-D motherboard with the latest BIOS we could find: 618-2.
Below is a screen capture of our CPU-Z 1.29 settings and the Sandra results at 524MHz.
Conclusions: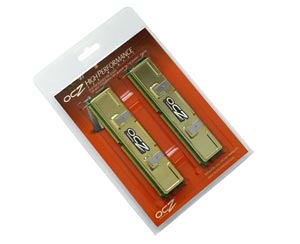 Nathan Kirsch's Thoughts:
With memory prices falling nearly every week it is truly amazing what you can get a 1GB name brand memory kit for only $147 shipped right to your front porch. It just seems like yesterday that 1GB kits were $300-$350 and they couldn't overclock half as good when compared to all these UTT based modules. If you are looking to build new or planning on updating a DDR1 platform I honestly don't know how you can go wrong with these modules. Since the modules run at 2-3-3 timings at 2.6V and 2-2-2 at 3.2V the modules can be run on almost every platform and at settings the end user is comfortable with.
All OCZ modules carry a lifetime warranty, so if the high voltages make you nervous they shouldn't as you can get them replaced. OCZ also has EVP (Extended Voltage Protection), which is a feature that allows enthusiasts to use a VDIMM of 3.5V @ 5% without invalidating their OCZ Lifetime Warranty. This means you can really push these VX modules to the brink and back even though on our test system they really liked 3.3V the best.
In terms of overclocking our DDR-400 modules got up to DDR-524 at aggressive timings of 2-2-2. A 124MHz overclock that is completed at 2-2-2 timings is nothing to laugh at when you pay for sub $150 modules. The old saying "You get what you pay for" does not apply to the OCZ EL DDR PC-3200 Dual Channel Gold VX memory series. In this case you are paying roughly 30 cents per MHz once overclocked, which is not bad when you think about it. If you are a price versus performance shopper then add these modules to your short list of modules to buy.

In other OCZ related news we are giving away some OCZ EL Gold PC-3200 2-2-2 memory modules in our FREE forums to one lucky member. All you need to do is sign up in the forums and enter for a chance to win a 1GB kit!
Legit Bottom Line:
OCZ EL PC-3200 Gold VX memory has finally given overclockers a product that can handle high voltages, overclock with the best of them, and is available at an unbelievable price point.