OCZ's EL PC-3200 Gold VX Memory
By
OCZ's Voltage Extreme Memory Raises The Performance Bar

OCZ's new Voltage Extreme memory line has been met by mixed reactions in the enthusiast community since they were first released a couple months ago. Many were concerned with the high voltages, 3.2 Volts in this case, and how their platforms would hold up under the stress. After years of DDR1 memory being run at 2.6-2.8 Volts it makes sense why many consumers were unsure about running high voltages. To make matters worse only a select number of motherboards offer voltages of 3.2V and beyond. Once DFI released their recent AMD nForce4 motherboards with memory options up to 4 Volts enthusiasts often had to mod their vDIMM to get the desired voltages. The combination of companies like DFI offering a motherboard with memory voltages up to 4 Volts in the BIOS and OCZ Technology launching a high voltage memory product the mainstream enthusiast can overclock like never before. Did I mention that a soldering gun and voltage mods are not needed? Finally after all these years overclocking is finally reaching the average consumer and understanding 1337 speak is not needed to figure it all out!
After nearly two months on and off the test bench our OCZ Gold Series EL PC-3200 VX memory is still alive and ready for its fifteen minutes of fame on Legit Reviews! We didn't rush to finish our review the first week we had the modules as we had the same concerns that many of you did.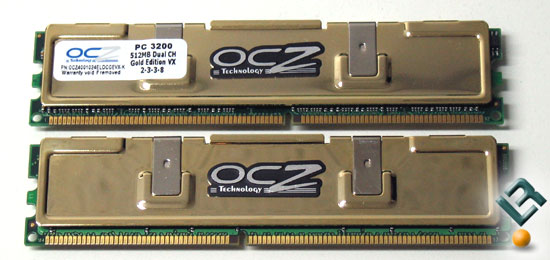 The OCZ PC-3200 Gold VX shown above is designed to operate above the traditional memory voltages to increase speed and stability to ultimately allow the memory to thrive under high voltage. These PC-3200 VX modules operate at timings of 2-2-2 at 3.2V or 2-3-3-8 at 2.6V for those who don't want to run high voltages. This puts the OCZ Gold VX memory series into the enthusiast and overclocking markets since the motherboard and user must be willing to operate these modules aggressively. OCZ Technology discovered that running high voltages through Winbond UTT memory IC's that the modules performed better and retained stability. OCZ Technology believed they had a winning part for overclocking and the marketing team gave them the name VX (Voltage Xtreme) to separate them from their other modules. Now the part is widely available on the market in 1GB kits for under $150, which puts the part in OCZ's high performance niche at a very lucrative price point.
Let's take a look under the heat spreaders and see what powers these modules.