OCZ Vertex 120GB v1.10 MLC SSD Review
By
The OCZ Vertex Solid State Drive – 120GB
When it comes to solid state drives we here at Legit Reviews have been pretty tough critics of them as for the past several years they were clearly not ready for mainstream use. Back in 2006 a 128GB SSD would cost you over $1500, the performance wasn't that great and the failure rate was higher than your typical hard drive. Late last year SSDs were finally starting to look good since the prices came down, but the performance and ease of use was still not where it needed to be. When Intel came out with their SSD series, Legit Reviews was the first publication to point out that performance decreased with typical use. Every controller used in SSDs has pros and cons, but very few companies have released a number of different controllers.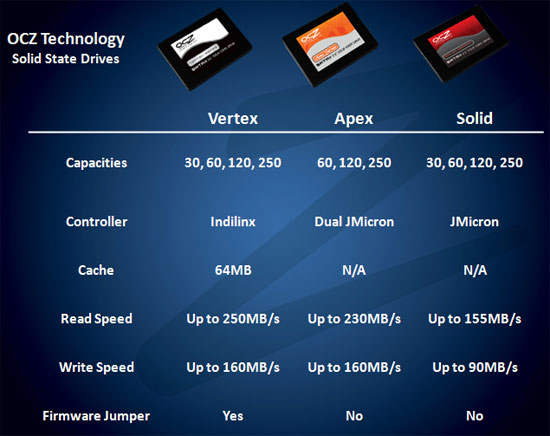 OCZ Technology has been hard at work this year bringing not one, but three solid state drives to market so far in 2009. The lineup from OCZ can be confusing so let's explain how they stack up. The OCZ Solid SSD series uses a single JMicron JMF602 controller and is the entry level SSD for 2009. This controller suffers from high random write speeds and latencies, which cause the stutters that so many people hear about. Next up from there you have the OCZ Apex, which is an interesting middle of the road SSD that uses not one, but two JMicron controllers that operate in RAID configuration to help cure the stutters that drives with one JMicron SSDs suffer from. Legit Reviews took a look at the Apex 120GB SSD a couple months back and found it to be solid, but that it still has the occasional stutter. Also in the mainstream series is the OCZ Core SSD series that came out from last year, but that one uses the same JMicron controller that the Solid series uses the last we heard. The flagship model for the OCZ SSD lineup is the Vertex, which uses an Indilinx barefoot controller and 64MB of cache to keep things nice and fast. If that isn't confusing enough, you have the Summit series coming out with a Samsung controller then a new Vertex series in the works that uses SLC rather than the MLC of the current version. As you can see OCZ has numerous SSDs on the market and has plenty more in the works. No matter what your price range, OCZ should have a drive that fits your budget! The drive that Legit Reviews will be looking at today is the OCZ Vertex 120GB SSD (OCZSSD2-1VTX120G), which is the flagship model.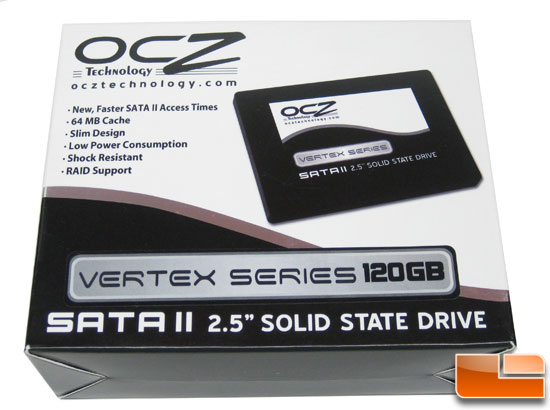 The OCZ Vertex series 120GB SATA II 2.5″ Solid State Drive comes in a small box that lists all the key features of the drive. OCZ also has 30GB, 60GB and 250GB versions of the Vertex on the market in case you were wanting a different size. It should be noted that all capacities have the same controller and 64MB of cache, but they do differ in write and read speeds as we will talk about that later.
Vertex 120GB Features:
64MB Onboard Cache
Seek Time: <0.1ms
Slim 2.5″ Design
99.8 x 69.63 x 9.3mm
Lightweight 77g
Operating Temp: -10C ~ +70C
Storage Temp: -55C ~ +140C
Low Power Consumption: 2W in operation, 0.5W in standby
Shock Resistant 1500G
RAID Support
MTBF 1.5 million hours
2 year warranty
Read: Up to 250 MB/s
Write: Up to 180MB/s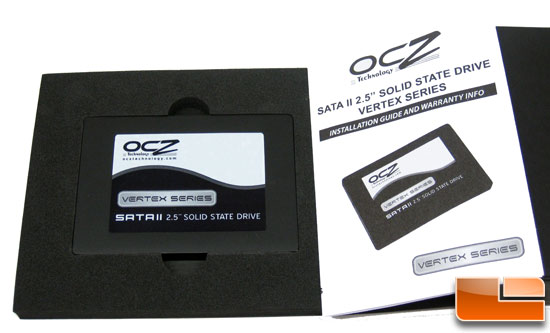 The OCZ Vertex SSD is the only SSD that came with instructions, but the instructions were dated as the latest firmware release supports features like TRIM and nothing about this is mentioned in the instructions. Other than the instructions you get the drive itself.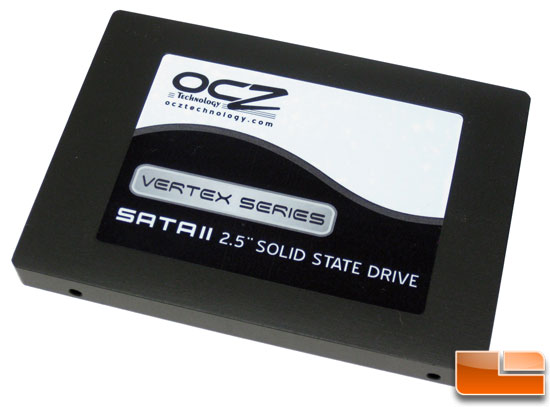 The Vertex uses the 2.5″ form factor used in notebooks, so this drive will work in any notebook. If you wanted to be able to mount it in a desktop chassis with 3.5″ bays you'll be forced to use something like the OCZ Solid State Drive 3.5″ Adaptor Bracket in order to get it bolted up in the system properly. You'll need to secure it as the 120GB version of the Vertex can read up to 250 MB/s and write up to 180MB/s. Actually, a little double sided tape will work and you can stick it any place your heart desires as these drives have no moving parts and don't make any noise.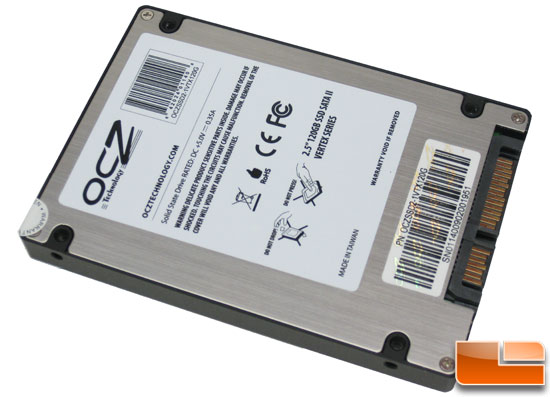 Flipping the Vertex over you get a better look at the SATA II header and the SATA power connector. OCZ states that the Vertex series has a MTBF (Mean Time Before Failure) of 1.5 million hours and can tolerate a force of 1500G, so this is a tough drive. OCZ backs the Vertex series with a two year warranty as well, so you are covered if something happens to go wrong.