OCZ Vendetta CPU Cooler Review
By
The OCZ Vendetta – A Better CPU Cooler?
OCZ recently released their Vendetta CPU cooler as their leading-edge yet affordable solution. This CPU cooler replaces the OCZ Vindicator CPU Cooler that we reviewed many months ago and found it a bit lacking in the cooling department. The OCZ Vendetta uses a new design that is said to better dissapate the heat and as a result is much better than the Vidicator. What makes the Vendetta unique, is the fact it uses three copper heat pipes that each make direct contact with the processor to ensure the most rapid heat transfer. The 'V' shaped stacked aluminum cooling fins feature dimples that are supposed to add turbulences, thereby reducing the skin effect of laminar air flow. Basically, this CPU cooler was built to tackle heat-induced performance degradation and to solve the cooling challenges of todays enthusiast system builds.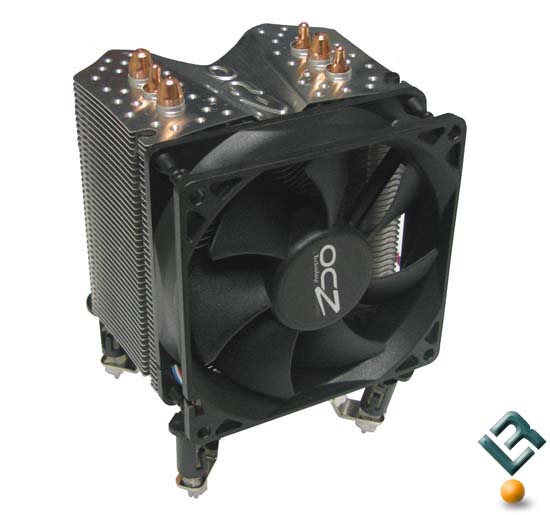 The OCZ Vendetta looks great and doesn't have the funky wire clips that the Vindicator needed to hold the fan on. The versatile Vendetta is compatible with AMD AM2/939/754/755 and Intel 775 sockets and can be installed quickly and easily by end-users at all skill levels. The Intel LGA775 mounting bracket is just like the CPU cooler that comes with Intel retail boxed processors and does not require the removal of the motherboard to be installed.
Features & Specifications
For Sockets AMD 754/755/939/AM2, Intel LGA775
3 Pure Copper heat pipes for superior heat dissipation
Pure Aluminum fins for ultimate durability
1 year warranty
Fan Specs
Size: 92mm
Rated Voltage: 12V DC
Fan Speed: 1200-2800RPM
Fan Air Flow: 39-54.6 CFM
Noise Level: 22-34 dBA
Bearing type: ball
Connector: 4 pin with PWM
Dimensions Heatsink (LxWxH): 3.8 x 3.1 x 5.2 inches (97 x 79 x 134mm)
Weight: 530g (18.7ounces)
Vendetta Includes:
92mm Fan with rubber mounts
Mounting Hardware for all above CPU's
Thermal Compound
Packaging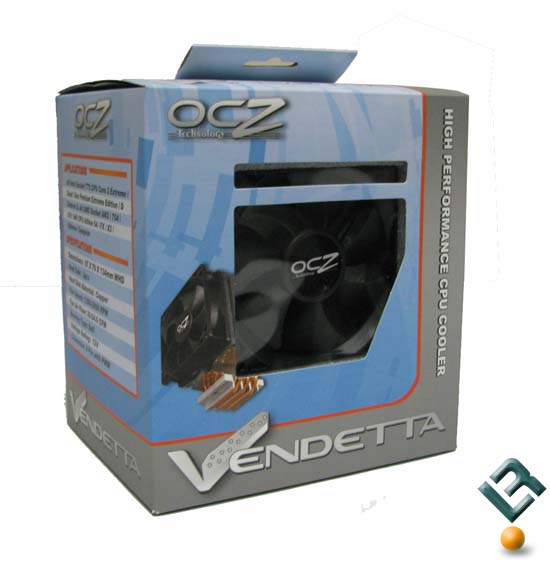 The Vendetta comes very well packed, which is nice considering issues we have had in the past with the packing of OCZs Vindicator. The box sports the specs on the side and the fan in a window up front.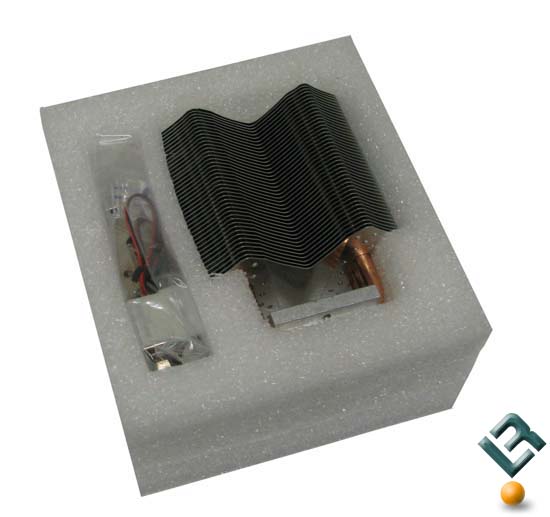 Out of the box we can see the Vendetta is snug in the foam with no place to go. All the fins were intact and straight.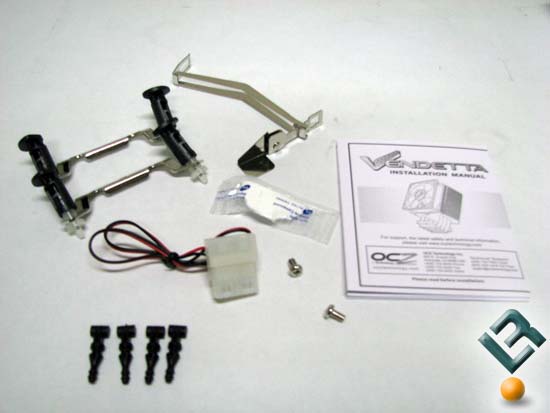 The Vendetta comes with everything needed to mount the cooler on AMD AM2/939/754/755 and Intel 775 sockets.