OCZ Cooling Update: V-12 HSF and Cryo-Z
By
Missing in Action: Where is my Cryo-Z?
Over ten months ago Legit Reviews posted up the exclusive first pictures of the Cryo-Z single phase change cooling system while attending CES 2006 in Vegas. LR is not sure exactly why this product hasn't made it to market, but OCZ has told us it's required gas changes, housing modifications, manufacturer changes, RMA and support concerns that will limit availability to the United States only and shipping issues due to the gases used. It seems that the OCZ Cryo-Z has turned out to be a pain in the ass to get to market, but we hope it will still make it!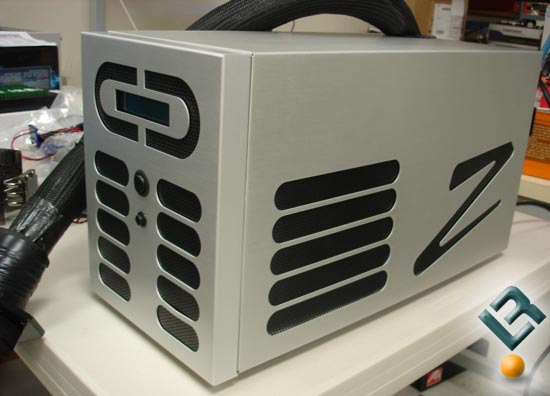 OCZ sent over some pictures from the test lab last week and from what we can tell the test unit they have looks pretty close to the one we saw at CES ten months ago. It looks like the most recent prototype, as seen above, has one extra button on the front with the rest of the housing remaining the same.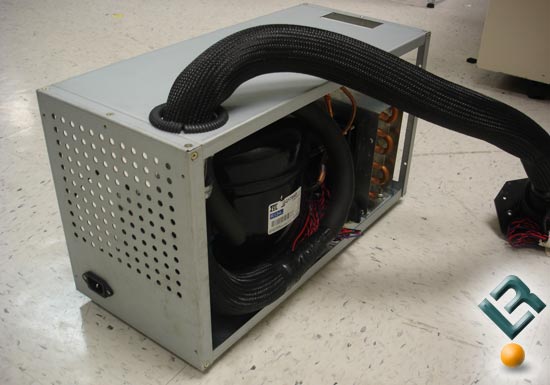 At first we thought it was the same cooler as the one we saw from CES, but the labels and components don't match up. While the internal 'plumbing' seems to be a little different all the major components remain unchanged.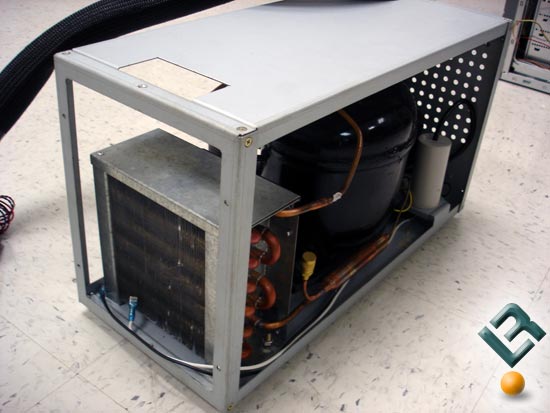 Looking at the cooling fins in the radiator we can see dirt clogging the fins, so it looks like this unit has been run from a long period of time on the test bench at OCZ.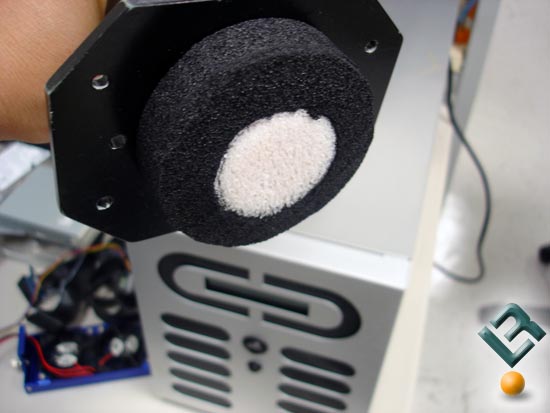 Now that looks frosty! OCZ fired up their cooler for LR and took some nice shots of the base plate for our readers to take a look at. Other than these pictures OCZ didn't have much else to say of their upcoming products for the record. No shipping dates are set for either cooler, but with the 130W TDP Intel Core 2 Quad processors coming out shortly we hope that OCZ gets these coolers kicked out ASAP. The OCZ Tempest is a fine cooler, but given double the power consumption thanks to the four cores overclockers and enthusiasts will need to step up to better cooling if they want the killer overclocks we have all gotten so used to getting with little effort.