NZXT X42, X52, and X62 Liquid CPU Cooler Review Roundup
By
Introduction to the NZXT Kraken Liquid CPU Coolers
It has been a while since weve had a chance to take a look at NZXT cooler, but in the past, weve been highly impressed with their products. Quite frankly, there hasnt been a whole lot of innovation in the CPU cooler market, because its just tough to improve on something thats already awesome. Instead, we see a lot of manufacturers adding visual improvements to the coolers to help make them stand out, but this really only helps for those who have windowed cases. Today were going to take a look at a trio of NZXT Kraken coolers, called the Kraken X42, X52, and X62. These coolers are updated version of the already successful X41 and X61 with a little added flare and were released just this past November.
NZXTs all-new Kraken coolers are sealed systems based on Asetek hardware and are the third generation of coolers that Asetek provided to NZXT. As previously mentioned, the X42 and X62 are updated versions of the X41 and X61, while the X52 is new to the line-up. The X42 is a 140mm single-fan cooler, the X52 is a 240mm dual-fan cooler, and the X62 is a 280mm dual-fan cooler. Obviously as we increase in size, we should find that the cooler can handle the load that much better. NZXT bringing a 240mm cooler to this line-up will help fit the crowd that doesnt have massive cases.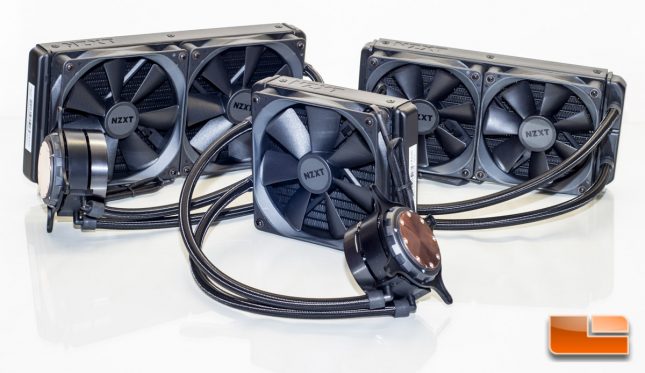 In the upgrade between the coolers, we find that the pump, radiator, and fans have all been improved upon. The pump is Aseteks fifth generation pump, designed to be both quieter and have the ability to displace more liquid. The radiator is designed and optimized for NZXTs Aer P high static pressure fans to provide the absolute best cooling performance. To top it all off, the pump housing has integrated HUE+ lighting, which will utilize NZXTs in-house application called CAM. With this software, users will find the ability to modify the lighting to many different modes and colors, whilst allowing the user to customize fan and pump profiles and monitor temperatures. The tubing itself is reinforced with fine nylon sleeves to not only provide protection to the rubber tubing, but also to just make the cooler look that much nicer.
Sold on the above information? You can get your very own All-New NZXT Kraken cooler now on Amazon, which each cooler feature a staggering and industry-leading six-year warranty. Thats absolutely incredible in our eyes!
Below is the current pricing as of writing this article. Note that on Amazon theyre being sold above MSRP and are being shipped and sold by a 3rd party; there we no listings by Amazon directly.
Kraken X62 – RL-KRX62-01
Kraken X52 – RL-KRX52-01
Kraken X42 – RL-KRX42-01
NZXT Kraken Liquid CPU Cooler Specifications
Kraken X62
Kraken X52
Kraken X42
Radiator Dimensions
315 x 143 x 30mm
275 x 123 x 30mm
175 x 143 x 30mm
Pump Dimensions
80 x 80 x 52.9mm
Materials
Aluminum, copper, plastic, ultra-low evaporation rubber, nylon sleeving
Weight
1.29kg
1.08kg
890g
CPU Socket Support
Intel Socket 1151, 1150, 1155, 1156, 1366, 2011, 2011-3
AMD Socket FM2+, FM2, FM1, AM3+, AM3, AM2+, AM2
RAM Height Clearance
35mm
Control Method
Software with CAM
Pump Speed
1,000~2,800 +/- 300RPM
Fan Model
Aer P140
Aer P120
Aer P140
Number of Fans
2
2
1
Fan Speed
500~1,800 +/- 300RPM
500~2,000 +/- 300RPM
500~1,800 +/- 300RPM
Fan Noise Level
21-38dBA
21-36dBA
21-38dBA
Warranty
6 Years
Model Number
RL-KRX62-01
RL-KRX52-01
RL-KRX42-01
Check out the next page for a look at the packaging, cooler itself, and how it installs.