NZXT Khaos Welded Aluminum Full Tower PC Case
By
A Welded Chassis Called Khaos
The NZXT Khaos Full-Tower ATX Case (KHO-001BK) was developed to satisfy the needs of the most power hungry PC enthusiasts and gamers by offering features that go above and beyond what one would expect in a case. Following the success of the Lexa Chassis, NZXT took on the major feat of designing an ultra-premium chassis achieving "perfect symmetry" with matching curves and mirrored design. To top off the slick design, the Khaos has been built with quality craftsmanship in mind, as the chassis features 2mm and 3mm thick aluminum that has been welded for extra strength.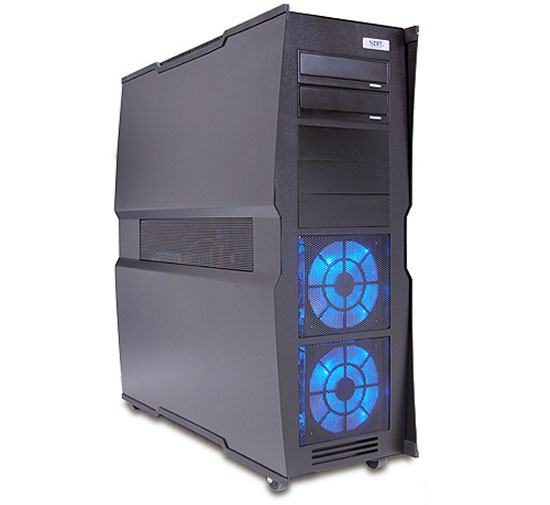 Just taking a quick look at the Khaos you can see the two 120mm blue LED fans for fresh air intake on the front of the case and just the overall size of this full tower compared to these fans. The Khaos can hold over 8 hard drives along with eleven 5.25″ bays for drives such as CD-ROMS, Temperature Displays, and multi-format readers. To top it off, the Khaos has rubber wheels attached on the bottom to make moving the chassis around the home or LAN party quick and easy.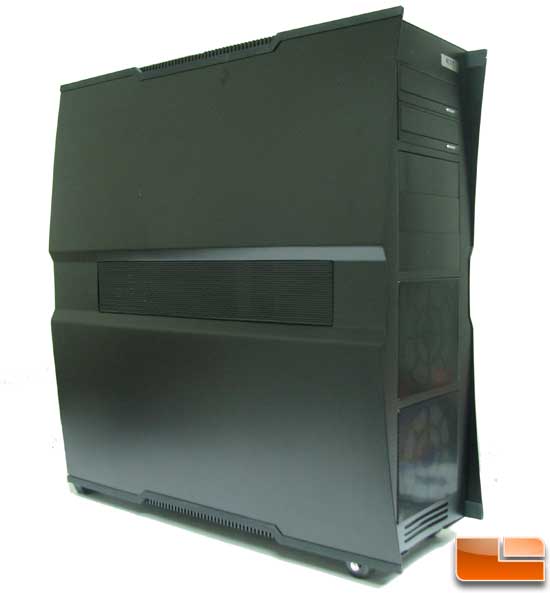 The NZXT Khaos is jam packed with features, but it should be noted that it does not come with a power supply. Not a big deal as this is clearly a high-end chassis and usually in this price range customers know exactly what power supply they want to use. Just how much does the NZXT Khaos cost? The MSRP is $499, but the case can be found for between $439-$449 plus shipping at retailers like Newegg.com and TigerDirect.com. With a price tag this high it puts the Khaos into the ultra luxury market, but high-end cases are nothing new. My current personal case is the Lian Li PC-A7010 and sports a $300 price tag. In a strained economy one has to wonder what would draw someone to drop $450 on a case. Granted, most would not blink twice to spend that on the newest video card on the block, so why not an ultra high-end case? Most of our readers know NZXT as a maker of medium to high end gamer chassis like the Tempest that go for around $100. This is clearly one of the most expensive cases NZXT has ever produced, so lets take quick look at the specs and then we can move on to the good stuff.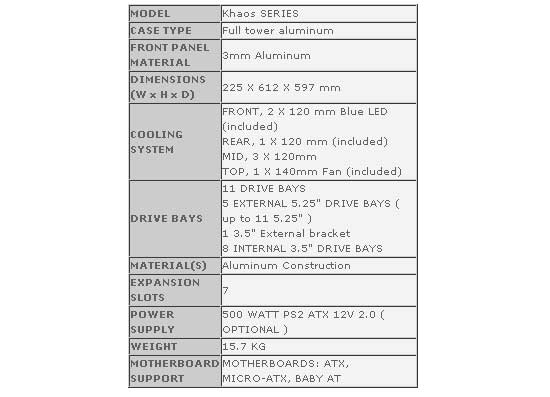 Packaging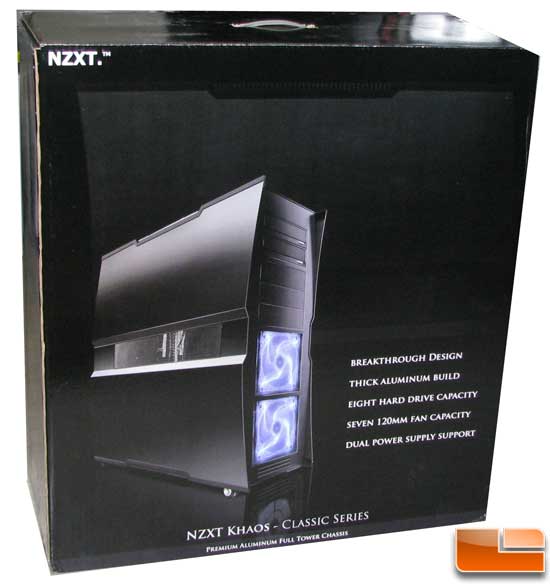 The 34.6lbs Khaos comes packed in a sturdy box as it is needed for a case of this weight. The box has some nice simple art work to it, but the good stuff is inside.