NVIDIA GeForce Experience 3.0 Overview – How To Optimize, Record and Stream Your Games
By
What Is The NVIDIA GeForce Experience 3.0
Those of us who are new to PC gaming may have a little bit of difficulty when it comes down to deciding what settings to set our games to. NVIDIA has introduced a program that will help us with just that and the addition of a few other features: the GeForce Experience. With the GeForce Experience 3.0 we will now be able to utilize the potential of our gaming rigs by letting the software automatically change our game settings on more than 300 game titles in accordance to the exact CPU, GPU, and display monitor our system is using. This way we will be given the perfect balance between the quality of graphics and performance. In addition to the feature that allows GeForce Experience to deliver a better gaming experience, the players will be able to download game ready drivers that are developed to fit new releases as well as the ability to share clips, screenshots, and streams of our games with our friends.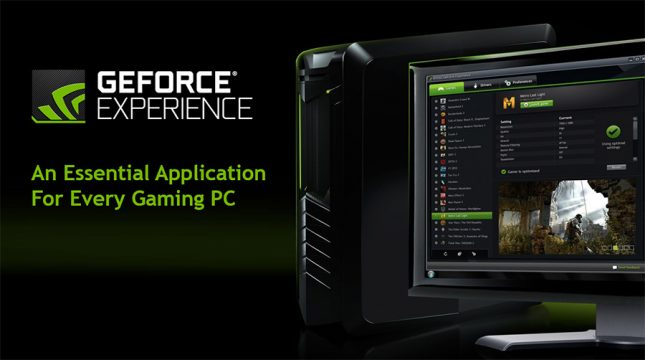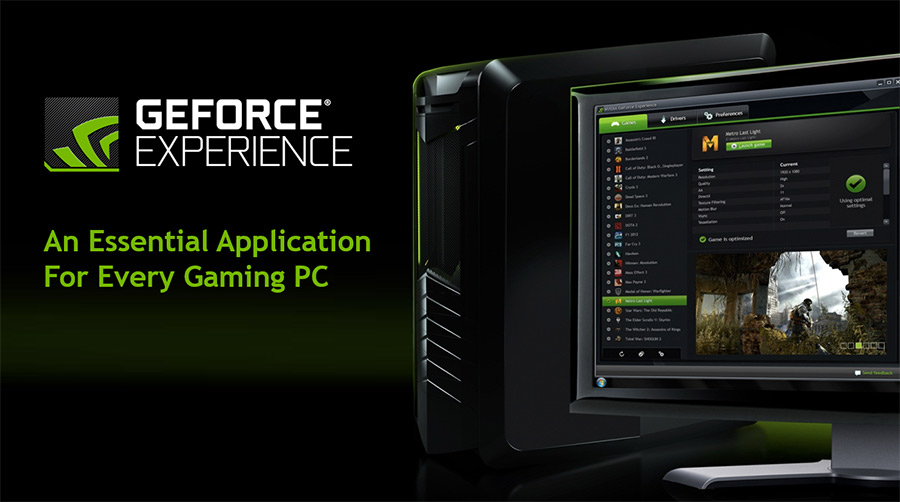 Right now there are over 75 million gamers that have signed up for the GeForce Experience a number that is nearly double the 2014 installation base that had just 35 million users. NVIDIA has been able to grow the user base of GeForce Experience by giving away a great deal of hardware and software. For example since July of this year, NVIDIA has given away MSI VR-Ready Notebooks, HTC Vive Systems, GeForce GTX 1080s, SHIELD Android TVs in promotions. NVIDIA has also been giving away thousands of dollars in game codes to random gamers registered with GeForce Experience 3.1.0 (the latest build), so you can even get free games for using the software. Over $320,000 worth of game codes have been given away to GeForce Experience 3.0 users in the past 4 months alone!
Current and past game code promotions from this year include:
October 28th 2016 – $20,000 worth of ABZ Codes
October 20th, 2016 – $50,000 worth of Obduction Codes
October 13th, 2016 – $50,000 worth of Shadow Warrior 2 Codes
October 7th, 2016 – $200,000 worth of Dead by Daylight Codes
August 4th, 2016 – LawBreakers Alpha Codes
One thing to keep in mind at this point is that the GeForce Experience will only work with NVIDIA GeForce graphics cards. In order to use all the features of the GeForce Experience the user must have a GeForce GTX 650 graphics card or better. Here at Legit Reviews we actually switched out one of our personal gaming setups from an older AMD Radeon R9 280 with the newer NVIDIA GeForce GTX 1060 6GB Founders Edition to be able to run the software.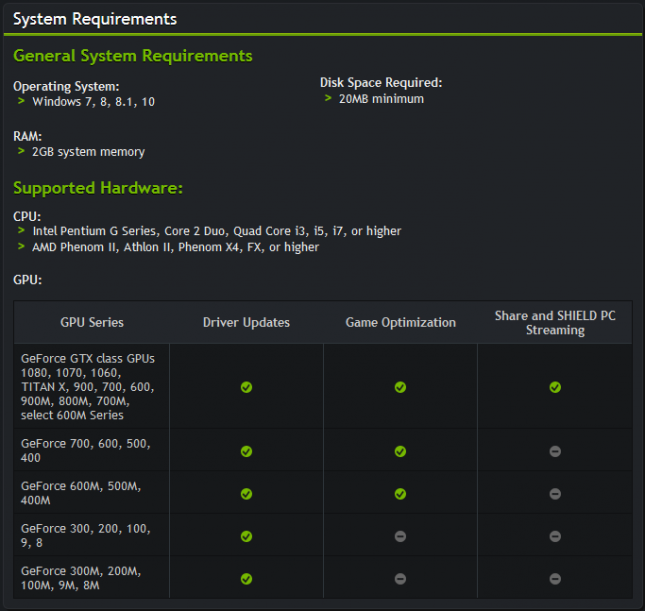 We have just introduced to you the GeForce Experience; a program that players can use to download game-ready drivers for new released titles, utilize their PCs performance, in addition to the programs ability to allow users to record and share videos with their friends or whoever they would like. Come with us to the following pages where we will give a more in depth description on the features that the GeForce Experience delivers.