Notebook Memory Options
By
Trying to Find a Winner
Our Test System
ASUS M6N Notebook
Intel Pentium-M 1.7
ATI Mobility 9600 64mb
Kingston & Corsiar 512mb 200-pin SO-DIMM's
40GB Fujitsu 5400RPM Hard Drive
Windows XP Professional w/ SP2 & DirectX 9.0C
Everest Version 2.0:
Everst 2.0 is a professional system information, diagnostics and benchmarking program for Win32 platforms. It extracts details of all components of the PC. It also tests the actual read and write speeds of your memory giving a fairly accurate look of true memory performance.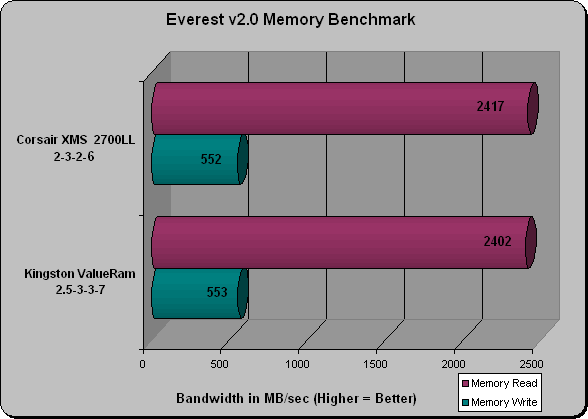 Sisoft; Sandra 2005:
Sisoft Sandra 2005 is designed to test the theoretical power of a complete system and individual components. The numbers taken though are, again, purely theoretical and may not represent real world performance. Higher numbers represent better performance in memory bandwidth.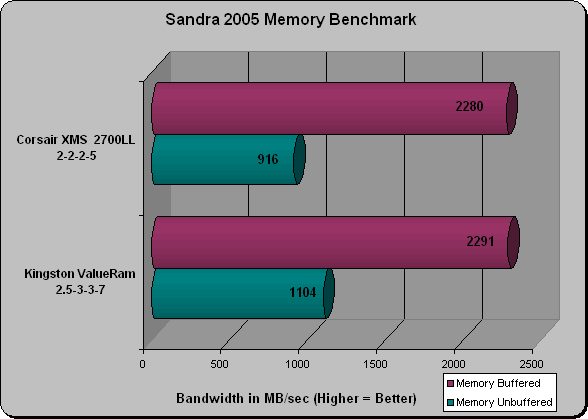 Memory Bandwidth Results:
It is obvious that the low latency Corsiar XMS PC-2700LL SO-DIMM doesn't improve on memory bandwidth of the Kingston ValueRam with mild timings. Although the Kingston ValueRam only proved to be significantly faster in the Sandra 2005 unbuffered bandwidth test. All the other testing showed that the modules were performing too similar to note any noticeable differences.
Doom 3 & Comanche 4:
While the above benchmarks are great tests of memory bandwidth they do not show what real world performance is like. Here we took two often benchmarked games and took a look to see if the low latency SO-DIMM's made any difference in actual game play. Low latency memory should shine in games right?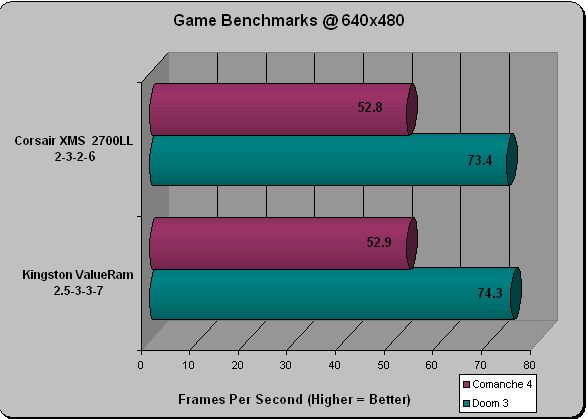 Game Testing Results:
Once again the Kingston ValueRam series module edged ahead of the Corsair XMS 2700LL SO-DIMM. The slight difference observed is not significant and would never be noticed during actual game play.
Time to gather our thoughts and come to our conclusion on low latency memory for notebooks.