Notebook Memory Options
By
Value or Performance?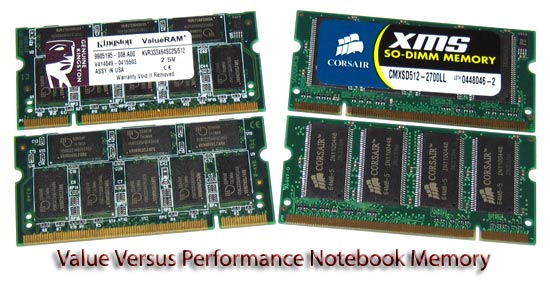 Now that building your own notebook has become a trend among enthusiasts, the hardware industry is starting to offer more options for consumers. When it comes to notebook memory, you used to only have one choice, value memory. Last year, Corsair memory changed all that when they launched an XMS SO-DIMM part that was Low Latency (LL). Prior to the launch of the XMS LL SO-DIMM's, there was no easy way to adjust your memory timings in a notebook. The majority of notebooks on the market do not allow consumers to change memory timings in the BIOS, so you are essentially stuck with the settings pre-programmed in the SPD. Using our ASUS M6N notebook we picked up some Kingston PC-2700 ValueRAM and the recent Corsair XMS PC-2700LL modules.
The Challengers:
Kingston ValueRAM PC-2700 512MB (Part: KVR333X64SC25/512)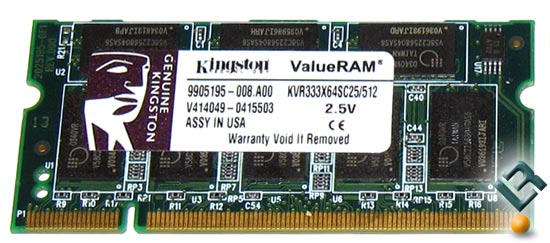 The Kingston ValueRAM modules that we have are using uBGA IC's in a 32MB x 16 configuration. The Kingston modules are rated at 2.5V and come with timings of 2.5-3-3-7. These are what we are considering the industry standard for value memory. Kingston Technology Company, Inc is a $2 Billion company and have a memory part available for pretty much any notebook made today. These modules can be easily found through online retailers for ~$90 shipped.
Corsair XMS PC-2700LL (Part: CMXSD512-2700LL)
The Corsair XMS LL modules use TSOP IC's in a 64MB x 8 configuration, which differs from the Kingston modules. The Corsair modules are rated at 2.6V and come with timings of 2-3-2-6. This SO-DIMM was specifically designed for performance and gaming notebook computers due to the low latency settings. This memory module has been marketed as being ideal for mobile performance. The These modules can be found through online retailers around $125 shipped.
So, to sum things up, you have a value part and a performance part that are different in both design and latencies. There is currently a $35 price premium on the performance SO-DIMM memory, so lets benchmark and see if we can justify the higher pricing.