Nixeus MODA v2 Mechanical Keyboard Review
By
Nixeus MODA v2 Mechanical Keyboard
Last year, we reviewed the MODA tenkeyless mechanical keyboard from Nixeus. Today we're looking at the MODA v2 which conserves the tenkeyless form while introducing some improvements. You might be more familiar with the monitors from Nixeus which use high-end panels in a no-nonsense product. Their first MODA keyboard followed a similar fashion of straightforwardness that we expect to see in the MODA v2.
In addition to the aforementioned tenkeyless layout, the MODA v2 most notably features Kailh mechanical switches available in three varieties: Red, Brown, and Blue. Kailh switches are Cherry MX clones though they aren't knockoffs by any significant stretch. We've tried out a few mechanical keyboards with Kailh switches a few times this year and realistically were unable to differentiate them from keyboards with Cherry MX switches.
The MODA v2 is packaged in a cardboard box printed with the usual graphics and information on the front and back. The usage of Kailh mechanical switches is clearly mentioned.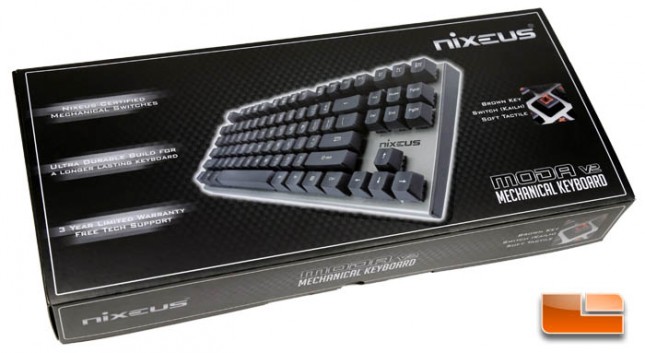 The features as listed on the back of the box are listed below. The specifications were not printed on the box, but we did find them on Nixeus' website.
Nixeus MODA v2 Mechanical Keyboard Features:
Nixeus certified mechanical switches
Key switch ratings: Up to 50 million keystrokes for durability and long life
Ten keyless design for ergonomic
N-Key roll-over (with on/off feature)
Laser engraved keycaps
1000Hz poll rate
USB connector
Compatible with Windows XP/Vista/Windows 7/Windows 8/Mac OS
3 year limited warranty with free technical support
Nixeus MODA v2 Mechanical Keyboard Specifications:
Key Actuation Force: 45g (Red Switch), 55g (Brown Switch), 60g (Blue Switch)
Key Actuation Distance: 2.0 +/- 0.4 Mm
50 Million Keystroke Life Span Per Switch
1000Hz Poll Rate ~ 1ms Response Time
6 Key Roll-Over And Anti-Ghosting
Keyboard Size: 15.75 (Width) X 8.07 (Height) X 1.97 (Depth)
Keyboard Weight: 2 lbs
Connection Type: USB
Price: $69.99 Shipped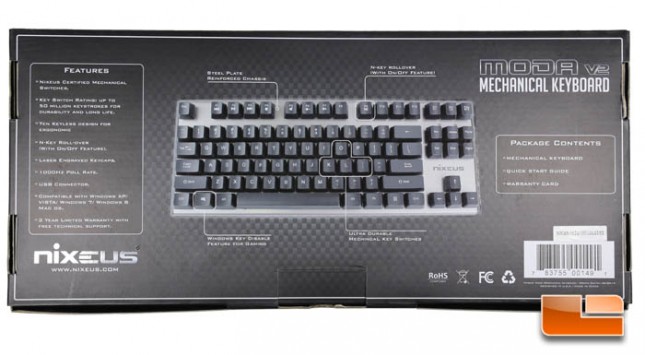 Opening the box, we find the MODA v2 wrapped in a plastic bag padded between blocks of foam.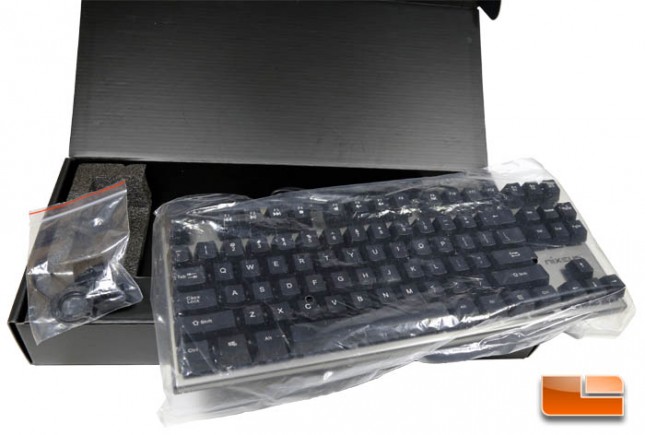 Along with the keyboard are a keycap puller, an alternate set of modifier keys for Apple users, a quick start guide, and warranty registration information card. The MODA v2 is supported by a 3-year warranty. No drivers need to be installed by the user to use this keyboard. Just plug in the keyboard and the driver will automatically install.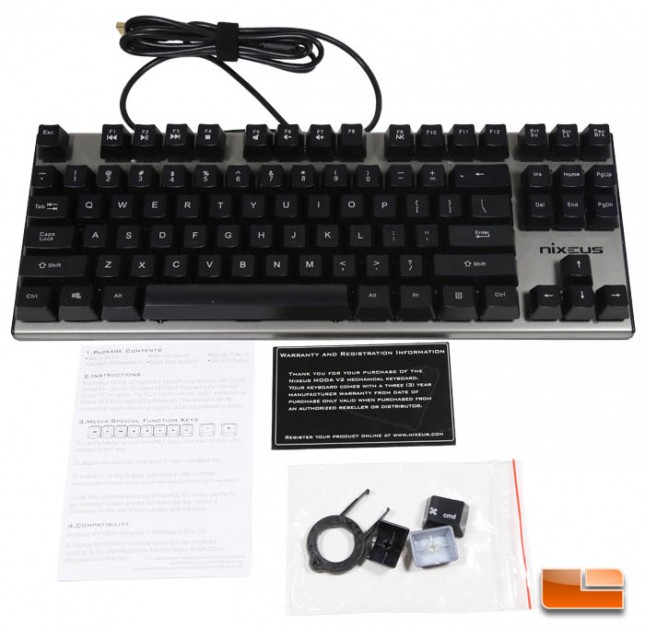 The MODA v2 takes up little desk space thanks to its conservative bezel and tenkeyless form. It measures 15.75(W) x 8.07(L) x 1.97(H) inches / 40.0 x 20.5 x 5.0 cm. This keyboard appears to be based off the same design sold as the Noppoo Lolita Spyder 87 with differences in logo branding.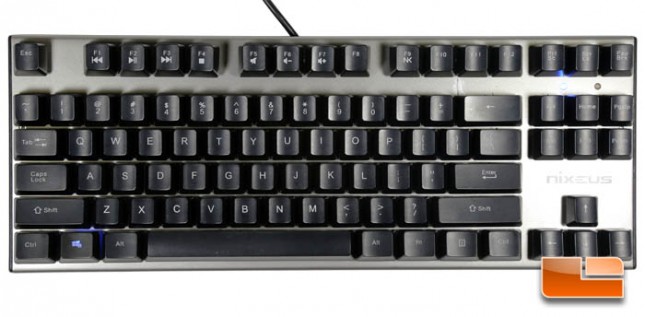 The MODA v2 features floating keys mounted on an exposed metal backplate very similar to that of the Corsair K keyboards formerly known as the Vengeance line.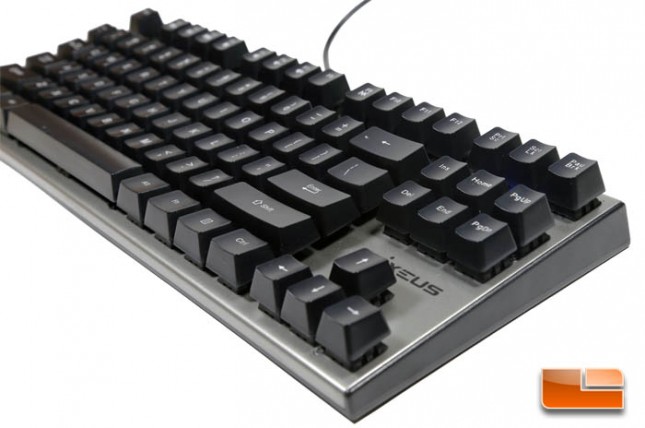 Media and system volume controls are placed with F1 through F7. The N-Key rollover trigger is placed with F9. Pressing the Fn key with any of the F-keys will activate that key's secondary function.
The MODA v2 uses Kailh switches like its predecessor, though new to this update are a wider selection of the color-coded switches: Red, Brown, and Blue. These are clones of Cherry MX switches and have become widely available ever since the MX mechanical switch patent expired over a year ago. Looking closer at the photograph we see lubricant on the switches. The LED seen in the picture is for indicating if Windows lock has been toggled. Pressing Fn and the Windows key will trigger Windows lock and the blue LED.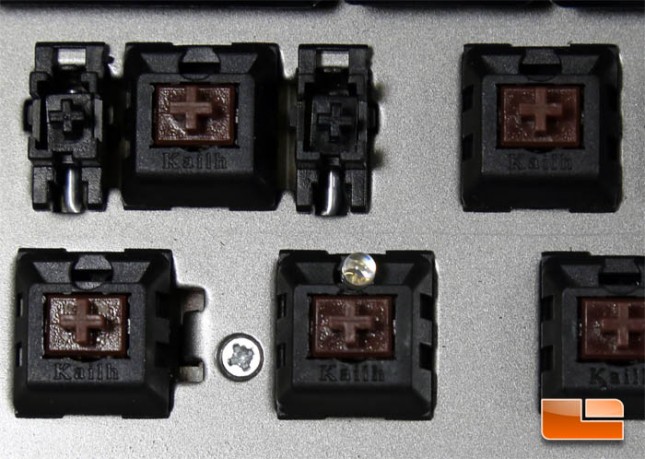 Looking to the underside, we see four rubber feet for grip as well as pull out tabs for angling the keyboard. Also notice the cable management grooves that run along the top edge.