NETGEAR Nighthawk Pro Gaming XR500 WiFi Router Review – Wired Performance Tested
By
Charter Communications recently doubled the download speed of Spectrum Internet in a handful of areas from 100 to 200 Mbps at no additional costs to customers. To get the faster 200 Mbps some existing Spectrum Internet customers will need to swap out your older DOCSIS 1.1 or 2.0 cable modem to a newer DOCSIS 3.0 or 3.1 model that is capable of reaching those higher speeds. The good news here is that Charter as well as most of the big Internet Service Providers (ISPs) provide you with a free modem.
We are based in the St. Louis area and recently got the free internet speed bump to 200 Mbps. Our experience was pretty good until we tried playing the popular online multiplayer battle royale game title called PlayerUnknown's Battlegrounds (PUBG) on our wired desktop PC. We kept getting complete game freezes while playing and the much-hated network lag detected error would pop-up on the screen. Going from 100 Mbps internet service to 200 Mbps internet service ruined our gaming experience and that makes absolutely no sense.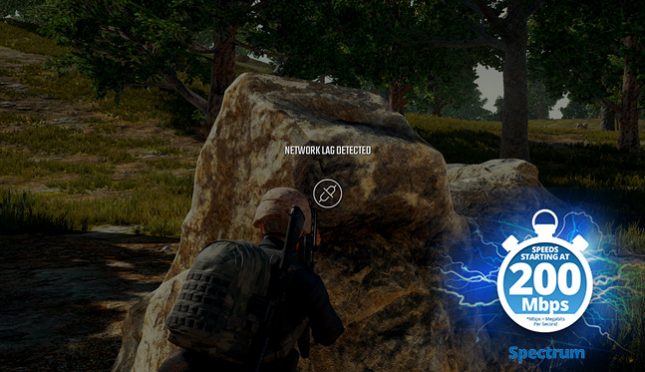 After raging and cussing out Charter we did some quick network tests. We figured out that when we directly connected our gaming PC to the cable modem that Charter provided that everything was fine, but once we hooked up our trusty Netgear Nighthawk X6 AC3200 Tri-Band WiFi Router that we have been using for years that our gaming experience went down the toilet. It made little sense to us as we were using a wired connection and this router has been reliable for years. When we ran the Ookla Speedtest when we were directly connected to the ARRIS DOCSIS 3.0 cable modem provided by Charter we were getting around 215 Mbps down, but on the Netgear Nighthawk X6 we couldn't even reach 165 Mbps. We lost 50 Mbps of performance somewhere on this TCP test, which shows that something isn't quite right.
We should point out that most online multiplayer games have a client-server communication model, where all the critical data is sent from the server to the clients over UDP in tiny 100-200 byte packets to reduce the overhead. Testing the TCP speed only shows part of the picture for gamers and the UDP stream performance was likely the reason PUBG was locking up. UDP performance is important to test, but much harder to benchmark without setting up a private server for testing with a speed test tool called iPerf. We are just going to stick with simple Ookla Speedtest results are we don't want to get too complicated. PUBG seems to connect to the lobby over https port 80/81 and then once you connect to a game server for an actual game you use a random UDP connection port. Let's get back on track…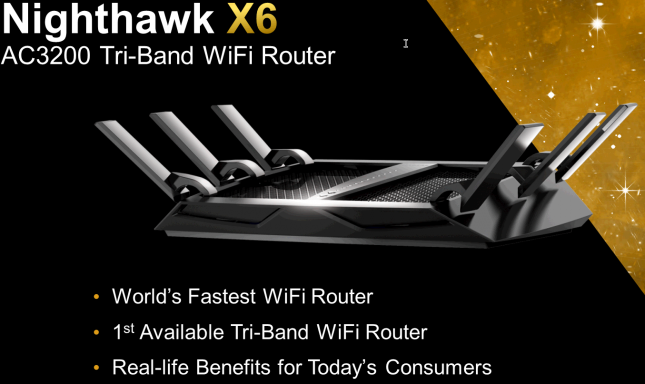 The Netgear Nighthawk X6 was $259.99 when it came out back in 2014 and was the flagship model for the time. Our very own Ken Brown reviewed this particular model back in 2014 and showed that it was a beast with impressive wireless speeds and solid file transfer speeds through the USB port, but he didn't look at wired performance. It turns out most reviewers don't test wired performance on wireless routers and if they do they usually just test performance between two PCs on the Gigabit LAN. Very few actually test WAN to LAN performance as broadband speeds were so low that it didn't yield very interesting results. Now that we are hitting speeds of 200 Mbps we are starting to see that wired performance is something that needs to be looked at closer.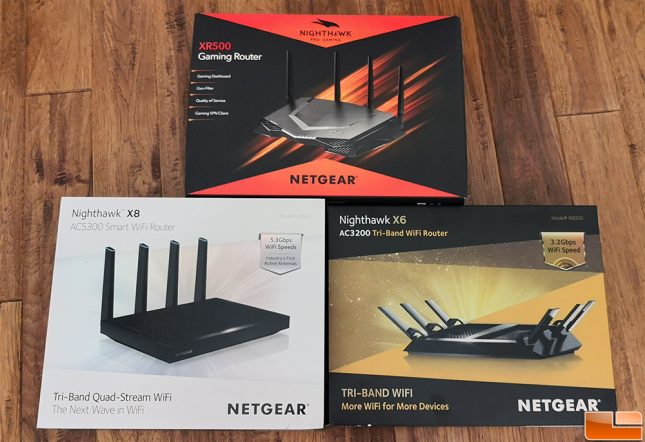 We gathered up a few Netgear Nighthawk routers for testing to see if we could figure out why our gaming performance was bad and we could reach 200 Mbps speeds on Charter Spectrum Internet.
These three routers were released within the past 4 years and were flagship models for Netgear when they were launched.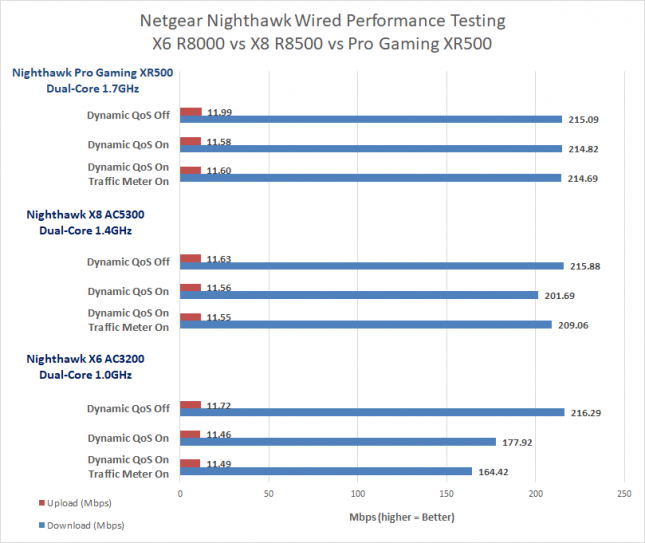 After running the Ookla Speedtest dozens of times and changing settings we quickly figured out what was going on. Over the years the number of wireless devices in our home increased and we turned on Dynamic Quality of Service (QoS). Netgear recommends enabling Dynamic QoS if your Internet download and upload speeds are 250 Mbps or less to helps improve your routers Internet traffic management capabilities through a better application and device identification, bandwidth allocation, and traffic prioritization techniques. Dynamic QoS resolves traffic congestion when multiple devices are fighting for the little bandwidth that you have. Dynamic QoS worked like a champ when we had 100 Mbps Internet Service, but the move to 200 Mbps Internet service revealed that the Dual-Core 1.0 GHz processor in the Nighthawk X6 (R8000) router wasn't able to what was being asked of it at those speeds. To make matters worse we also had the traffic meter enabled to figure out our monthly data usage and that too impacted performance. Disabling QoS would allow us to game on the Nighthawk X6 R8000, but with other Internet users in the household, we could tell when they were online.
Moving up to the newer Nighthawk X8 R8500 router with a faster dual-core 1.4 GHz processor showed that enabling Dynamic QoS still had a slight performance impact, but not nearly as bad as the older Nighthawk X6. That extra 400 MHz processing power looked like it clearly helped performance! When we tested the latest Netgear Nighthawk Pro Gaming XR500 wireless router the performance didn't even drop 1 Mbps when we enabled QoS and the traffic meter. This routers more recent dual-core 1.7 GHz processor was easily able to handle everything we wanted it to do.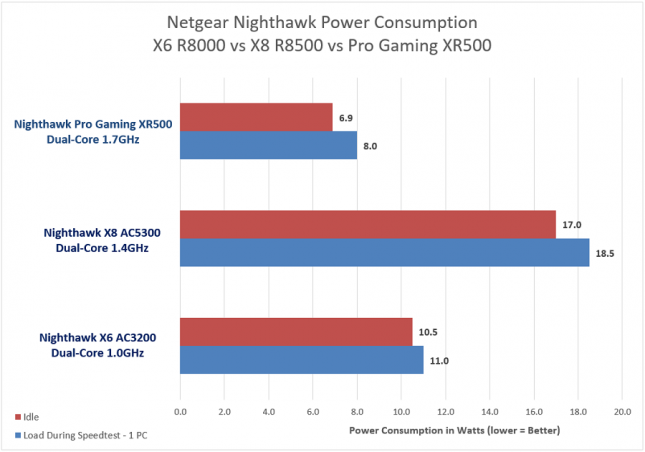 The other shocking discovering is that the Nighthawk Pro Gaming XR500 used less power than the other two routers despite having the highest clocked SoC of the bunch. Our Kill-A-Watt power meter was showing that the XR500 was using roughly 10 Watts less power. You pay roughly $1 per month for running 10 Watts non-stop 24/7 with 14 cents per kWh electric rates, so this represents about a $12 per year energy savings.
When talking with Netgear they said that this is mainly due to the fact that the XR500 is a dual-band 802.11ac WiFi router and that the Nighthawk X6 and X8 models were both tri-band routers. The XR500 supports 2.6Gbps WiFi and Multi-User MIMO (MU-MIMO) for simultaneous streaming. It also have 15 additional DFS channels in the 5GHz band over the older models that help reduce interference when gaming.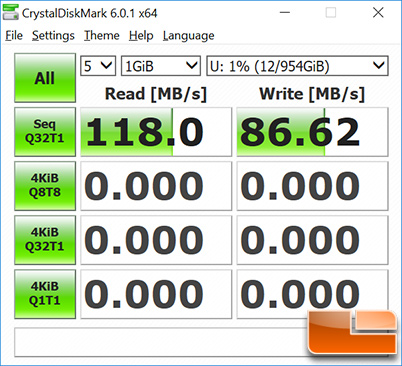 The other thing we noticed is that the Netgear Pro Gaming XR500 supported our SanDisk 1TB Extreme Portable SSD on the units USB 3.0 port just fine, which couldn't be said for the two older models. This drives come with the exFAT file system and is capable of high-speed transfers of up to 550 MB/s. We were able to hit 118.0 MB/s read and 86.6 MB/s write over the network! We did a few manual file transfers and transferring a 6.3 GB 4K Ultra HD MKV movie file from the Portable SSD to our wired desktop PC took 54 seconds at 109.9 MB/s. The Netgear ReadySHARE interface makes accessing network storage via the USB 3.0 port as simple as can be.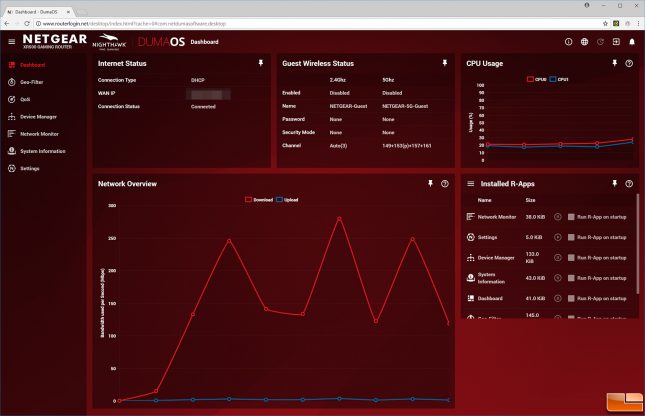 Lastly, the Netgear Pro Gaming XR500 uses DumaOS, a router operating system that was designed by NetDuma for gamers by gamers. The XR500 is the only router that router shipping with this software and is a gamers delight.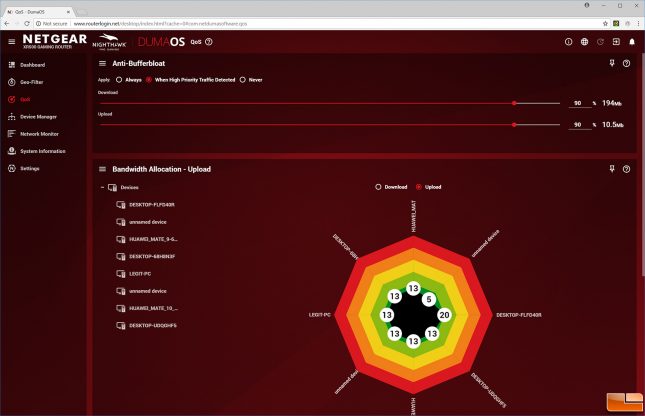 The XR500 has what we believe to be the most advanced QoS solution on the market today. Netgear uses a dedicated co-processor to handle QoS and traffic priority, which is said to eliminate network congestion. On the QoS menu, you can enable a feature called Anti-Bufferbloat that will allow you to distribute upload and download bandwidth to the network devices how you see fit. You can enable Anti-Bufferbloat all the time or just for when high priority traffic bandwidth is detected. Enabling this feature ensures that if someone else jumps online to download a large file or stream Ultra HD movies while you are gaming, they will no longer affect your game.
There are two key settings here. The first setting is a slider bar that allows you to customize the exact percent you want non-gaming devices to be able to use with regards to both upload and download speeds. Netgear recommends you set this to about 70 percent to allow the other devices to have 30 percent of the internet bandwidth. The next setting would be per device bandwidth allocation. Here you can specify how much bandwidth (both download and upload) each individual device can use. We've never seen a router that allows you to allocate bandwidth to each device so easily and the color chart is a nice touch.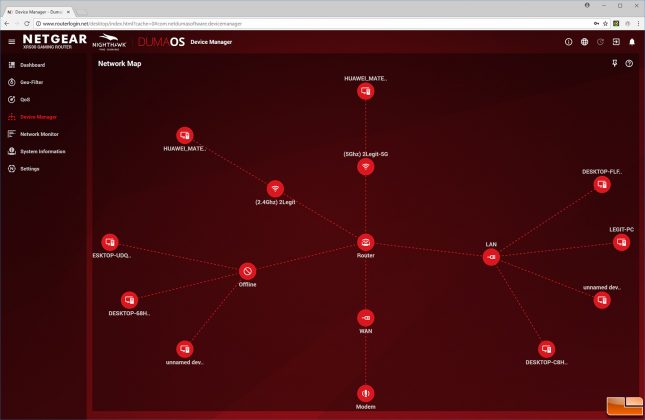 Seeing what devices are on your network is simple with the excellent network map.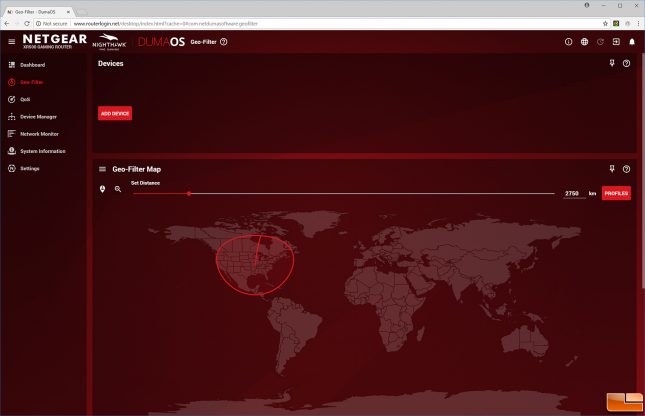 Gamers will spend a fair bit of time in the Geo-Filter menu that allows you to radius around your location. For those located in the United States you can click on the exact state that you live in and then set the distance that you want the server to be in. Netgear recommends that you set the maximum radius to be between 500 and 3,000 km to get the most from this feature.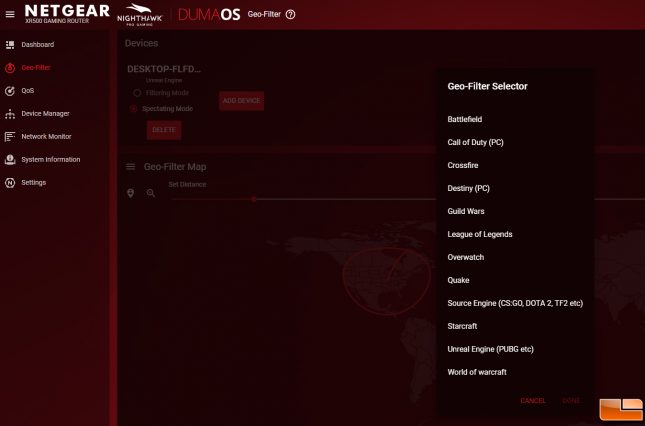 This solution seems to be ideal for console gamers using the Sony PS4 and Microsoft Xbox One as it doesn't work for all PC games. However, you can use "Spectating Mode" to see what server you are connected to and the ping.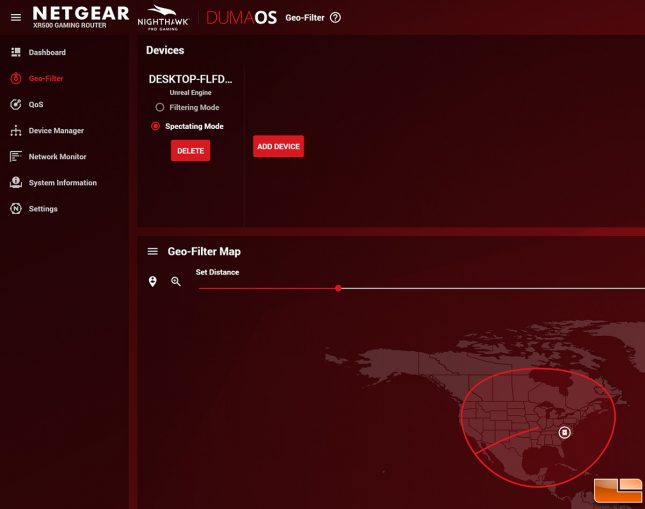 When it comes to PUBG we couldn't filter servers, but we could spectate and see that when we selected the North American servers that we were actually connected to a server in North Carolina.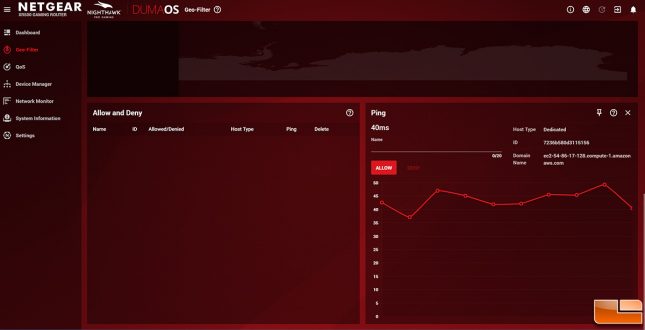 Scrolling down a bit on the Geo-Filtering menu will show the ping for the ping for the server that you are connected to. For this PUBG match, we were getting around 40-50ms ping times to the Amazon AWS server PUBG was running on in North Carolina.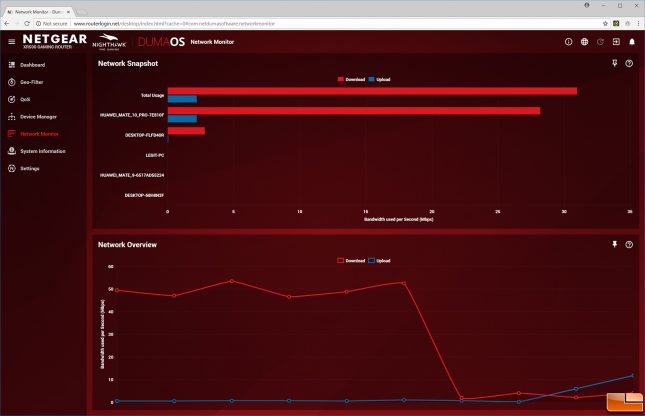 The Network Monitor menu allows you to quickly see what is taking place on the network with some nice visual charts.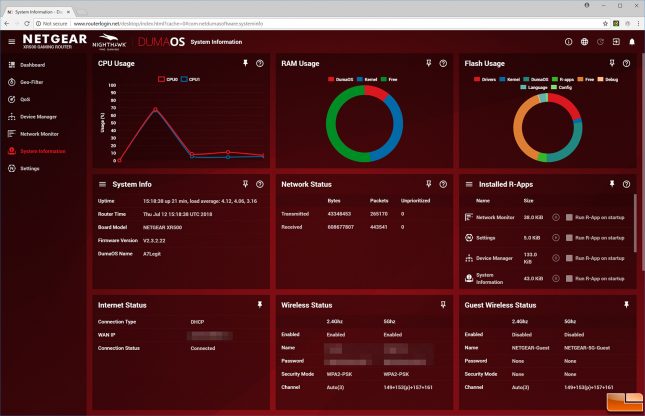 These are just a few of the settings you can play around with, but the real-time analytics data provided by the DumaOS by NetDuma is impressive.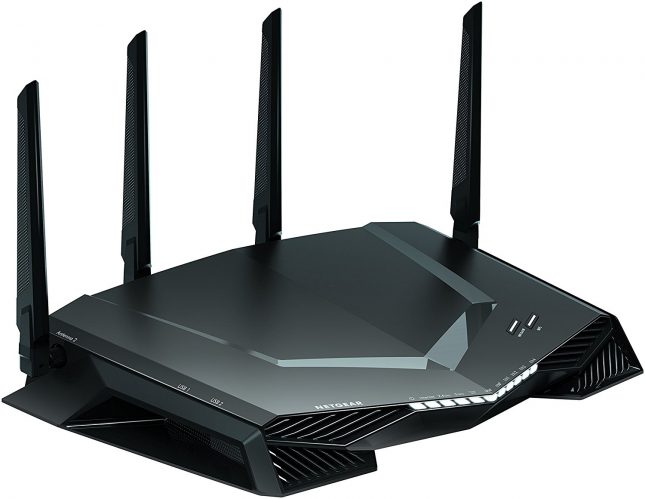 Final thoughts and Conclusions
What started off as a 'free' upgrade to Charter Communications new 200 Mbps base Spectrum Internet service snowballed into this article. We didn't plan on updating our Netgear Nighthawk X6 (R8000) router from 2014, but it was no longer able to do what we needed. The Netgear Nighthawk X8 (R8500) router from 2015 performed better but enabling the services that we wanted to run still impacted performance. That led us to the Netgear Nighthawk XR500 Pro Gaming Router that was just released this year. It does everything that we need without impacting wired gaming performance. We now fully utilize the new 200 Mbps Internet speeds while some household members are gaming and others are streaming movies or download content. It's nice to be able to game again without being impacted by what others are doing!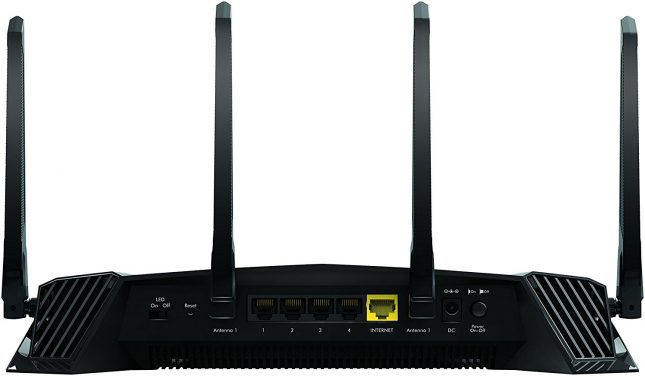 We didn't look at wireless performance this time around as what does that really mean to you? The types of walls you have, the number of walls you have, the channel used, channel noise, wireless card used, driver used and number of antennas used by the wireless client card all greatly impact wireless performance. The XR500 router has an AC2600 rating, which means 800 Mbps on 2.4GHz and 1,733 Mbps on 5GHz. This is only a dual-band router, but it does have MU-MIMO for fast simultaneous connections and beamforming. There are four external antennas that each have four streams to ensure a reliable signal that can offer high-performance. The XR500 supports wide 160MHz channels and Dynamic Frequency Selection (DFS) channels on 5GHz, which means you have 15 more channels available than routers without this feature. Netgear set the default 5 GHz channel to 153 (not a DFS channel), so you need to manually switch that if you like. You also need to enable 160MHz channels (Enable HT160 under Advanced Wireless settings) in DumaOS as well as they are off by default. This is another reason we didn't do wireless tests as many are going to tweak the default settings. To get the most from the XR500 you'll need to spend some time setting everything up.
At the end of the day, it is clear that the XR500 is truly a router for gamers. It is true that this router based on the same hardware platform as the Netgear Nighthawk X4S (R7800) that runs $196.66 shipped, but you don't get DumaOS. The XR500 runs $297.99 shipped, so you are basically paying an extra $100 for DumaOS by NetDuma. We haven't had a chance to play around with the Nighthawk X4S, but the network congestion management in DumaOS on the XR500 is the best we've ever used.
This is now the router that we use and we would easily recommend it to other gamers that share bandwidth with other users in the household.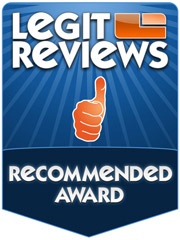 Netgear has made a number of videos for the Nighthawk Pro Gaming XR500 and you can take a look at them below.