MSI Vigor GK60 Mechanical Keyboard Review
By
MSI Vigor GK60: Testing and Conclusion
As expected, the GK60 keyboard performed very well with its trusty Cherry MX Red switches. Because these switches are linear, they are preferred by most gamers. Generally, blue switches are more ideal for typing, but they are noticeably louder due to their tactile design. These Cherry MX switches have a rating of 50 million clicks. This means they should last many years into the future before showing any issues.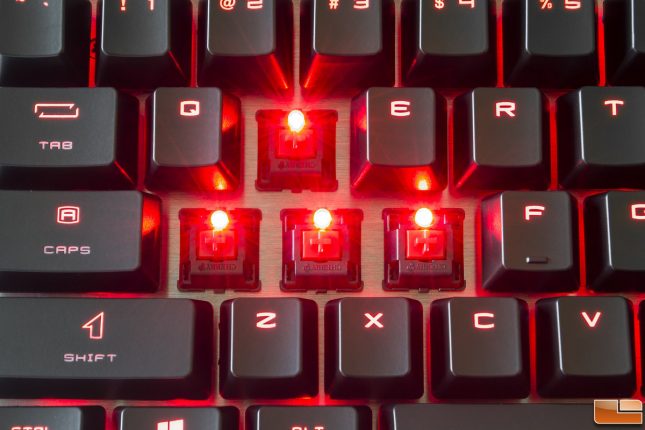 One thing that I did find somewhat obnoxious was how loud the larger keys were. The enter key, backspace key, and especially the space bar. Just a small tap on the space bar was enough to make it rattle. It seemed to be something with how the space bar mounts to the keyboard as this was mostly not caused by the Cherry MX switch.
The four metal key caps were pretty comfortable to play on as they have a curve towards the S key. This prevents the fingers from pressing the surrounding keys on accident. These key caps do have a metal top and a plastic bottom. The plastic bottom is red and transparent to allow the light from the LED to pass through. I would have liked to see some extra QER key caps for MOBA players as well. As for myself, I switched back to the normal key caps as they were much easier to type with.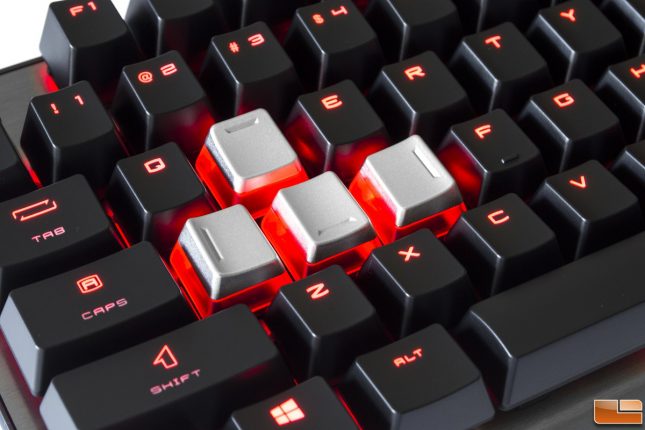 Although the GK60 mechanical gaming keyboard lacks a few features, like RGB illumination and macro recording, it does make up for its value due to having Cherry MX Red switches. At this price range, having genuine Cherry MX switches is something I am very thankful for. It looks to me like MSI had to cut a few features off in order to keep the Cherry MX Red switches.
Even if the GK60 does not include fancy RGB lighting, macro recording, or the ability to reassign keys, it is still a very functional keyboard. Priced at $70.29 shipped on Amazon, this keyboard provides similar gaming and typing performance like a more expensive keyboard. If you still want to play games and have a nice keyboard to type with, the GK60 is a great choice if you do not mind losing a few features.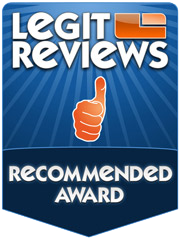 Legit Bottom Line: With Cherry MX Red switches, the MSI Vigor GK60 makes a great keyboard if you don't mind losing a few minor features.