MSI Vigor GK60 Mechanical Keyboard Review
By
MSI Vigor GK60: Gaming Center Software
In the home screen with the MSI Gaming Center, we are greeted with a picture of the product and an option to turn LEDs on or off. There is also a reset button to load the default settings. Clicking on the picture of the keyboard will bring us to the next section.
Once we click on the picture of the GK60 in the home page, the lighting section comes up to give us access to lighting effects. There are several lighting effects to choose from, each having their own settings as well. These lighting effects are accessible through the keyboard already, but we can customize our own lighting theme under the Customize drop down option.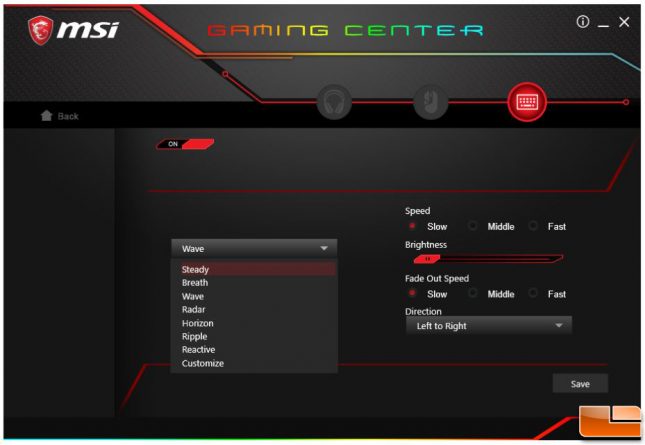 Here we can choose which keys to light. Every key can have their own brightness level as well. After we are finished with customizing our theme, we can click the save button to save the lighting setting into the memory of the keyboard. This is great as it does not require the MSI Gaming Center software to run in the background.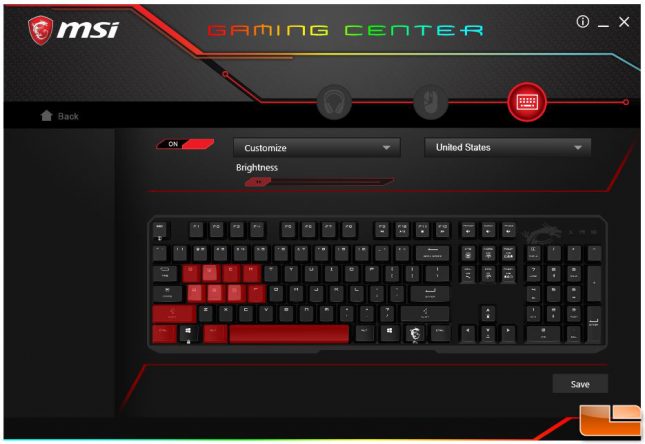 Unfortunately, there are no options to remap keys or set macro functions. In the next section, we will test the GK60 keyboard and end this review with my conclusion.