Masscool MP-1370S 'Media Mate' Media Player
By
Masscools MP-1370S Media Mate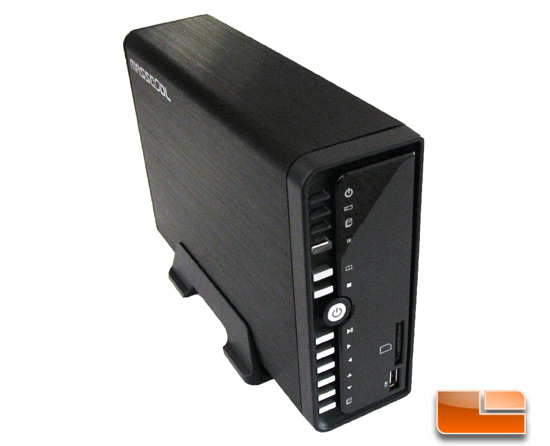 Today we take a look at Masscools MP-1370S Media Mate high-definition media player. For us, Masscool is not exactly the first name you think of when you look to buy a HD media server, but the company has been in the business of designing and building HDD enclosures and media players since 2000. As a subsidiary of the Fanner Tech Group, Masscool originally began providing OEM coolers for your CPU, notebook, or HDD. They have a pretty impressive catalog of PC accessories on their website and you can find their products in brick and mortar stores as well as on-line.
The Masscool MP-1370S is designed to not only be a media player that can access your favorite multimedia on your local or remote hard, but users are able to use the player to record to an attached USB device or an installed HDD. Priced at a very economical $100, it supports playing of video up to 1080i resolutions through an HDMI port and includes room for an 3.5 internal SATA hard drive so that you can load up all your favorite multimedia. Even if you dont install an internal hard drive, the MP-1370S can connect to your local internet via the 10/100 Ethernet connection.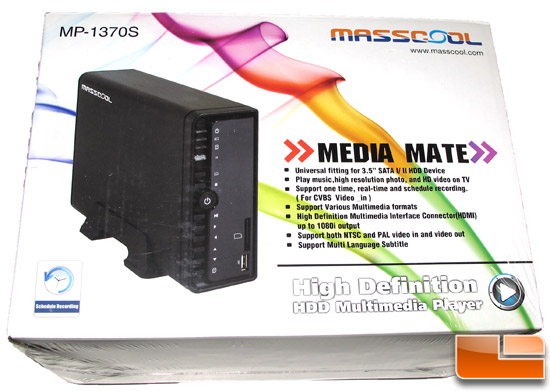 Masscool is targeting the user who wants to play and record multimedia. The MP-1370S is a player and recorder and comes with the ability to schedule and timeshift recordings. We have seen quite a few media players in the past few months, but this is the first time we have seen a player with the ability to record. Lets take a closer look inside to see what makes the Masscool tick.
Features
Play music, high resolution photo, and HD video on TV.
Video resolution support up to 1080
Universal fitting for 3.5 SATA I / II HDD device
Stream and transfer files through Ethernet and USB 2.0 Host port.
Equipped with a High Definition Multimedia Interface Connector (HDMI).
Serve as an external USB HDD of PC (Through USB 2.0 Device port)
Support both NTSC and PAL video in and video out.
Direct connection to TV & HI-FI speakers & Fiber Optical Output & Co-axial Output.
Support Multi Language Subtitle
Aluminum cover with internal metal shielding
Formats Supported
Firmware Upgradable: Yes
Audio File support: WMA, AAC,OGG, MP3
Display Format: PAL/NTSC remote assisted switch
Ethernet Connection: 10/100M
HDD Support: 3.5″ SATA with up to 2TB HDD
Material: Aluminum Cover and Metal Interior
Media Output: HDMI, Composite, Component, Fiber Optical, Co-axial
Movie File format support: MPEG1: AVI/MPEG/DAT, MPEG2: VOB/MPG/TS, MPEG4: AVI/Divx/Xvid/ISO/IFO.
One Touch Copy: Copy files from USB mass storage and memory card
One Touch Record: Record to FAT32 HDD
Photo File Support: JPG/JPEG/BMP
Schedule Recording: Yes
System Support: Windows ME, 2000, XP, Vista, MAC OS 9.x or above, Linux kernel 2.4.1.0 or above