M-ROCK's Extreme Zion Laptop & Camera Bag
By
Inside the Zion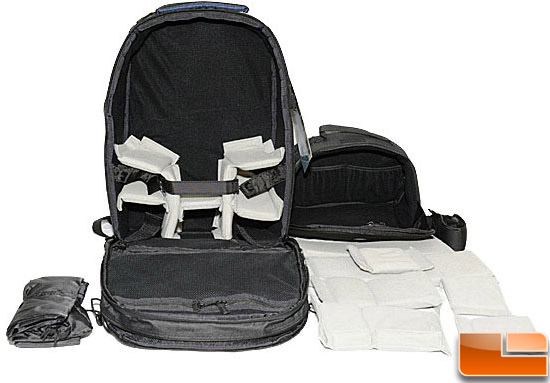 The inside of the Zion is lined with soft, non-scratching cloth, and all of the seams are covered. The laptop compartment has a divider with a retaining strap for one side. My 15 wide-screen laptop was too tall to use the strap, but with the compartment closed, there was little extra room for movement, so I did not worry. There is a small earphone feed-through slot from the laptop compartment allowing for the placement of an MP3 player inside. With my laptop, there was only enough room left for a very small player. Since my old, hard-drive based MP3 player would be too large, I would just place it in the upper front pocket and use the double zippers to form an earphone wire path. The two external pockets are roomy and each contains two smaller pouches and a zippered mesh compartment for storing and organizing all of your accessories. The main compartment also has two large mesh pockets, located on the front, opening part of the bag for organizing and storing small items.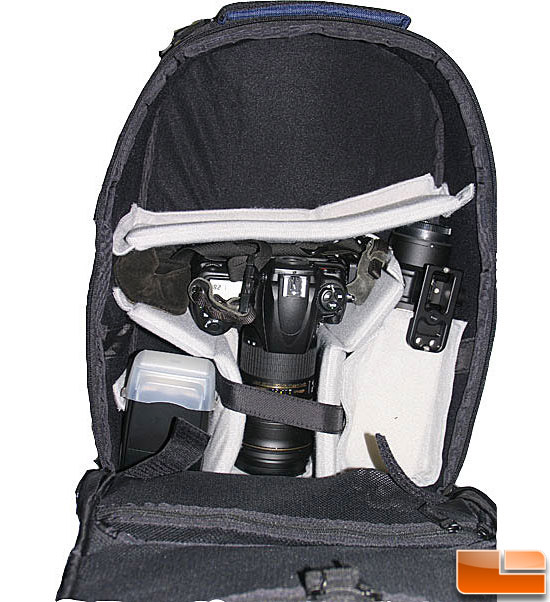 The Zion comes with a large variety of padded dividers for the main compartment along with the accessory bag which can fit snugly into the top. I loaded up the Zion with my large DSLR, two large lenses, and a full sized flash. I was able to quickly make an arrangement that fit all of these items and left a large volume at the top for other things (like a snack, or my video camera for those occasions that need still and video coverage). However, my larger 70-200mm zoom lens, at 8.5 (215mm), was tall enough that it was difficult to fit the accessory bag in the top space.
The accessory bag also has hook and loop panels on its exterior for holding it to the inside of the Zion. These attachments make the accessory bag difficult to fit into place if the space is tight, though once in place, it was secure even if the items below were removed. If desired, the accessory bag can also be attached to the top handle of the Zion via a large hook-and-loop strap on the bottom of the accessory bag (included for just this purpose). The accessory bag itself is padded and quite stiff, so it can protect its contents well.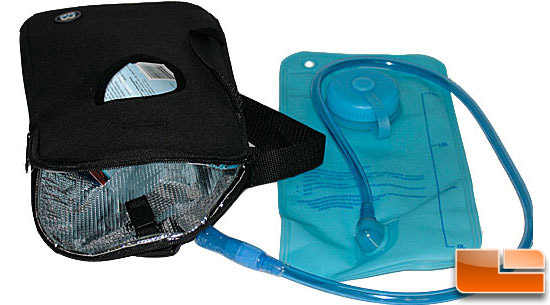 The optional Great Lakes bladder is designed to fit into the laptop compartment for hikes where a laptop is not needed but water is desired. It has a 1.5 quart (1.3 l) capacity and includes a neoprene case with a reflective insulation liner. It has a wide mouth for ease of adding your favorite fluid and ice if desired. The small feed-through in the Zion laptop compartment allows the tube from the bladder to exit the compartment with the zippers completely closed.