LUXA2 TX-200 Dual Wireless Qi Charging Station Review
By
Qi Wireless Charging on the LUXA2 TX-200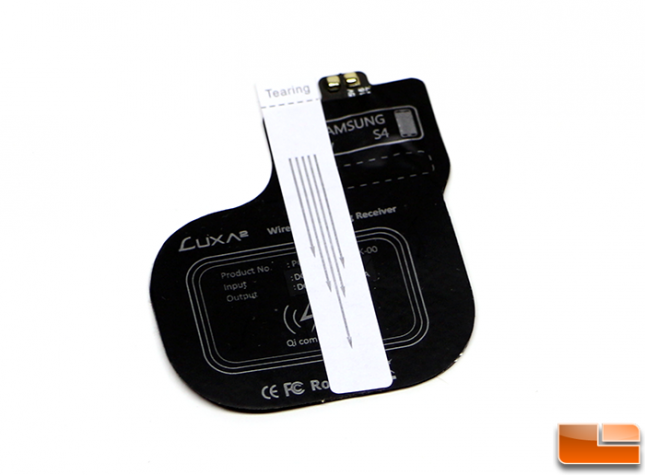 We tried out the LUXA2 on our Samsung Galaxy S4 smartphone and Google Nexus 7 tablet (Gen 2) and found that it worked great. The Samsung Galaxy S4 supports the Qi wireless charging standard, but doesn't include a receiver. LUXA2 also just happens to offer wireless charging receivers for a small handful of popular Samsung devices. If you happen to own a Samsung Galaxy S3/S4 or Note 2/3 then you are in luck. The wireless charging receiver is just 0.6mm thick and goes underneath the battery cover on your smartphone and the two metal contact pins fit on the open Qi charging ports. LUCA2 includes a small adhesive strip on the wireless receiver that is used to hold down the receiver.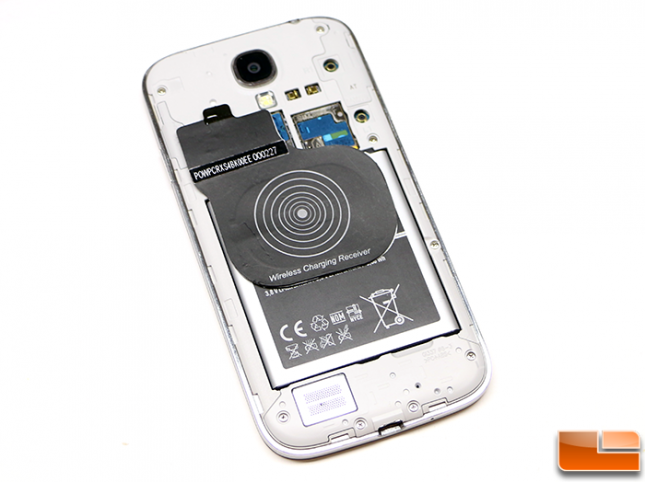 This is what the LUXA2 Wireless Receiver looks like when installed in our Samsung Galaxy S4 smartphone. It should be noted that the receiver totally blocks the microSD card slot, SIM slot and the Li-Ion battery pack. If you often swap out batteries or remove your Flash memory card, this could be a PITA and the adhesive will quickly wear out. We also noticed that even though the receiver is just 0.6mm thick, it caused the phone back cover to bulge and that in turn made it fit funky in our phone case. The good news is that the wireless charging worked with a phone case installed. We also discovered that when this Qi Wireless Charging Receiver is installed that NFC is disabled on our Galaxy S4.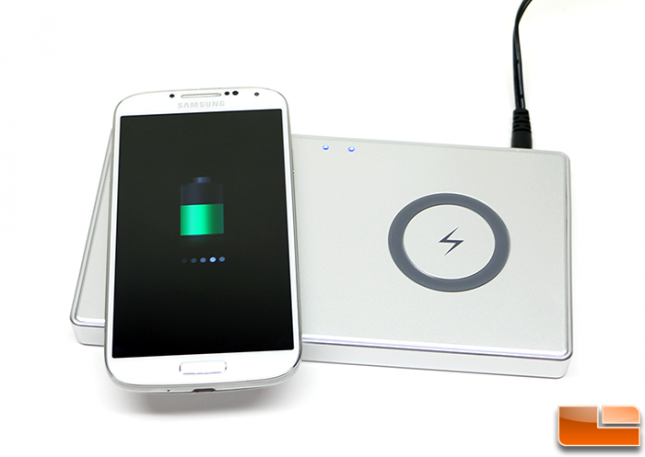 Using the LUXA2 TX-200 was very simple and we were quickly charging our Samsung Galaxy S4 and Google Nexus 7 (2013 Edition) at the same time wirelessly in a matter of seconds. The TX-200 allows you to ditch the wires and move over to wireless charging for your home or office. The LUXA2 TX-200 is a bit too large to travel with, but it gets the job done at a primary residence.
Final Thoughts and Conclusions:
The LUXA2 TX-200 charges devices that operate with the Qi Standard. It is a simple device that just works and when it comes to charging your smartphone or tablet, the TX-200 does the trick. The LUXA2 TX-200 Dual Wireless Charging Station runs $59.99 shipped and is backed by a 2-year warranty. That will be the only charge to go wireless if you have a device with that functionality built-in, but some will need to pick up wireless receivers for your devices and that will add to the cost of moving over to wireless charging.
One thing that we wish LUXA2, a division of Thermaltake, would have kept in mind is KISS. KISS is an acronym for the "Keep It Simple, Stupid" design principle. LUXA2 went the extra mile to intentionally add-on power lights and a speaker that beeps to let you know your phone is charging. The only problem with this is that your phone, tablet or other mobile device already show a visual notification when it is charging and most vibrate or beep when plugged in. That means you could have quadruple charging notifications to let you know your phone is charging. LUXA2 made this wireless charger overly-complex from our point of view for such a simple task. Then they failed to give the end user the ability to disable both the audio or visual alerts. That loud beep is preventing us from giving the LUXA2 TX-200 our recommended award. That loud beep will wake up a baby (or anyone sleeping), drive your dogs crazy and annoy the living heck out of you.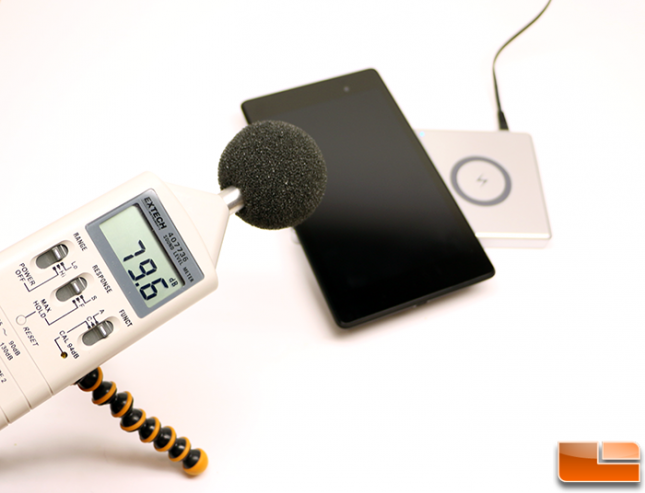 You are probably wondering just how loud that beep is, so we sat our sound meter about a foot away and that bloody beep came in at 80dB. LUXA2 also just happened to edit their TX-200 product video to omit the beep, which is a bit sketchy in our book. Time to crack up the case and unsolder that speaker! Then again you shouldn't have to do that on a $60 product.
Legit Bottom Line: The LUXA2 TX-200 dual wireless charging station works as designed, but the audio and visual alerts make us cringe.