LUXA2 TX-200 Dual Wireless Qi Charging Station Review
By
LUXA2 TX-200 Dual Wireless Charging Station Using The Qi Standard
LUXA2, a Division of Thermaltake, has been creating devices for the mobile lifestyle since 2009. The LUXA TX-200 Dual Wireless Charging Station came to market at the end of February 2014 to allow smartphone and tablet charging without the need of any wires. LUXA2's Dual Wireless Charging Station is all about making life simple and who doesn't like the idea of conveniently charging all your devices.
The LUXA2 TX-200 Dual Wireless Charging Station runs $59.99 shipped. There are already a number of smartphones and tablets that come with a built-in wireless receiver and are ready to use wireless charging pads; however, some phones will require a wireless charging receiver to be purchased and installed for $9.99 each. LUXA2 just happens to offer both. The wireless charging base and wireless charging receiver are both backed by a 2-year warranty.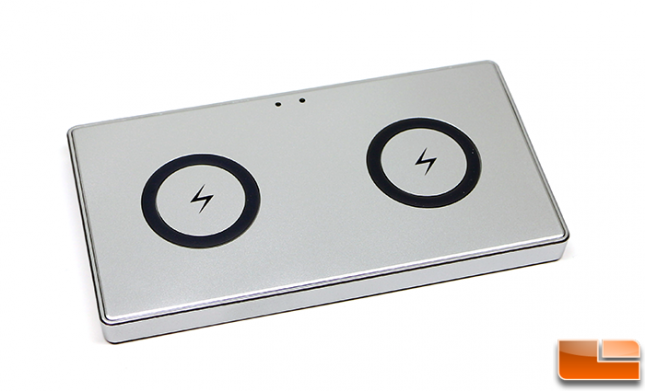 The LUXA TX-200 is fairly small at 7.1″ x 3.8″ x 0.5 " (L x W x H) or 182mm x 97mm x 14.5 mm. The design is very minimalistic and the housing is made from plastic. This makes it fairly light at just 188 grams. On the surface there are two charging zones that have rubberized charging ring around them to keep your device in the right place. The charging zones are for Qi Enabled devices. Qi (pronounced "Chee") is an interface standard developed by the Wireless Power Consortium for inductive electrical power transfer over distances of up to 4 cm (1.6 inches). The Qi system comprises a power transmission pad and a compatible receiver in a portable device. To use the system, the mobile device is placed on top of the power transmission pad, which charges it via resonant inductive coupling. Mobile device manufacturers that are working with the standard include ASUS, HTC, Huawei, LG Electronics, Motorola Mobility, Nokia, Samsung, and Sony.
There are a good number of Qi enabled devices and LUXA2 has created a table of devices that come with a Qi wireless charger built-in or the ability to have one added. Here is the list of devices that were supported as of March 2014.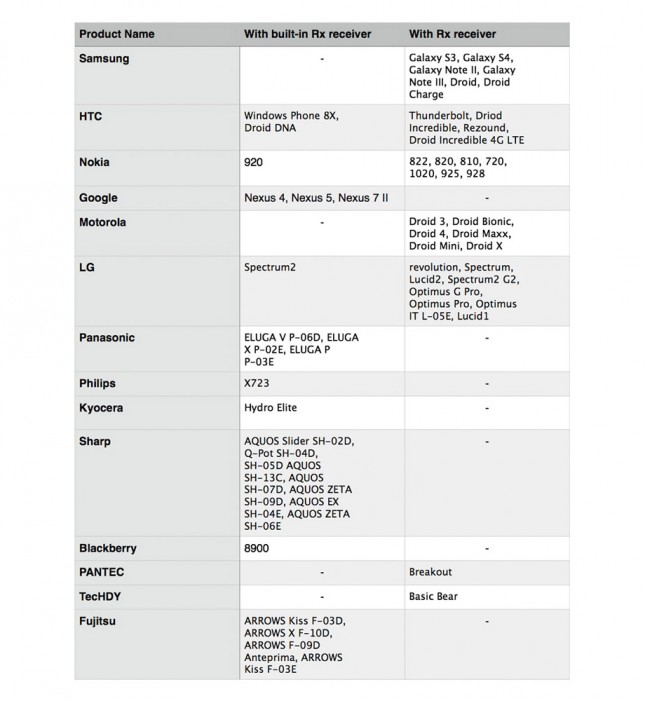 There are quite a few phones and tablets that have RX chargers built-in and some popular phones that can have an RX charger added on! If your device already has Qi or RX wireless charging built-in, you can just sit it on the LUXA2 TX-200 after it is plugged in and it should start charging!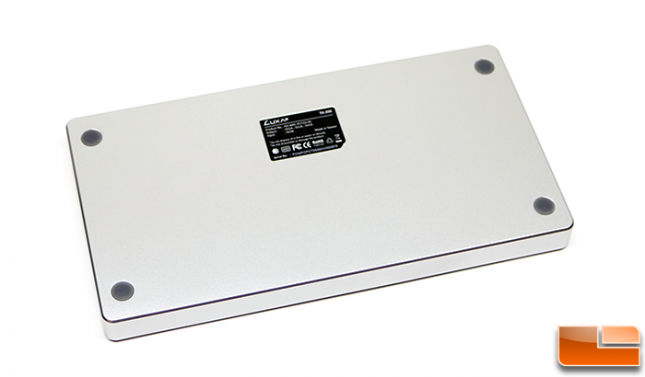 The bottom of the TX-200 has four rubberized feet to keep the charger from sliding around on whatever it is placed on when you sit your phone on the charging base.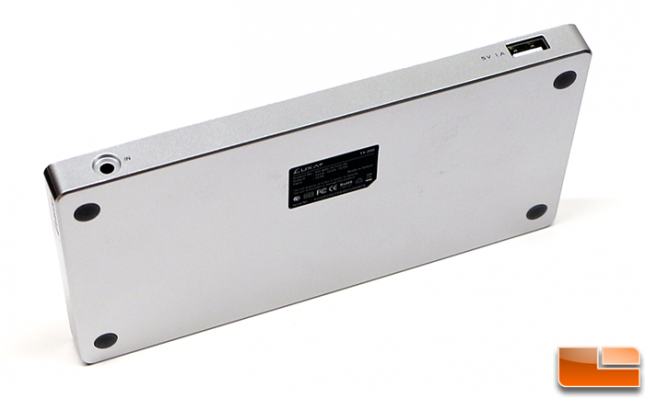 Along the back edge of the LUXA2 TX-200 you'll find the DC power in port and a single USB charging port that is rated at 1 Amp. This isn't powerful enough to charge a large tablet, but it should allow you to charge a smartphone, smaller 7-inch tablet or something along those lines. All of the chargers are rated at 5V 1A on the TX-200.
Besides the charging plate, you also get a quick start guide, DC power adapter and EU, UK and US travel adapters.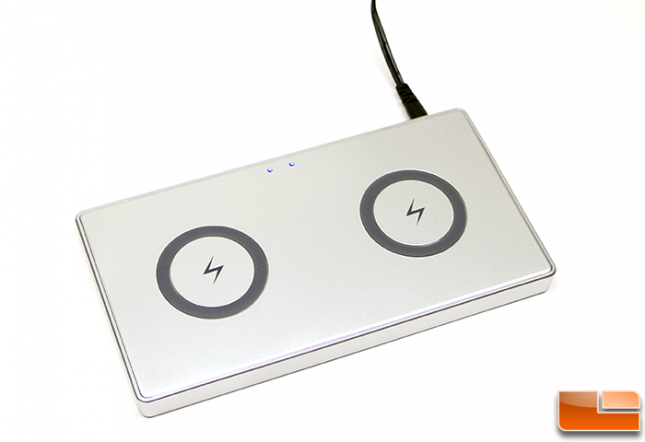 Once the DC power in is plugged into the wall and the device two blue power indicator lights should light up. These also double as power indicators and glow or strobe blue when a device is being charged. You'll also hear an audible beep when a device is sat on the charger and charging begins. LUXA2's TX-200 gives you both audio and visual indications that charging has begin. The 'beep' is actually too loud and sounds like a single smoke detector/alarm alert. That sound fiercely scares one of the dogs that we have. There is no way to turn off the blue lights or disable the beeps, which is disappointing as most people don't want more device lights making their rooms glow at night and having a loud beep goes off when someone is sleeping is far from desired.
Let's move along and install the wireless charging receiver in our Samsung Galaxy S4 and give the TX-200 a test drive.