Lexar Professional 2000x 128GB SDXC UHS-II/U3 Review
By
Lexar takes super speed to 128GB
Anyone that uses a high end DSLR or HD video camera knows that two factors that can mess up your day are the size and speed of the memory card. The last thing you want to do is have a shoot spoiled because the camera cannot get a burst of pictures onto a card or waste countless hours waiting to import the latest shoot. Now that 4K and 8K video are becoming the new standards a 32GB or 64GB card just will not do. Lexar worked hard to address both issues in the Professional 2000x 128GB DSXC UHS-II memory card that is sold under part number LSD128CRBNA2000R for $229.99 shipped.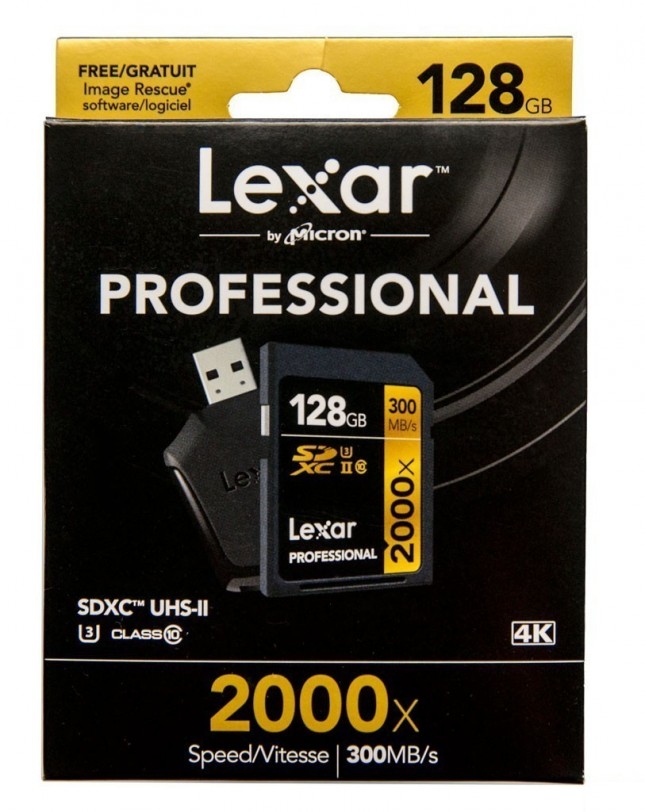 UHS-II cards with maximum speed of 312MB/s transfer rates are not new, Toshiba came out with the first one back in October of 2013 hitting a 260MB/s read and 240MB/s write speed. SanDisk released a 64GB version that we reviewed here back in May, 2014. In December, 2015 Delkin released a ground breaking 128GB UHS-II 1900x card and now Lexar has done one better with a SDXC 128GB UHS-II U3 2000x card. As we showed back then, to break the UHS-I barrier requires an extra set of pins for UHS-II as you can see on the right image.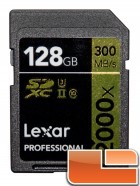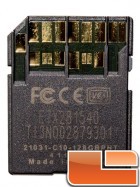 Some of the features of the Lexar Professional 2000x 128GB SDXC UHS-II/U3
High-speed performance-leverages UHS-II technology (U3) for a read transfer speed up to 2000x (300MB/s)

Includes SD UHS-II reader for high-speed file transfer from card to computer, dramatically accelerating workflow

Captures high-quality images and stunning 1080p full-HD, 3D, and 4K video with a DSLR camera, HD camcorder, or 3D camera

Includes downloadable Image Rescue software to recover most photo and select video files

Backwards compatible with UHS-I devices
Good thing that Lexar includes a USB 3.0 reader for UHS-II as part of this bundle for lighting fast transfers. Since Lexar knows that their premium SDXC 128GB UHS-II card will primarily be used for images and video they provide a free code to activate a download of their ImageRescue software with purchase of the card / reader bundle. This is a great emergency solution for when you hit format and realize you put the wrong SD card in, there goes 100's of pictures (not that the author would know anything about this ).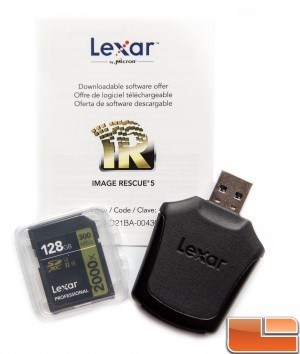 The card reader is a nice small package and can read both UHS-I and UHS-II cards while taking advantage of USB 3.0 maximum 640MB/s speed. After a full day of shooting my Canon EOS 6D in RAW, I know how long it can take to get gigabytes of those 25MB files moved into Lightroom CC. While my current camera cannot take advantage of the UHS-II speed, the Lexar is backward compatible to UHS-I, so I can shoot at lower speed and then offload at full speed. Anything to help the workflow move faster lets me spend more time editing an less time waiting.