Lexar microSDHC UHS-I 633x 16GB Card Review
By
Lexar 16GB High-Performance microSDHC UHS-I card (633x)
Earlier this month at the Consumer Electronics Show we got a chance to sit down and meet with Lexar and talk about some of their upcoming products for 2014. During that meeting we got our hands on their upcoming high-performance microSD UHS-I cards 633x (95MB/s). The current high-end range of MicroSDHC and MicroSDXC cards by Lexar were rated at 600x (90MB/s), so Lexar was able to squeeze a little more performance from their cards. This card can do it all, so you can quickly capture, play back, and transfer 1080p full-HD, 3D, and 4K video, as well as the highest-quality movies, photos, and songs. It also happens to work in smartphones, tablets, digital cameras and the latest sports camcorders.
It should be noted that Lexar's high-speed 600x microSD cards run great in sports cameras like the GoPro HD Hero 3 Black Edition where you need a card capable of handling high bit rates when you are shooting in 1080P at 60fps or 4K (3840×2160) at 15 fps. Leading cameras like the GoPro HERO3+ Black Edition require the use of a Class 10 memory card. Not all Class 10 microSD cards have the same data write speeds, so you really need to watch what card you buy as you might be stuck with something that doesn't work properly. If you plan to shoot in 4k, 2.7k, or Protune video modes with your HERO3: Black Edition or HERO3+ Black Edition camera you'll have a data stream rate of 45Mb/sec and you need a quality card. Lexar's 600X microSD cards were one of just four brands cards that were recommend by GoPro for use with their HERO3: Black Edition & HERO3+ Black Edition cameras. You can also use this microSD card on the latest AR.drones as the AR.Drone 2.0 has a built-in 720P HD camera and needs a microSD card for storage.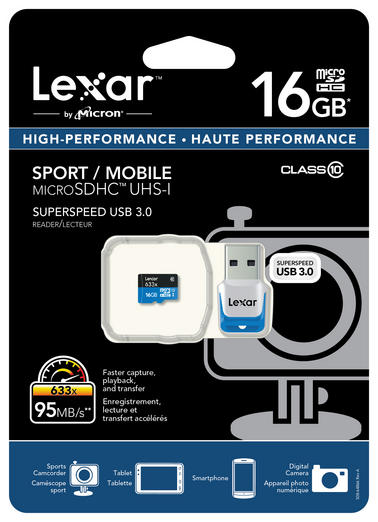 Lexar microSD UHS-I Card (633x) Pricing:
Lexar offers this card in three different capacities, but all are speed rated at Class 10 and leverage UHS-I technology to deliver a transfer speed of up to 633x (95MB/s). We are unable to find this card at major retailers right now, but Lexar confirmed that they are shipping cards to customers and expect them on store shelves very soon.

One thing that we need to touch on is the speed of the Lexar High Performance microSD series. All three capacities of this card are rated at 95MB/s for read speed, but the write speeds differ greatly. The 16GB model has a 25MB/s write speed, whereas the 32GB and 64GB models are rated at 47MB/s. There is a huge increase in write performance with the higher capacity cards use more NAND and therefore have more channels available to move data along to the controller. At a certain point the channels get saturated and this is why you see a performance difference due to the capacity of the card.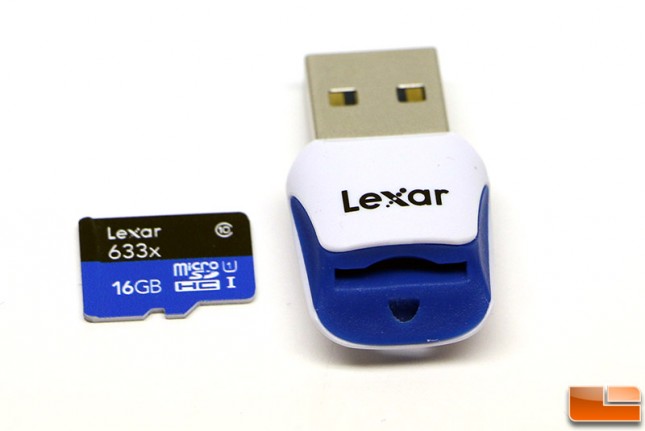 One of the nice things about this memory card is that it comes with a tiny USB 3.0 adapter to ensure that you are able to get the most performance possible from file transfers as long as you have a computer that has USB 3.0 ports. As with any memory card, the host system and the device you are using it on will play a major roll in the performance you'll see with this card.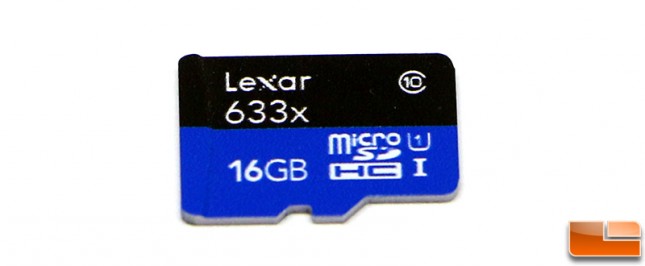 The front of the Lexar High-Performance microSDHC UHS-I card (633x) shows the brand name, capacity and speed ratings. Everything has been printed onto the card, which is nice as there is nothing to peel off.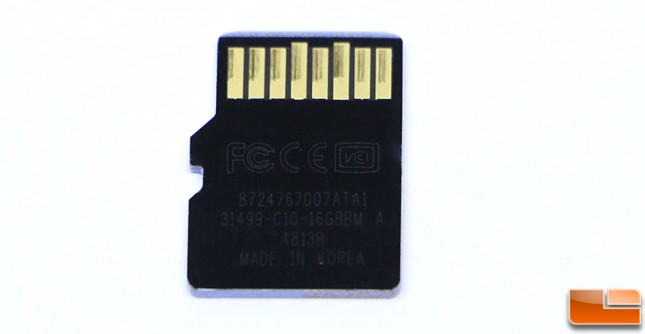 On the back side of the card there is the FCC-Approved Equipment Authorization Label for the United States along with CE marking for the European Economic Area. You also have the model number, serial number and where it was made. Our particular card was made in Korea.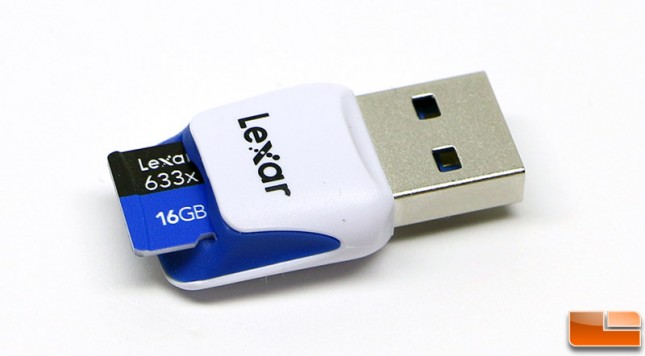 The USB 3.0 adapter is very simple to use as the microSD card just slides in the end and you are good to go. The microSD slot is not spring loaded, so you have to use your fingernail to pull the microSD card out with the raised edge at the end.
We tried out the Lexar High-Performance microSDHC 633x 16GB UHS-I Mobile Flash Memory Card on an Intel Ultrabook (ASUS Zenbook Prime UX31A) running Windows 8.1 and also our Samsung Galaxy S4 smartphone running Android 4.3. Let's see if we can hit that 95MB/s speed rating on the next page!