Lenovo Yoga C630 WOS 2-in-1 PC Review
By
Qualcomm has been pushing the Always-Connected PC (ACPC for short) for a number of years now and the ACPC segment continues to mature and getting better. All mobile users want an always connected, highly portable device that has extreme battery life. Current flagship smartphones have all day battery life and are always-on, so why can't we have that in a laptop or 2-in-1 PC running Windows 10 with a keyboard and mouse?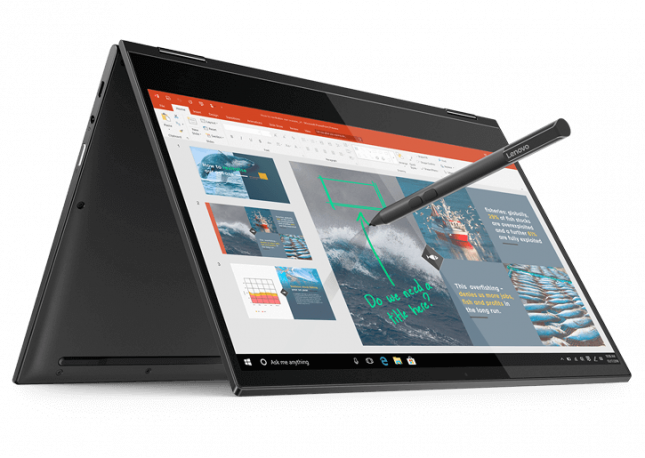 If you are looking for a mobile computing device that was designed to be connected at all times we have something you'll like reading about today. Meet the Lenovo Yoga C630 WOS 2-in-1 13.3-inch 1080P Full HD touch-screen laptop that measures just 12.08 x 8.52 x 0.51 inches with a weight of only 2.75 lbs. Under the hood, the Lenovo C630 that features a Qualcomm Snapdragon 850 processor with 8GB of DRAM and a 128GB SSD that it topped off with Microsoft Windows 10 in S mode. Lenovo claims that you can get an incredible 22 hours of battery life from this device. What will it cost you? This convertible 2-in-1 laptop runs $599 at places like Best Buy with the optional Lenovo Active Pen 2 running $47 shipped.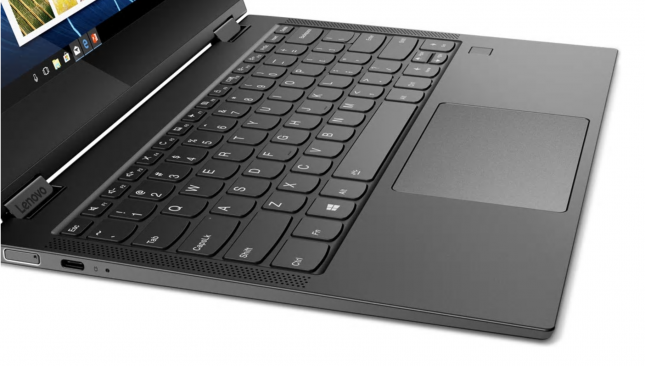 The gray aluminum chassis looks great and the build quality of the Lenovo YOGA C630 is top notch. Looking around the outside you'll find a USB Type C port on each side (total of 2) along with a 3.5mm headphone jack and SIM card tray on the left side. Not having a standard USB Type A connector or SD memory card slot means that you'll likely want to invest in something like the Kingston Nucleum 7-in-1 USB Type-C hub (Nucleum review) very quickly.
When you open the cover for the first time you'll notice a nice backlit keyboard with speakers mounted on both sides of it. Just below the keyboard on the lower right hand side you'll see the integrated fingerprint sensor. When you hit the power button you'll be greeted by the IPS Full HD (1920×1080) touch screen display with a fairly think bezel around it. There is a 720p HD webcam above the display dead center of the bezel. Typing on the keyboard is nice as it has a solid feel with very little flex when you type.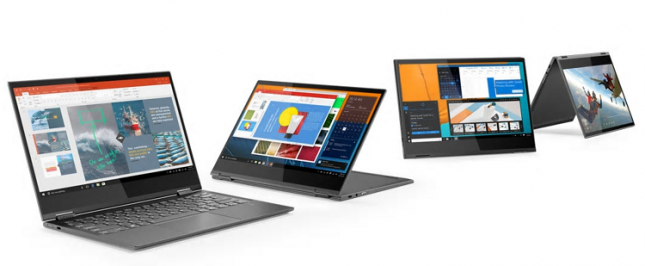 One of the big selling points on the Lenovo YOGA C630 is its ability to convert into a number of positions that a conventional clamshell laptop can't do unless you break it. The hinge rotates a full 360 degrees, so the display and keyboard will actually be touching back to back for it to be used like a tablet.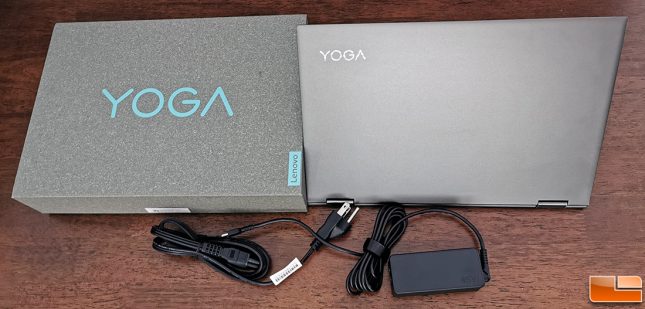 The Lenovo Yoga C630 WOS 81JL that we were sent out to review has made its way around to various media outlets and was obviously lightly used. It came in the original retail box with the 45 Watt USB Type-C charger.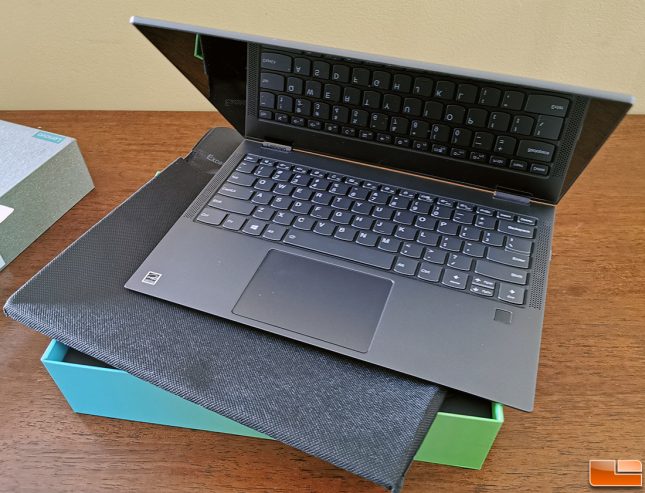 We were really looking forward to trying out Windows 10 S, but unfortunately someone already updated this laptop to Windows 10 Home. Windows 10 S is streamlined for simplicity, security and speed, but can only run applications downloaded from the Windows Store. You can 'upgrade' to Windows 10 Home to run applications from third-party sites, but switching modes is a one way process. Well, you can roll it back if you really needed to, but you'll need a factory install image and we don't have that. That said, most of our readers will likely upgrade to Windows 10 Home from Windows S mode straight away, so they can install the applications they need to.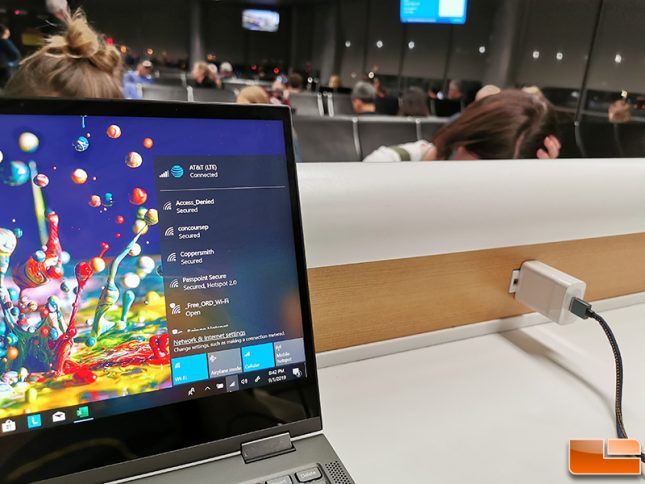 During our three hour layover at Chicago O'Hare International Airport (ORD) we relied on the Snapdragon X20 LTE modem for connectivity. Our AT&T reception worked brilliantly and instantly during all of our domestic layovers. Being able to open your laptop and not have to worry about finding an open wireless network is nice. With the Lenovo YOGA C630 the 802.11 AC (2 x 2) wireless connection is more of a backup to your LTE data plan. The instant-on feature is super nice while traveling as you often have to close your notebook when someone needs to get up or drinks are being passed over you.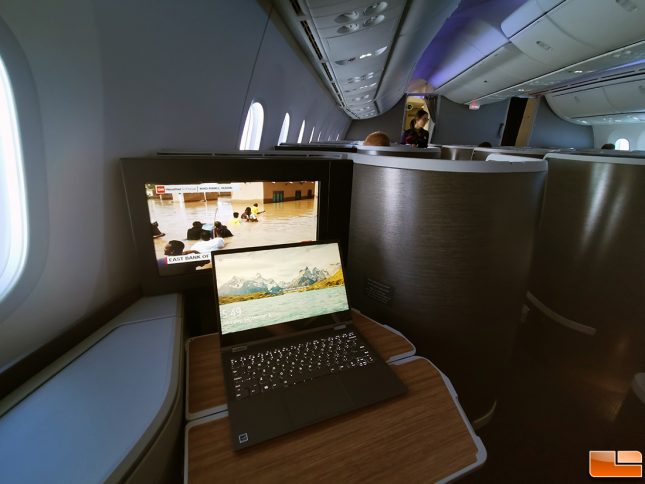 Our flight from Chicago to London was on an American Airlines flight in Flagship Business class. This 13-inch laptop was the perfect size for international travel as it is lightweight and its rated 22 hours of battery life was needed. We were able to surf the web, watch 1080P movies and run Microsoft Office without any hiccups. If we had a bunch of tabs open and were multi-tasking we noticed that things started to get sluggish. We also noticed that when we had a number of applications open that typing would sometimes be showing up on the screen delayed by a second or two. The simple 'fix' for this was to close some of the applications we didn't need to have open.
This is not an AMD or Intel powered laptop with a CPU designed from the ground up for the x86 instruction set, so keep that in mind. ARM has been trying to get software developers to rewrite their instruction sets to better run on ARM devices and Windows has been getting better at translating x86 instructions into something ARM-based Snapdragon processors can work with. As a result of this, not all third party software will play nice on Windows on Snapdragon (WOS). This is something that you'll need to be aware of. Some applications that don't fully work are NordVPN, PIA, MalwareBytes, Photoshop Elements, Dropbox, Logitech Options, and Plantronics Hub. This is also not a gaming laptop as it doesn't have a discrete graphics solution.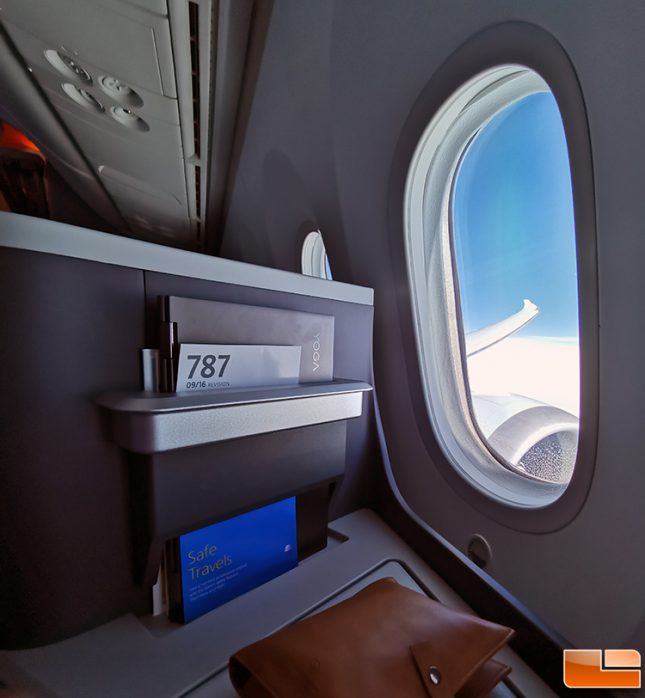 On the way over to Europe we topped off the battery at the airport out of habit, but on the way home we didn't charge it once from the time we left the hotel until we made it home. With three flights and total travel time approaching 17 hours we still had 20% battery life when the journey came to an end. This was pretty awesome and while we were out for the day we never had to worry about bringing our laptop charger with us. The Lenovo YOGA C630 was also small enough to fit into the magazine holder on the Boeing 787 Dreamliner!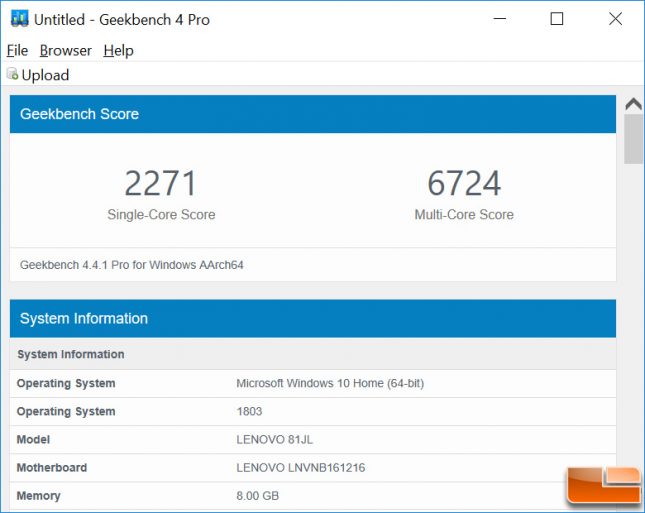 When it comes to benchmarks we ran Geekbench 4.4.1 Pro for Windows AArch64 (64-bit) and scored 2,271 points on the single-core CPU test and 6,724 points on the multi-core CPU test.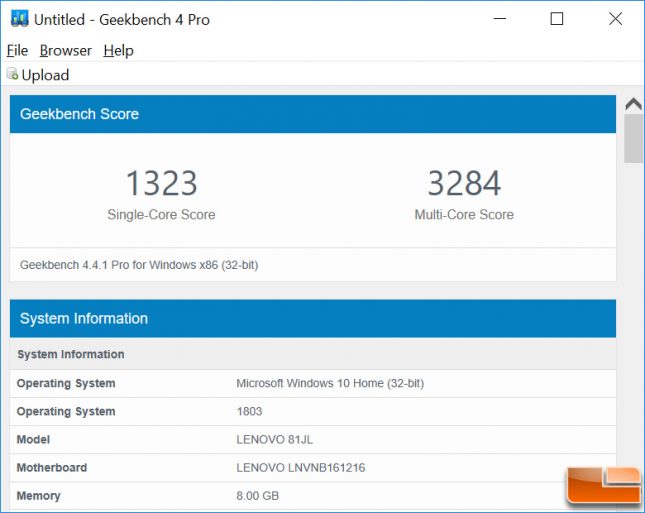 On the standard Windows 10 Home x86 (32-bit) benchmark the score was 1,323 points on single-core and 3,284 points on multi-core. We wanted to run Geekbench 5 Pro on this laptop, but they currently don't have Windows on ARM support in that benchmark version. Primate Labs informed us that they are looking into a separate Windows on Arm installer for Geekbench 5 at a later date.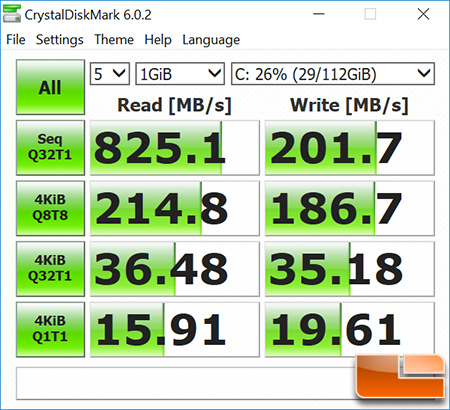 Our Lenovo YOGA C630 laptop used a 128GB Universal Flash Storage 2.1 (UFS) 3D NAND storage drive by SKHynix (part number H28S8Q302CMR). The performance on this drive topped out at 825 MB/s sequential read and 202 MB/s sequential write. 4K Random read performance at QD1 was just under 16 MB/s read and 20 MB/s write.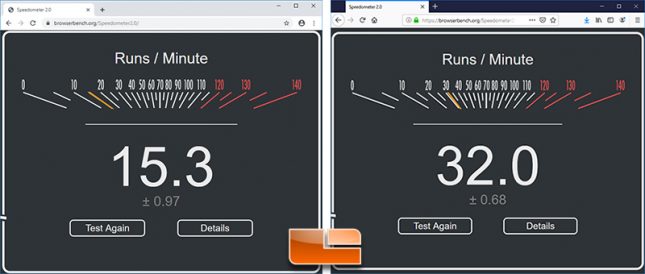 When it comes to web browser performance we ran Speedometer 2.0 on Chrome v77 (left) and Firefox Quantum 69.0 (right). Google Chrome scored 15.3 runs per minute versus about 32.0 runs per minute on Firefox Quantum. Firefox was also the browser that felt the most responsive on the YOGA C631.
As you can see from the benchmarks the Lenovo YOGA C631 has respectable performance on Windows 10 from the Snapdragon 850 processor (2.96 GHz) and Adreno 630 graphics. Casual Windows 10 games will work just fine, but don't expect to ever play any AAA gaming titles on this platform anytime soon.
Final Thoughts and Conclusions
At the end of the day the YOGA C630 by Lenovo was obviously built by those wanting a Windows device that is always connected with true all day battery life. If that sounds like you and your applications operate on Windows on Snapdragon then the C630 might be just what you need. We managed to get almost 23 hours of battery life with the screen at 50% brightness and that is awesome. Sure, it isn't the fastest laptop when it comes to CPU performance, but these Qualcomm Snapdragon platforms are getting better each and every generation. For $599 at Best Buy this laptop is fairly inexpensive for its current target audience, which would be business travelers or anyone working unplugged out in the field.
Windows on Snapdragon laptops have promised to bring the best of PC and mobile technology together and it feels like we are getting there, just not yet. An example of this is the fact that most users buying this laptop would have to 'upgrade' the operating system from Windows 10 S to Windows 10 Home almost immediately to get their needed applications installed. Hopefully Qualcomm and Microsoft can continue to smooth out the user experience with WOS laptops over the next generation or two.
Lenovo really did a good job on the YOGA C630 and it is definitely worth considering!