Lenovo ThinkVision LT1421 Portable USB Monitor Review
By
Using The ThinkVision LT1421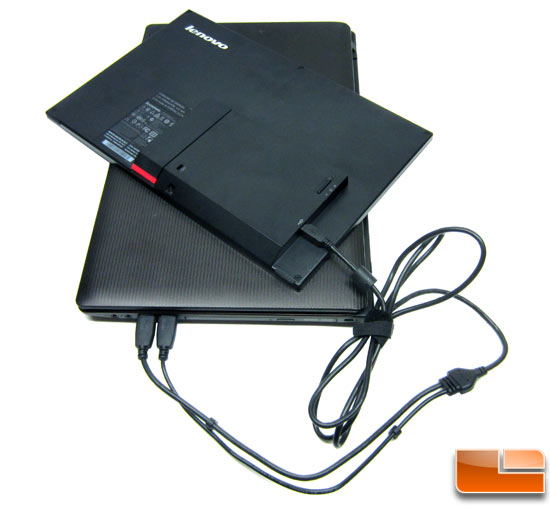 The first thing we did was hook up Lenovo ThinkVision LT1421 to our laptop. As you can see from the image above the ThinkVision LT1421 uses two USB 2.0 ports on the laptop as the USB cable has a Y-Split at the end. Older laptops might not have two ports or if you need to use them for something else then this secondary monitor solution might not be right for you.
Now that the monitor was plugged in we fired up the notebook and got a "Driver Not Properly Installed" error and there was no image on screen. When it comes to compatibility, the monitor has drivers for Microsoft Windows XP, Microsoft Windows Vista, and Microsoft Windows 7. We then went ahead and installed the Lenovo drivers that came on the driver disc. If you don't have an optical drive in your notebook you'll have to download them off the Lenovo support website. The installation of the Display Link drivers was amazingly simple. You just need to insert the included driver disc and click where it says install. Once you run the install it will install all the needed drivers and we didn't even need a restart on our Windows 7 SP1 64-bit laptop. After that just go into display setting and start using your new Lenovo ThinkVision LT1421 Mobile Monitor. Overall, inside the box is everything that will be needed to use the product.
If you are a Mac user you'll have to go online and visit DisplayLink, the company which makes the controller inside the ThinkVision LT1421, as they have Mac compatible software on their site. We tried using the monitor on a 2011 MacBook Pro and found that it worked with version 1.7 of the DisplayLink USB driver.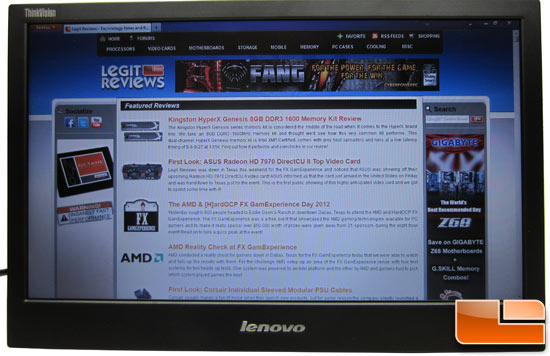 The display panel on the LT1421 has Lenovo's anti-glare treatment applied to it and doesn't have any major glare issues in rooms where direct sunlight is present. We did noticed that the backpanel brightness wasn't that great even when we maxed out the settings. Remember this panel is rated at 200 nits, so it really isn't that bright. The contrast ratio of 400:1 also leaves something to be desired, but for just a presentation monitor that is used here and there it gets the job done just fine.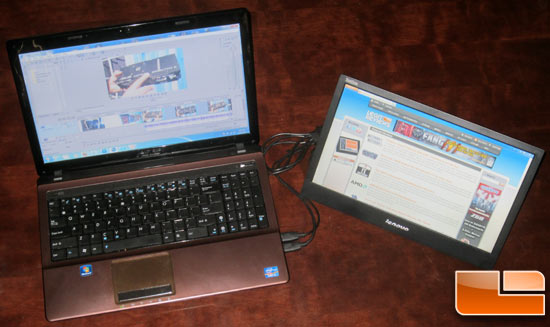 Having a secondary display on a laptop really helps productivity for a single user and when doing presentations or sharing information with a group it really is a life saver. The fact that this monitor connects to the USB ports was extremely nice and ensures it can be used on a wide variety of notebooks. Over the years we've seen notebooks have VGA, DVI, HDMI and DisplayPort as the video outputs, so it would be tough to sell a portable monitor with all good compatibility. Lenovo decided against using display connectors and went with a pair of USB 2.0 connectors for this reason.
One area of concern that we had is that this monitor must pull power from the USB port of the device that it is connected to. Lenovo says this devices can use up to 5 Watts of power and that is a significant amount of power from a laptop. Our testing showed about a 25-35% drop in battery life depending on the laptop being used. We just wanted to point it out as it is one of the downsides of this product.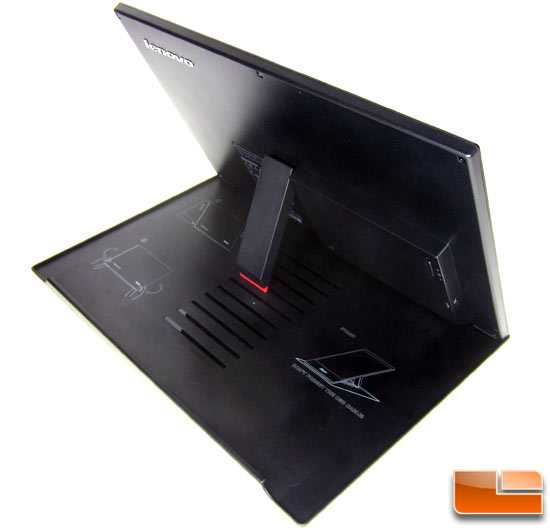 We didn't have to use protective screen cover as a stand base, but if you wanted to you can. Lenovo built in some tile adjustments into the cover that can come in handy in certain situations. We used this monitor inside on a table only, but if you used it outside on uneven ground you'd likely want to use the case to help keep things stable. The stand does not work for portrait orientation though, as the stand is fixed to one side.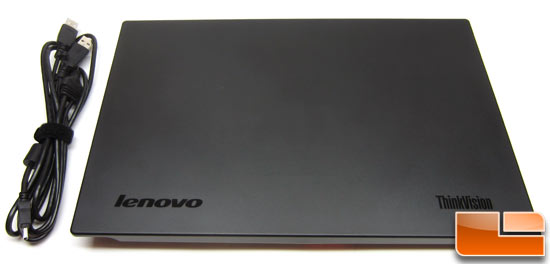 When you travel you'll need to bring the 14-inch display and the 6-foot long USB cable with you, but they are both fairly small and light. The weight of the monitor with the cover is 2.25lbs (1.02kg) and measures in at 13.19-inch x 0.85-inch x 8.58-inch (WxDxH). This means that it won't fit in many 13-inch and smaller laptop bags, so if you are running a netbook or an ultrabook you might need to measure your travel bag to make sure this also fits inside.
Final Thoughts & Conclusions:
The Lenovo ThinkVision LT1421 portable monitor is a great solution for someone that needs an additional monitor on the go. With an online price of $190.67 shipped it is not something you go out and by on a whim, but is affordable for those that need it. After installing the drivers, using the the ThinkVision LT1421 was as simple as plugging the monitor into a laptop with the two USB 2.0 cables and propping it up with its photo frame stand. You can then dial-in the display to look the very best by tilting the display to the desired angle and picking the right brightness level of the 16 available to make your to presentation or work look the best.
We found the ThinkVision LT1421 to be a solid product and we especially loved the fact that it comes with a 3-year warranty. Some of the competing products in this segment only come backed by a 1-year warranty. An example of this is the Toshiba PA3923U-2LC3 14″ LCD ($178.95 shipped) that has similar display qualities, yet is backed by just a one year warranty.
Legit Bottom Line: The Lenovo ThinkVision LT1421 is a great USB monitor for those on the go that want a simple to use device that is backed by a 3-year warranty.