Lenovo ThinkVision LT1421 Portable USB Monitor Review
By
ThinkVision LT1421 USB 2.0 Display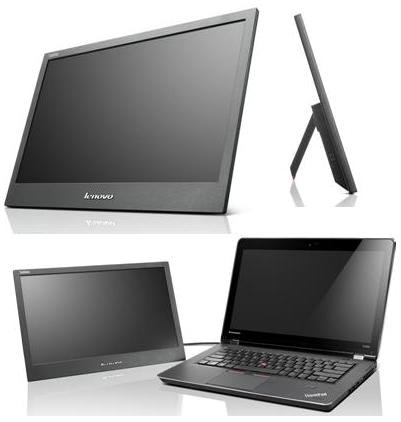 We've never had the chance to play with a USB monitor before, so when Lenovo offered to send over the ThinkVision LT1421 we told them that we'd most certainly take a look at it for them. The ThinkVision LT1421 is a 14-inch wide flat panel monitor that supports up to 1366×768 resolutions and uses a standard USB 2.0 port for the video stream and as a power source. The point of this unique monitor is to offer those that travel a way have a secondary monitor for ad-hoc meetings, without the need of projectors. This would obviously appeal to those that use a laptop for business meetings, sales presentations, academia and a wide variety of other applications. Priced at under $200 ($190.67 shipped to be exact) it makes owning a second screen for on-the-go user affordable.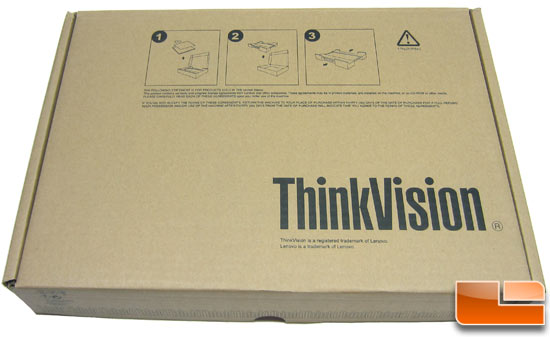 Our sample arrived in a boring card board box that is clearly aimed at online distributors or direct sale customers and not the retail shelf.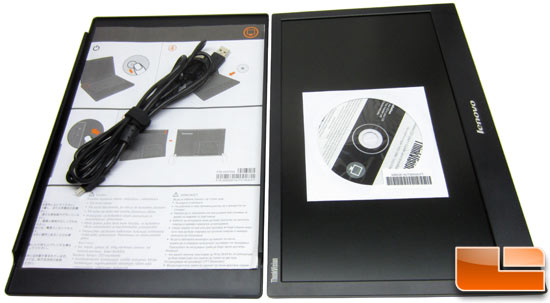 Inside the box we found that it came with everything you will need to properly use the monitor. In the box you have the 14 inch display, a six foot long (1.8m) USB 2.0 cable, driver CD, instructions and a protective case for the screen. The ThinkVision LT1421 is only available in one color, raven black.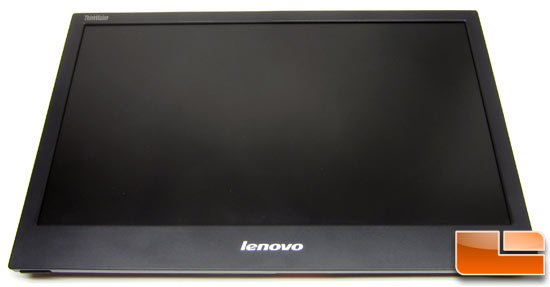 The Lenovo ThinkVision LT1421 screen size is 14 inches with an LED Backlight TFT panel that has a resolution of 1366 x 768. The image quality is fairly decent and while it won't be winning any beauty contests or performance awards it gets the job done.
Lenovo ThinkVision LT1421 Screen Features:
Viewable image size: 14.0″
Optimum Resolution: 1366×768
Aspect Ratio: 16:9
Pixel pitch (mm): .227mm
Dot/Pixels per inch: 112 dpi
Brightness: 200 nits or cd/m2 (typical)
Contrast Ratio: 400:1
Pixel Response Time: 8ms (typical)
Color Gamut: 45%
Viewing Angle at 10:1 CR:
Power Consumption: <0.1 watts standby, 4.2 watts typical, 5 watts maximum
Weight: 1.8lb; 0.84 kg without cover
Warranty: 3 Year Limited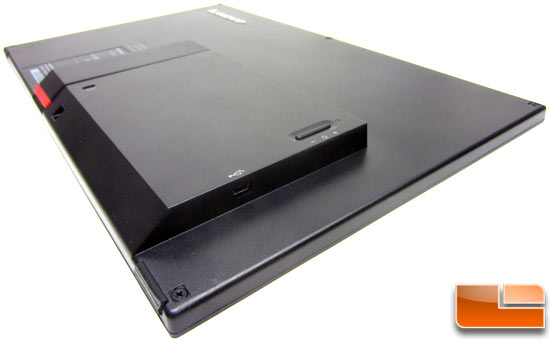 The back of the Lenovo ThinkVision LT1421 is fairly simple with just a brightness adjustment button with 16 brightness levels, a kickstand, and the micro-USB 2.0 video input port. There is also a spot for a Kensington lock right next to the tilt stand. Along the bottom edge of monitor are two rubber pads to keep the display from sliding on a desk.
Now that you have a general idea of what this monitor is and what it does, we can move along and show you how to set it up and how it performs.