Kingston Ultimate 1-GB SD Card Review
By
Testing/Conclusion
| | |
| --- | --- |
| The Treo 650 Takes SD Memory | Installing the Ultimate SD Card |
We found the Kingston Ultimate SD Card is ideal for the business traveler. Our high speed 1GB SD card was able to work in our notebook, cellular phone, digital camera, and television. With the 1GB of storage space we were able to use one card to carry all of our data while traveling for press events. Nothing was found to be incompatible with the 133x card, so even if your current device won't read/write that fast don't worry. A good thing to remember when it comes to flash memory is that it is backwards compatible.
| | |
| --- | --- |
| Card Info: 944.7MB | Our Kingston Ultimate SD Card |
Once installed in the Treo 650 we went to "Card Info" to make sure our phone read the card correctly. Everything was fine and it detected our card at 944.7MB after it was formatted. Just like hard drives, flash memory capacity does not exactly match the label.
Testing:
We tried testing Kingston's ultimate line of SD cards, but ran into problems finding a reader that could operate at such high speeds. The first media reader we used was the Kingston FCR-HS26/1 and it was only able to run at 31x speeds. We also tried readers from Ricoh and Texas Instruments with the same results. It turns out that we couldn't find a single card reader with a controller that is able to do 133x speeds in the US. They are on the market, but are still located in Asia during the early phases of development. We ran a benchmark on Sandra 2005 SR1 with the 1GB Kingston Ultimate card and a 1GB SimpleTech card on our Texas Instruments controller and did see minor differences. (Even with our slow readers!)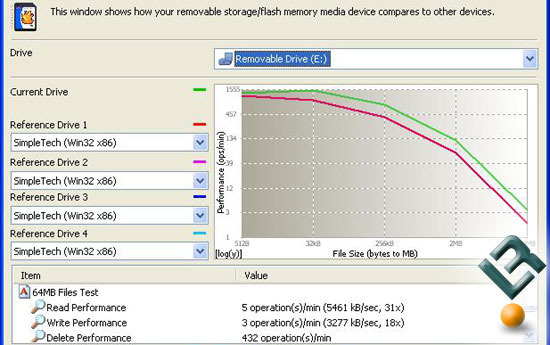 Results: Out of our three card readers we could only get up to 31x transfer speeds for write performance levels. The 5.4MB/s was far from the 20MB/s that the Kingston press release noted, but it was enough to perform better than the standard 1GB SimpleTech SD card that is shown above in red.
Conclusions:
Nathan Kirsch's Thoughts:
Kingston's launch of a 133x SD memory card almost identically mirrors their DDR2 memory launch from last year. They launched a good quality part on the market before other companies, but devices to utilize these new products are not out in mass yet. I applaud Kingston for being a leader in the industry and pushing new products out the door before everyone else. Right now the only 133x SD memory cards on the market are the Kingston Ultimate and Extreme III by Sandisk, so you don't have too many choices right now for high-end professional SD cards.
Although Kingston sprinted out of the gates with their recent DRAM and Flash lines, they have seemed to forget about their supporting technology. An example of this is the aging Kingston Media Reader that has gone without revision for over two years. When I first used the Ultimate cards in the Kingston reader I was unable to write data to the card because it said it was copy protected. It turns out that the cards "lock" feature was not correctly working with the Kingston reader. After a quick call to Kingston Tech Support I was told to put tape over the lock of the SD card and try again. The tape trick worked, but was strange because other brands SD cards work just fine in the Kingston reader. I feel if a company offers both a flash line and a memory reader both should be fully compatible in terms of speed and use. Hopefully Kingston will update their aging media readers in the near future! *hint*
Legit Bottom Line:
Kingston's Ultimate SD memory cards are ahead of their time, but should play a bigger role in the second half of 2005 as 133x professional cameras come out.