Kingston Ultimate 1-GB SD Card Review
By
Secure Digital Reaches 133x Speeds
With flash memory becoming more popular each and every day consumers are expecting the technology to continue to improve. Just a couple weeks ago Kingston Technology launched an "Ultimate" line of SD memory that really raised the bar in terms of speed. The cards come in the usual 512-MB and 1-GB capacities, but come rated at 133x. We have seen 33x, 66x, 80x cards in the past, but for the first time we are seeing 133x cards available for purchase.
When we first saw Kingston's press release on the ultimate SD memory cards we wondered what devices actually could match those ratings. After all, you may have the fastest card on the block, but if no camera or device is able to take advantage of it then what good is it? Much to our surprise we found that the Nikon D50 that is due out this month will take advantage of these new cards.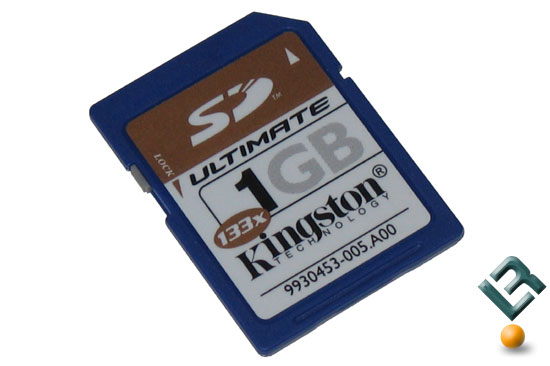 Recently most standard secure digital flash memory cards transfered data at a rate of 2MB/s on average. Now with advances in flash memory Kingston has been able to bring a card that offers data rates of 20MB/s!
Kingston Secure Digital Ultimate – Specification
? Capacities – 512 MB, 1GB
? Dimensions – .94″ x 1.25″ x .08″ (24mm X 32mm X 2.1 mm)
? Speed Rating – 23MB/sec. read rate; 133X / 20MB/sec. write rate
? Operating Temperature – (0 degrees C to 60 degrees C)
? Standardized – complies with SD Association specification standards
? Secure – built-in write-protect switch prevents accidental data loss
? Simple – as easy as plug-and-play
? Reliable – lifetime warranty
? Data Retention – up to 10 years
Let's take a closer look at our sample and see the test results!