Kingston SSDNow V310 960GB SSD Review
By
Kingston SSDNow V310 960GB SSD – The Almost 1TB Drive
Kingston entered the Solid-State Drive (SSD) market in 2008 and has been one of the more well known and trusted brands over the years. Last month Kingston announced a new drive in the SSDNow V300 series, the V310. The Kingston SSDNow V310 SSD is currently only offered as a 960GB drive, which just happens to be the largest capacity ever offered by Kingston. The Kingston SSDNow V series drives are considered the value series for the Kingston SSD lineup. That means these drives are designed with price versus performance being at the top of the priority list. That means you won't be finding any record breaking speeds with a V series drive, but they'll still have solid performance and are backed by a standard 3-year warranty. The Kingston SSDNow V310 960GB SSD is rated at having 450MB/s sequential read and write speeds when it comes to compressible data. Kingston also listed that the drive can do 40k/20k IOps with random I/O on IOMETER. That isn't pushing the limits of the SATA III interface, but keep in mind that this is a budget drive that was designed to have solid performance with nearly 1TB of storage for all your critical data, movies, music, games, files and applications.
The Kingston SSDNow V310 960GB drive is powered by a Phison 3108 controller (aka Phison S8), which was first introduced in 2012. The Phison 3108 controller isn't used on that many drives, but we have seen it used on other budget friendly SSD series like the Corsair Force LS series along with the MyDigitalSSD Bullet Proof 4 (BP4) and BP3 series. The Phison 3108 controller has been used by Corsair and MyDigitalSSD for years without issue and we've already reviewed the Corsair Force LS and found it to be a decent little budget SSD. Let's take a look at pricing
Kingston SSDNow v310 960GB Drive Pricing:
When it comes to pricing you are looking at around $0.57 per GB for the bare drive and slightly more if you need a desktop or notebook upgrade kit. For this review we'll be taking a look at the Kingston SSDNow V310 Notebook Upgrade Kit with part number SV310S3N7A/960G.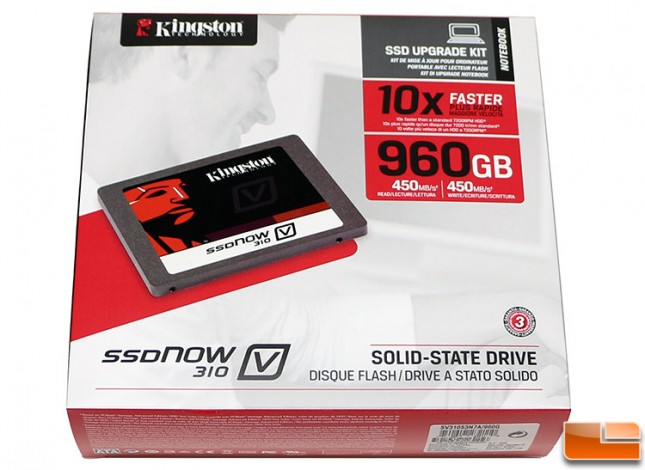 Kingston SSDNow V310 960GB SSD Features and Specifications:
Faster: improves speed of loading applications and system boot up
Reliable: with no moving parts, solid-state drives are less likely to fail than standard hard drives
Convenient: all-in-one kits with all the components for easy installation
Large capacity: enough space to migrate your entire HDD over to a SSD
Form factor: 2.5-inch drive available in 7.0mm with adapter to fit in 9.5mm systems
Silent: runs silent and cool
Interface: SATA Rev. 3.0 (6Gb/s) with backwards compatibility to SATA Rev. 2.0
Capacities: 960GB
Baseline Performance:

Compressible Data Transfer (ATTO)

450MB/s Read and 450MB/s Write

Incompressible Data Transfer (AS-SSD and CrystalDiskMark)

500MB/s Read and 440MB/s Write

IOMETER Maximum Random 4k Read/Write

40,000 IOPS and 20,000 IOPS

Random 4k Read/Write

27,000 IOPS and 10,500 IOPS

PCMARK 8 Storage Score

Power Consumption: 0.08 W Idle / 1.28 W Avg/ 1.16 W (MAX) Read / 5.39 W (MAX) Write
Storage temperature: -40F to 185F (-40C to 85C)
Operating temperature: 32F to 158F (0C to 70C)
Dimensions : 69.8mm x 100.1mm x 7mm
Weight: 92.5g
Vibration operating: 2.17G Peak (7800Hz)
Vibration non-operating: 20G Peak (102000Hz)
Life expectancy: 1 million hours MTBF
Warranty/support: 3-year warranty with free technical support
Total Bytes Written (TBW): 2,728TB 2.56DWPD
Note that the Kingston V310 960GB SSD is rated to withstand 2.7 petabytes of data being written to the drive! That is pretty phenomenal rating for a budget drive and that this drive should be able to last for many years. It would take you about 7.5 years of full Drive Writes Per Day (DWPD) or 2.56 full DWPD in 3-years (the warranty period) to wear out this drive to the point that the MLC NAND Flash would be starting to beg for mercy. It would be fun to torture test one of these drives to see just how long it lasts, but it would take months to figure that out.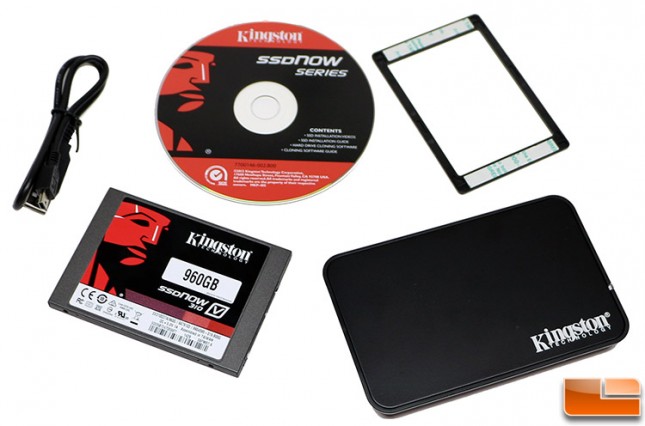 The Kingston SSDNow V310 Notebook Upgrade Kit comes with 2.5″ USB 2.0 enclosure with the data/power cable so you can clone your old notebook drive to the new drive with the included cloning software. You also get a 7mm to 9.5mm adapter in the event one is needed for the drive to fit securely in your notebook chassis.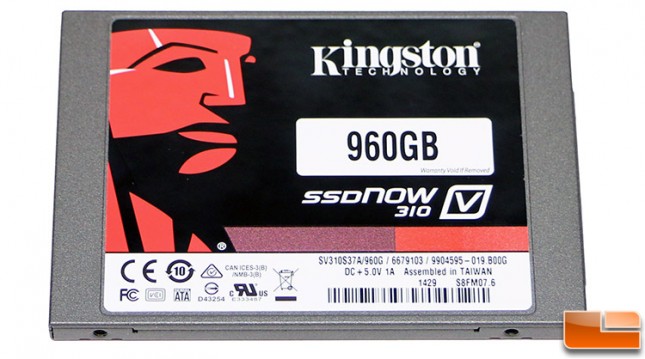 The housing used on the SSDNow V310 series has a textured aluminum gray finish with the familiar Kingston red/black/white color scheme with the image of Redhead a.k.a. Rex featured prominently as always. The 7mm thick drive has mounting holes on both the side and bottom, so it should be usable for most any notebook or notebook that uses a standard SATA connector. It should be noted that the screws needed to take this drive apart on underneath the label. Just below where the capacity is shown on the label it states that the warranty is void if the label is removed. We asked Kingston if this was true and they confirmed that the warranty is void if the label is removed or if the drive is tampered in any way.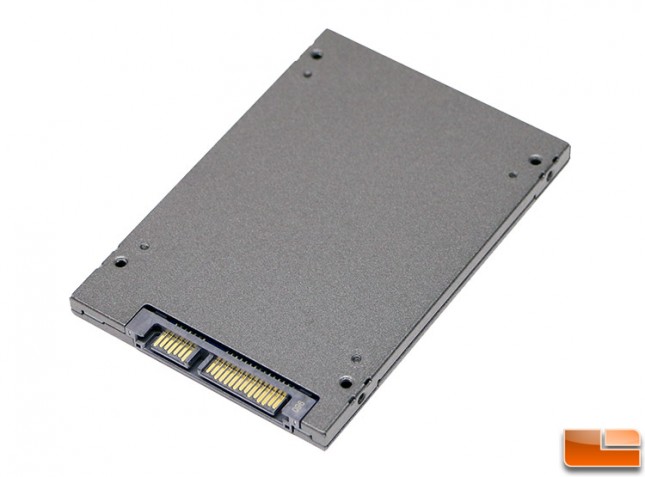 On the back of the silver metal 2.5-inch enclosure you can see that the V310 series has the standard drive mounting holes on both sides of drive and that Kingston is using standard Serial ATA power and data connectors, so you can use this SATA III (6Gbps) drive in pretty much anything and it is backwards compatible with older SATA II systems.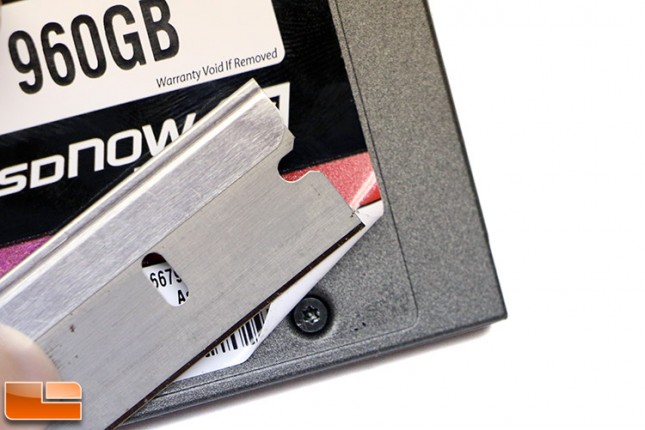 We started to void our warranty and open up the drive, but we ran into very small T6 or T7 tamper proof Torx bolts! Our tamper proof Torx bolt set only went down to T10 and your local Sears or Home Depot doesn't carry bits like this. We have ordered a set in, but for now we won't be popping open the cover of this drive.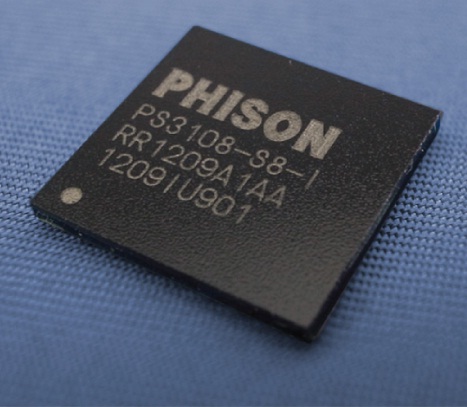 We do know that a Phison PS3108-S8 SATA III controller is being used inside with the MLC NAND is not officially detailed by Kingston. We were interested in personally seeing what kind of NAND Kingston was using in our exact drive, but it really doesn't matter. Kingston doesn't specify the kind of NAND they use in this budget drive as it could be changed as time goes on. Kingston doesn't want to get mixed up in a bait and switch fiasco with the NAND. From what we can tell Kingston will be using the Phison PS3108 controller for the V310 960GB drive and will use the most cost effective MLC NAND as long as the advertised speeds are met. This happens all the time in the DRAM business, but it also happens on SSDs on the value lines where pricing is everything and NAND pricing can be volatile. We did ask Kingston what NAND was being used on our review sample and was told that it was Micron 128Gbit 20nm MLC NAND.
Let's take a look at the test system and then go to the actual performance numbers!