Corsair Force LS Series 240GB SSD Review
By
The Force Is With You – Again
There have been a number of incarnations of the Force Series drives from Corsair with the first having the SandForce 1200 series controller. Hence the name. Most have been performance focused and were the Corsair flagship drives for a time, a title currently held by their Neutron GTX line. The new Force LS series is intended more as a budget friendly drive and changes things up with a Phison controller running the show that's supported by Toshiba 19nm NAND. This isn't a configuration we've tested before so it'll be interesting to see how it fares.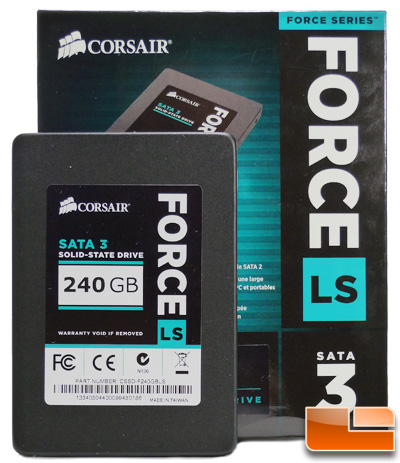 Don't confuse budget friendly with poor performance – this is still a Force series drive after all. Maximum read and write capabilities are listed as 560MB/s and 535MB/s respectively which are excellent numbers on paper. It's offered in capacities of 60 GB, 120 GB, and 240 GB with MSRP's of $94.99, $149.99 and $259.99 respectively. This is one of the few products we've reviewed and probably a first for the SSD segment, that is not sold in the United States. Corsair has no plans to release this drive in the U.S. but is available in elsewhere around the world including Europe and Australia. So, for our brethren across the pond, this one is for you.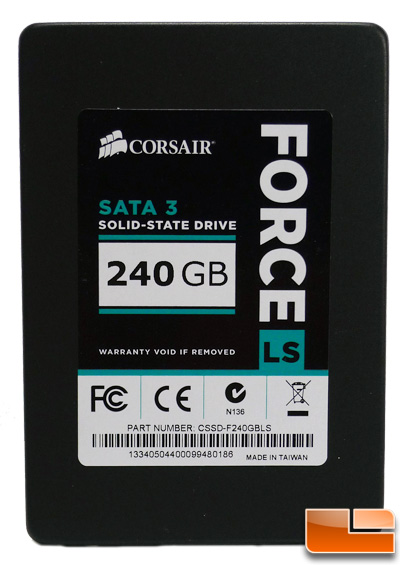 Corsair Force LS Features and Specifications:
Warranty: Three years
Part Numbers:

CSSD-F60GBLS
CSSD-F120GBLS
CSSD-F240GBLS

SSD Unformatted Capacity: 240 GB
Max Sequential R/W (ATTO): 560 MB/s sequential read 535 MB/s sequential write
Interface: SATA 6Gb/s
Technology: MLC, Toggle NAND
Form Factor: 7mm high, 2.5 inch
DRAM Cache Memory: 512 MB
Weight: 0.05kg
Voltage: 5V 5%
Power Consumption (active): 4.6W Max
Power Consumption (idle/standby/sleep): 0.6W Max
S.M.A.R.T. Support: Yes
Shock: 40G
MTBF: 1,000,000 hours
The teal blue accent color sets it apart visually from the other versions of the Force series drives but otherwise has the same overall design. The typical sized 2.5″ form factor has a 7mm Z-height which is the growing trend amongst new drives due to the shrinking host device size and the space premiums they command. Absent is the usual 2.5″ to 3.5″ adapter plate which isn't really needed much these days and it allows Corsair to price the drives a little more competitively. There are four screws included for mounting the drive.