Kingston HyperX Pulsefire FPS Gaming Mouse Review
By
HyperX Pulsefire FPS Gaming Mouse Introduction
It's time again for us to take a look at a gaming mouse and this time it's a first for a well-known company that's been around a long time. That would be Kingston under their HyperX brand which encompasses their lineup of enthusiast gamer products. The HyperX Pulsefire FPS Gaming Mouse made an appearance at CES but until now we havent had the opportunity to see how their foray into the gaming mouse segment will pan out. The HyperX brand has been around since around 2002, so its somewhat amazing they haven't put one out until now. Adding a gaming mouse was inevitable as it rounds out their existing gaming peripheral offerings such as keyboards, headsets and mouse pads. This is in addition to their more seasoned flash and memory products that have been core to their business for a long time. Weve even heard that they there may be a gaming chair in the works but for today we'll focus on the Pulsefire FPS mouse.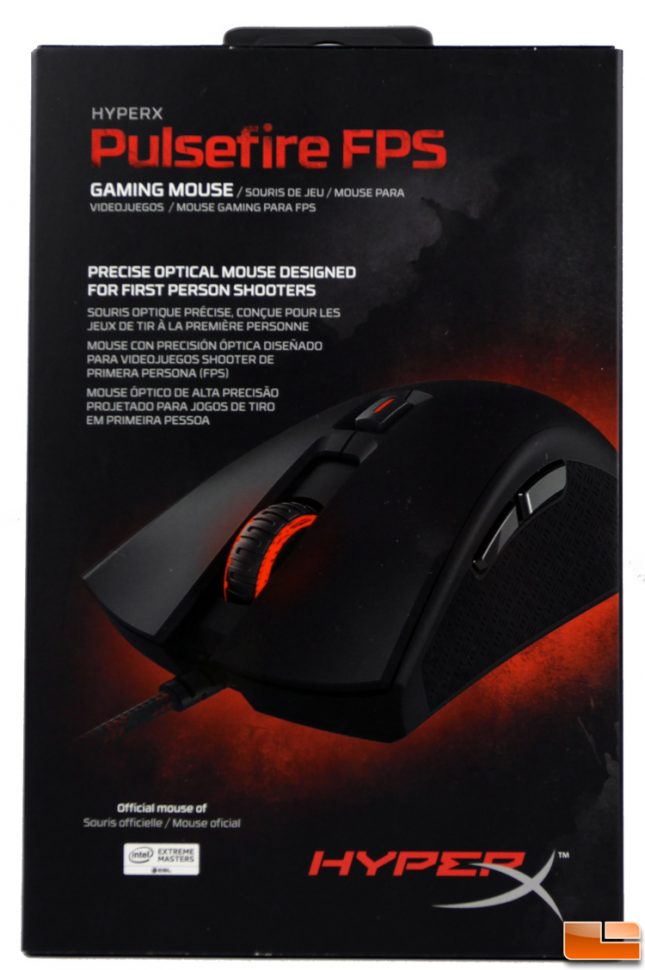 Gaming mice are a dime a dozen these days with a plethora of options in the marketplace and some big players, so its not an easy segment to grab a large market share. With their brand recognition and reputation in the industry, theyll certainly have no problems wedging in. Right now, the Pulsefire FPS is retailing for $49.99 shipped on Amazon or you can get it through Kingstons HyperX site as well.
Kingston HyperX Pulsefire FPS Gaming Mouse Features and Specifications
Precise Pixart 3310 optical sensor Pulsefire FPS gives you fluid and responsive tracking with no acceleration for improved accuracy.
Four tuned DPI presets to suit your playstyle Four preset settings from 4003200 DPI available at the push of a button. If youre a long-range headhunter or a twitchy close-quarters assassin, Pulsefire FPS has a preset to match your play style.
Features premium Omron switches The durable Omron switches in the Pulsefire FPS provide crisp, tactile feedback and are robust enough to survive even the most epic battles.
Six ultra-responsive buttons Six responsive buttons ensure that no matter how firm or slight you click, Pulsefire FPS wont miss a click in the heat of battle.
Balanced, lightweight build The 95g construction has optimal weight distribution for rapid movements, and the ergonomic, lightweight design allows you to game longer and more comfortably.
Flexible, durable braided cable The braided cable is designed to be tough and durable, yet still flexible enough to facilitate smooth movement.
Textured, no-slip side grips The textured grips help you keep your mouse firmly in hand when the action heats up.
Extra-large skates for smooth gliding Pulsefire FPS has large skates that allow for a better glide.
Ergonomic: Right handed
Sensor: Pixart PMW3310
Resolution: 400/800/1600/3200 DPI
Speed: 130ips
Acceleration: 30g
Buttons: 6
Left / Right buttons switches: Omron
Left / Right buttons durability: 20 million clicks
Backlight: Single color, Red
Connection type: USB 2.0
Polling rate: 1000Hz
USB data format: 16 bits/axis
Dynamic coefficient of friction: 0.21
Static coefficient of friction: 0.16
Cable type: Braided
Weight (without cable): 95g
Weight (with cable): 120g
Length: 127.54mm
Height: 41.91mm
Width: 71.07mm
Cable length: 1.8m
Part Numbers:

HX-MC001A/AM (Americas)
HX-MC001A/EM (EMEA)
HX-MC001A/EE (E. Europe)
HX-MC001A/AS (Asia)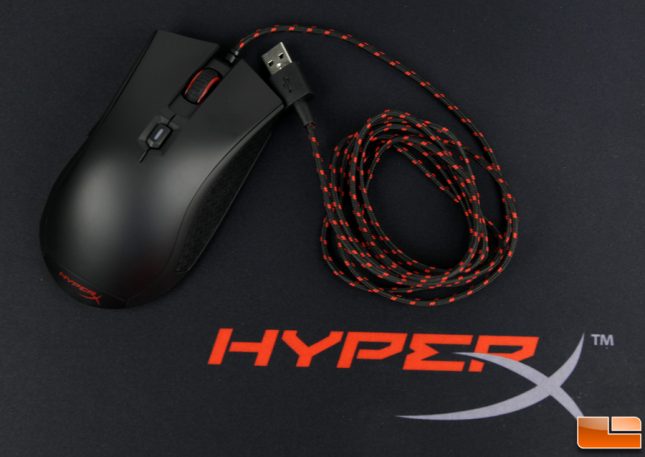 Winner of the prestigious 2017 RED DOT award, the Pulsefire FPS features a very precise Pixart PMW3310 optical sensor for fluid and responsive tracking without the need for acceleration. Like many other mice in the market, it has pre-defined DPI presets four to be exact at 400, 800, 1600 and 3200 DPI. Each are instantly modified with a simple button push to cycle through the variations and back again. However, if you want anything in between, youre out of luck. The hardware comes sans software which is great in terms of plug and play with no bloatware to worry about but also limits customization. Im not personally into programming button macros and such nor trying to navigate 50 buttons with my thumb so this design actually suits me. Others will be less enthusiastic.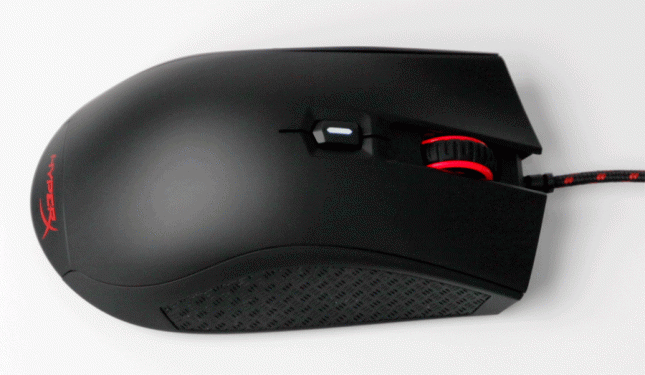 Kingston went with the popular Omron switches for the left/right buttons due their top notch performance response time and durability which are rated for 20 million clicks. There are four other buttons (six total) which includes the wheel button, DPI button and the typical forward/back buttons for the thumb. The Pulsefires weight is strategically distributed to be well balanced and weighs in at 95g – without the cable. Kingston feels this is an optimal balance of smooth movement without inducing fatigue – though this is obviously a very subjective feature. This all sits on extra-large skates with a low friction coefficient to maximize the surface glide.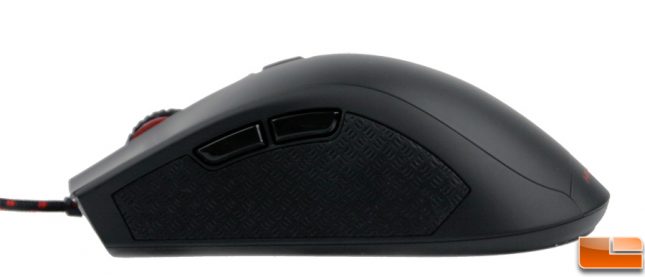 The claw style design is ergonomically shaped for right-handed use (sorry lefties!) with textured grips to mitigate slippage when the actions gets the palms a little moist. The shape itself is comfortable and not unlike a number of mice on the market today. Hey, if it aint broke, dont fix it.

The 1.8 meter, USB 2.0 cable is braided for durability but still flexible enough to not impede movement and since its wired, the 1000Hz polling rate makes lag one less thing to worry about. Along with the lack of button programmability, the color red is your only LED light option on the Pulsefire FPS mouse. Im not too picky when it comes to the lighting color but many are, so its another area where those that like customization will probably look elsewhere.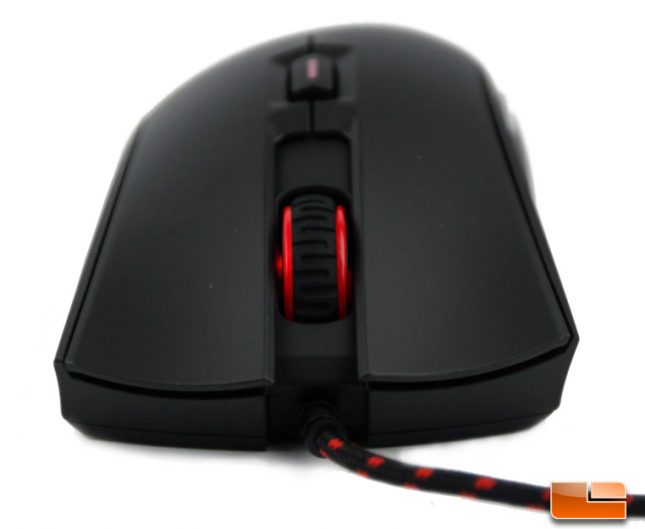 Let's move along!