Kingston DataTraveler Mini 3.0 16GB Flash Drive Review
By
Kingston DataTraveler Mini 3.0 Flash Drive
There are so many options for USB flash drives, sometimes it can be impossible to choose one model to fit everybody's needs. Kingston knows this and has enough models that finding one to suit a specific need should be fairly easy. Their smallest USB 3.0 flash drive is the DataTraveler Mini 3.0, it is less than 2inches in length and no wider than the USB 3.0 port. However, keeping things small there is a bit of a sacrifice, that comes in the form of speed, Kingston says the DataTraveler Mini 3.0 is capable of 70MB/s read and up to 15MB/s write. While the read speed is pretty good, the write speed is the sacrifice to keep it small.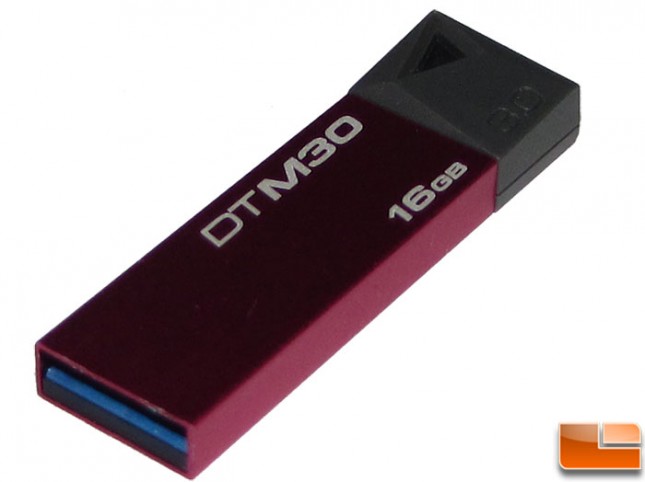 There are three models of the DataTraveler Mini 3.0, each of them have similar specifications; two main changes between the models is the size and color. The smallest model, is 16GB (DTM30/16GB) and comes in red. Next is the 32GB model (DTM30/32GB), which is cyan or blue. The largest model is 64GB (DTM30/64GB) and comes in grey. The review sample is the 16GB model, which is available on Amazon for $12.49 Shipped.
Kingston DataTraveler Mini USB 3.0 – Red – DTM30/16GB – $12.49 Shipped
Kingston DataTraveler Mini USB 3.0 – Cyan – DTM30/32GB – $19.99 Shipped
Kingston DataTraveler Mini USB 3.0 – Grey – DTM30/64GB – $39.99 Shipped

The Kingston DataTraveler Mini 3.0 features an aluminum metal housing with a cap-less design. At one end is a little plastic area that has a location to attach a lanyard or to a keychain; no lanyard or keychain loop was included. The flash drive itself is simple, and not much to it really. If it is on a keychain it will get knocked around a good amount, thankfully Kingston includes a 5 year warranty on the DataTraveler Mini line.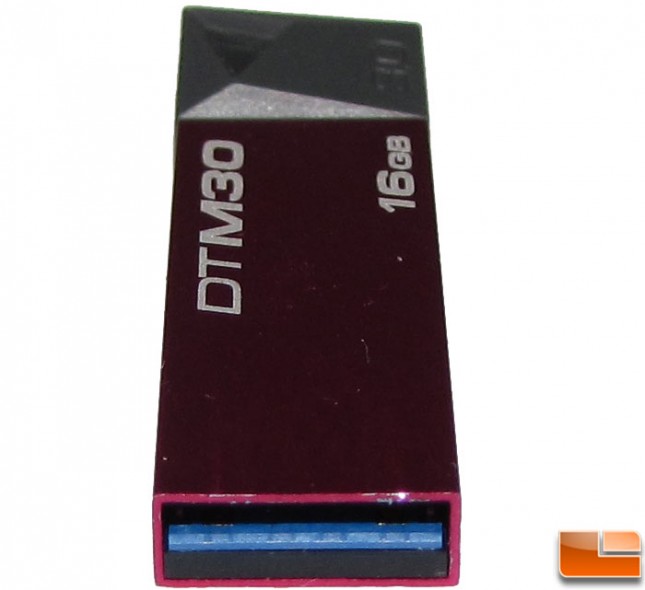 Here is a closer look at the USB 3.0 connector, there is not much extra space, the drive is the width of the USB port. Using a cap-less design is nice as it keeps users from losing caps, however it leaves the USB 3.0 connector exposed to dirt and debris. After about a dozen uses, I noticed the paint started to chip around the USB connector. While this isn't a big deal, and I'm sure will happen with any device with paint around the connector, it might be better if it was left unpainted instead of getting chipped up.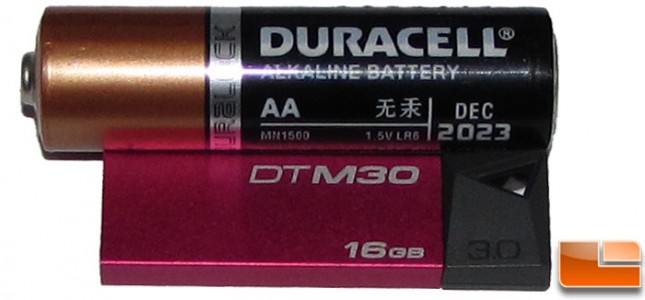 The DataTraveler Mini is exactly that, it is very small. To show its size, it is next to a standard Duracell AA battery. The dimensions of the DataTraveler Mini 3.0 are 42.33mm x 12.66mm x 5.98mm or 1.67in x 0.5in x 0.23in. It fits nicely on a key chain without adding much extra weight or bulk.
[youtube width="640″ height="480″]https://www.youtube.com/watch?v=cf3JTarURUw[/youtube]
DataTraveler Mini 3.0 Specifications
Connectivity

USB 3.0

Capacity

Red: 16GB
Blue / Cyan: 32GB
Grey: 64GB

Read Speed
70MB/s
Write Speed

16GB: 10MB/s
32GB and 64GB: 15MB/s

Dimensions

42.33mm x 12.66mm x 5.98mm
or
1.67in x 0.5in x 0.23in.

Compatibility

Windows, Mac OS X 10.6+, Linux 2.6+

Warranty
5 Years