Kingston 2GB K-PEX 100 Portable Media Player Review
By
Kingston's First Media Player
The world of portable entertainment has grown exponentially over the past few years and companies from big to small are getting in on the action. Ever since the original IPOD, portable MP3/Video players have skyrocketed with jammed packed features and size decreases. Even companies like Kingston who have been in the memory business are getting a piece of the portable experience mayhem.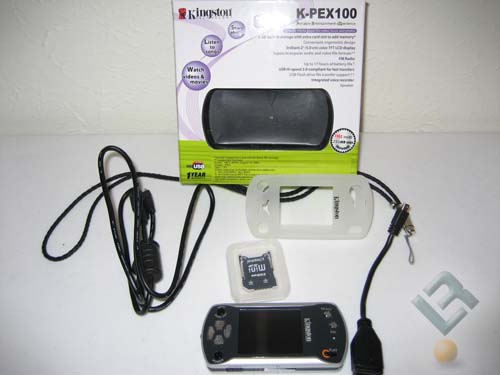 The Kingston K-PEX, is short for Kingston Portable Entertainment eXperience is jammed packed full of versatility in a tiny size. On top of which Kingston has packed the box full of accessories. Kingston does offer the K-PEX in a range of options from a 1 or 2 GB version; with or without a 256mb SD card, all ranging from less than $100 to $150. With the IPOD, Zune, and ZEN amongst many others being in the market for quite some time, is the K-PEX worthy enough to be mentioned in the PVP (portable video player) realm? Is the saying Everyone has to start somewhere a bad or good thing for Kingston?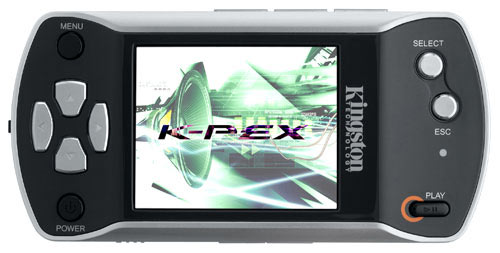 Data Sheet
Flexible 1 or 2 GB built-in storage with extra card slot to add memory
Portable 3.74″ x 1.79″ x 0.57″ (95mm x 45.5mm x 14.5mm)
Lightweight 2.3 oz. (65 g)
Large Screen 2″ (5.0 cm) color TFT LCD; resolution 220 x 176
User Interface English, Spanish, Japanese, Simplified and Tradition Chinese, Portuguese, Korean, Russian, French, German, Finnish, Norweigan, Dutch
Entertaining supports popular audio and video file formats
Video: MPX format, requires transcoder software to play WMV, ASF,MPEG 1 & 2 and AVI formats
Music: Audio formats: MP3, WAV, WMA, Ogg(Q10), Audio ASF EQ setting with manual and preconfigured options
Photo: Compatible with JPEG picture files
Text: Supports TXT format
Convenient ergonomic console design
Versatile includes FM radio
Long Playtime up to 17 hours of rechargeable lithium battery life
Easy transfers files directly from USB Flash drives
Integrated voice recorder and speaker
Included Accessories USB 2.0/1.1 cable and USB host cable, earphones, transcoder software CD, protective cover, user manual, line-IN cable and lanyard
System Requirements Pentium 200 MHz or better, Windows 2000 XP (SP1 and above) or 2000, Windows Media Player (9.0 or higher), 50 MB free hard disk space and USB 2.0/1.1 support
Guaranteed one-year warranty

Pricing:
When it comes to pricing the K-PEX 100 Personal Media Player will set you back no more than $124 and the price difference between the 1GB and 2GB versions are very small. Since the device will more than likely be holding movies the 2GB version is highly suggested.