Key Ingredient Recipe Tablet Review
By
Key Ingredient Recipe Tablet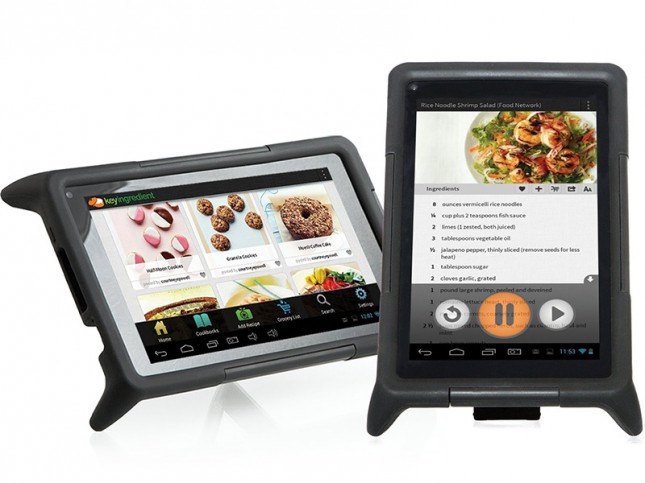 If you love to cook chances are you now have visited the the Key Ingredient website that gives you access to over 2 million recipes that you can search through and try cooking if you like. In recent years the people behind have come out with apps for mobile users as well tablets and readers that you can leave in the kitchen for even easier access to all your favorite recipes. Kitchen tablets have been emerging for a few years now and Ken Ingredient is not a new comer to the space as they've had recipe readers in the past. Just recently they announced the Key Ingredient Recipe Tablet, which that is basically an off the shelf 7-inch tablet running a customized version of Android 4.4 Kitkat. It has also been outfitted with a custom tablet case that has a built-in stand designed for use by a chef in the kitchen. The end result is that you get all Key Ingredient Recipe features you want on the cooking side (Recipes, Cookmarks, Text-To-Speech Recipe Reading and a heat resistant stand) and then you have a traditional tablet that you can use to play music, run games, browse the web or run any App on Google Play. Not bad for a tablet that you can get for $79.95 shipped from Amazon.
The Key Ingredient Tablet comes in simple retail packaging with instructions and marketing material. The tablet comes in the custom silicon case and there is a yellow arrow sticker on the case that shows you where the power button is located on the tablet. The tablet can be removed from the protective case, but the case doesn't block any critical ports. We were dissapointed to learn that the Key Ingredient Tablet does not charge through your somewhat standard micro-USB port like most tablets, so don't loose the power adapter as you'll have a tough time finding another locally. The Key Ingredient Recipe Tablet case is made from heat resistant silicon and easily wipes clean, but the tablet itself isn't waterproof or anything, so don't go too crazy with the tablet near water and grease. The Key Ingredient Tablet isn't designed from the ground up to be used in the kitchen, so treat it like you would any tablet. The pop-out stand is a very nice feature and works both ways, so you can have the tablet in portrait or landscape mode on the kitchen counter.
Key Ingredient Recipe Tablet Software:
Here is a gallery of some of the screens you'll see when you use the Key Ingredient Tablet. We tested with Android 4.4.4 Kitkat and Key Ingredient 1.5.6, which were the latest software versions available at the time of testing.
We were happy to find that the tablet comes preloaded with cookbooks and recipes, which is nice as you can start using it before you get online. Once you get online you have access to over 2 million recipes! You also have the option to add your own personal recipes on the tablet or from sites like the food network. One of the best features of this tablet is that it has text-to-speech technology and that means it will read the directions for a recipe back to you. There is also a highlighter tool that allows you to quickly find your place when working on a dish. There is also an easy grocery list that you can do and you have the ability to take your own images and upload them into your recipe. In the gallery above you can see some of the general menus along with the search results for brisket recipes and what the full recipe looks like for one such dish.
Key Ingredient Recipe Tablet Hardware Specifications:
The Key Ingredient Recipe Tablet is basically a MID Supersonic SC-2307BT Tablet with the Key Ingredient software loaded onto it. This tablet was once carried by Walmart, Best Buy, Overstock and Amazon. It appears to have been discontinued by most, but a few are still available on Amazon from third parties for $89.99 shipped. None of the stores mentioned have any user reviews on this particular tablet, which is a little unusual. Here are the specifications for the MID Supersonic SC-2307BT Tablet.
Tablet Brand: GPCT MID
Model Number: Supersonic SC-2307BT
Processor: ARM Cortex A9 Dual-Core 1 GHz
Graphics Processor: ARM Mali-400 MP (OpenGL ES 2.0)
Memory (RAM): 512MB
Internal Storage: 4GB
Optional Additional Storage: up to 32GB microSD card
Display: 7-inch Touchscreen
Resolution: 800×480
Front Camera: 0.3MP (640 x 480 images)
Rear Camera: 1.9MP (1600 x 1200 images)
Wireless: 802.11b/g/n with Bluetooth
Battery: 3000mAh lithium polymer
OS: Android 4.4.4 Kitkat
Now that we know the basics of the Key Ingredient Recipe Tablet we can get to testing on the next page!