Key Ingredient Recipe Reader HD+ Tablet Review
By
The Key Ingredient Recipe Reader Tablet that we reviewed last year was a bit of a disappointment as the tablet itself was one of the worst that we have used and we figured out that the app on the tablet was basically the same one you can download from the App store and put on any mobile device. When the folks at Key Ingredient asked us if we were interested in reviewing their new Key Ingredient Recipe Reader HD+ (product page) that they just came out with it really caught us off guard. Usually when a company gets a not so positive review they try to explain the flaws in your thoughts and then swiftly black ball you. We explained out reservations with Key Ingredient, but they were confident that the new Key Ingredient Recipe Reader HD+ tablet w/ stand would basically help redeem our faith in the company. Legit Reviews has been reviewing computer hardware for over 13 years and we certainly admire their confidence that they have a better product and that well still give them a fair and honest review.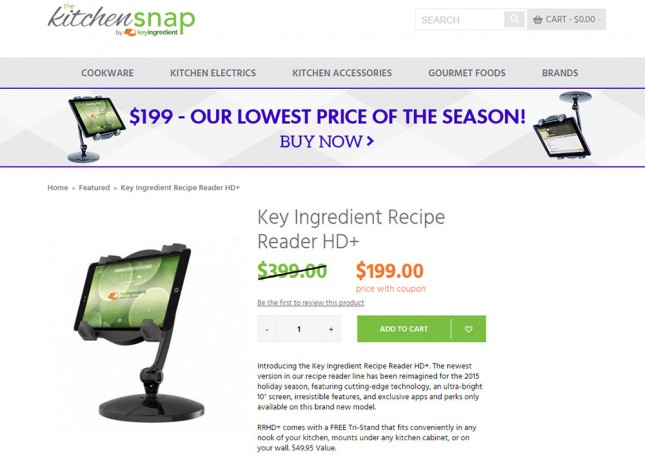 The Key Ingredient Recipe Reader HD+ (model number KIRE3US) has a $399.99 MSRP, but Amazon has been selling it for $199.99 shipped since they started carrying it. More and more corporations are setting insane suggested retail prices as they want consumers to think they are getting a deal. If you look at Amazon right now youll see this tablet is marked down and is available for 50% off right now! Oh boy! Kohls department stores are notorious for doing the whole you saved x dollar by shopping here today feel good marketing stunt and now it feels like that mentality is spreading. This might be a holiday promotion, but we highly doubt it as very few high-end Android tablets can command such a price these days.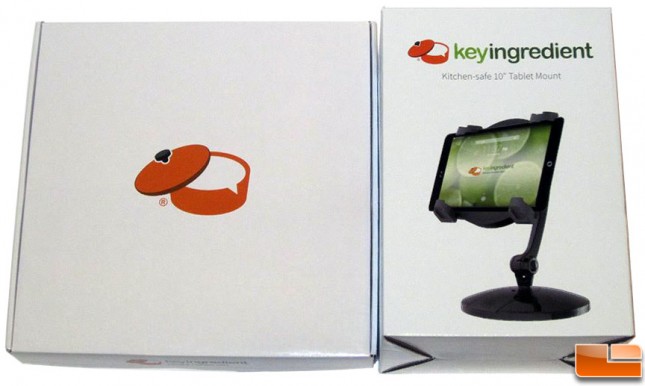 For $199.99 you get the new Key Ingredient Recipe Reader HD+ as well as a tablet tri-stand that is valued at $49.95 according. The tablet stand can be mounted on the wall or under a cabinet, so its more versatile than just being sat on the kitchen counter. One of the big selling points of this tablet is that it was designed to be kitchen safe. That basically means that it is moisture resistant and should survive the splashes and spills that happen while scurrying around the kitchen making that family meal. This means that you dont have to risk your personal smartphone or more expensive tablet in the kitchen.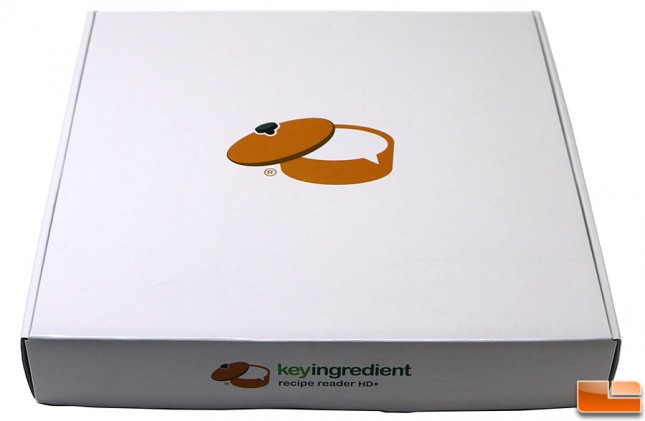 We wont waste our time our or yours spending any time looking at the stand as those are pretty straight forward to figure out. We are going to focus on the tablet itself Legit Reviews is a hardware focused site and that is what youll be using in the kitchen anyway. We also wont be spending any time looking at the Key Ingredient 2MM Recipes APP as that is free on the Google Play store (has in-app purchases) and you can try that out and look at over 2.3 million recipes on one of the devices that you already own. What you are spending your money on is the tablet here and that is what we want to look closer at as the Android market place is flooded with thousands of tablets.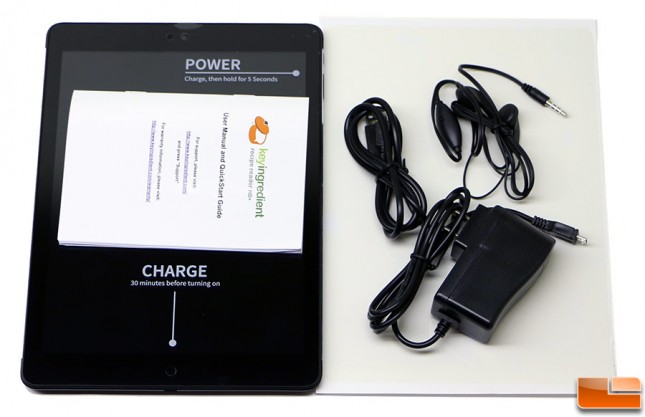 Inside the retail packaging youll find the 10-inch tablet, quick start guide, USB Type-A to Micro-USB cable, micro-USB wall charger, a pair of headphones and an optional screen protector. The tablet comes almost fully charged, but it is advised that you charge it for 30 minutes before the first use. Our tablet had just over an 85% charge on it when we didnt follow the instructions and fired it up for the first time. Its always nice to just pull a new electronic device out of the box, pull off the protective film and get use it straight away.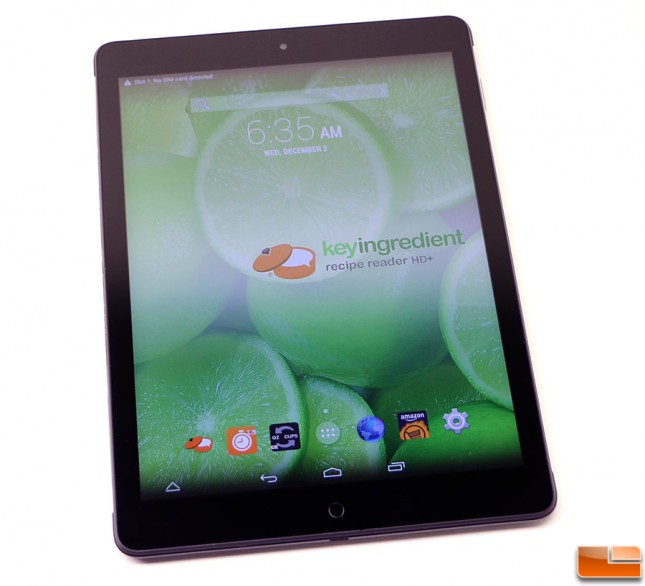 The 10-inch tablet features a 2043 x 1536 Pixel Super Bright display that is set to stay awake for four hours, so you wont have to worry about the display shutting off right when you get your hands messy. From what we are saw on our tablet, Key Ingredient setup the tablet to stay awake for four hours and the screen brightness is set to 100% instead of auto. If you are worried about battery life when you use the tablet outside the kitchen we highly advise putting the screen brightness setting on auto and adjusting the sleep setting under display settings.
This is an Android 4.4.4 tablet with access to the Amazon Underground App store, so you can install and use other apps from that source. Key Ingredient says that this tablet is running on a customized Android Amazon App Store interface, so it is a bit strange to run Android and not have access to the Google Play store. That might be a deal breaker to some, but many apps can be side loaded manually if you can find their APK.
The Key Ingredient Recipe Reader HD+ is powered by an 8-core MediaTek MT8752 64-bit SoC that can run up to 2.1 GHz, so performance shouldnt be that bad as you certainly dont need that many cores to run the recipe reader app! Other notable internal hardware features include 2GB of RAM, 16GB of internal storage space, 802.11n Wi-Fi,Bluetooth 4.0 and FM Radio.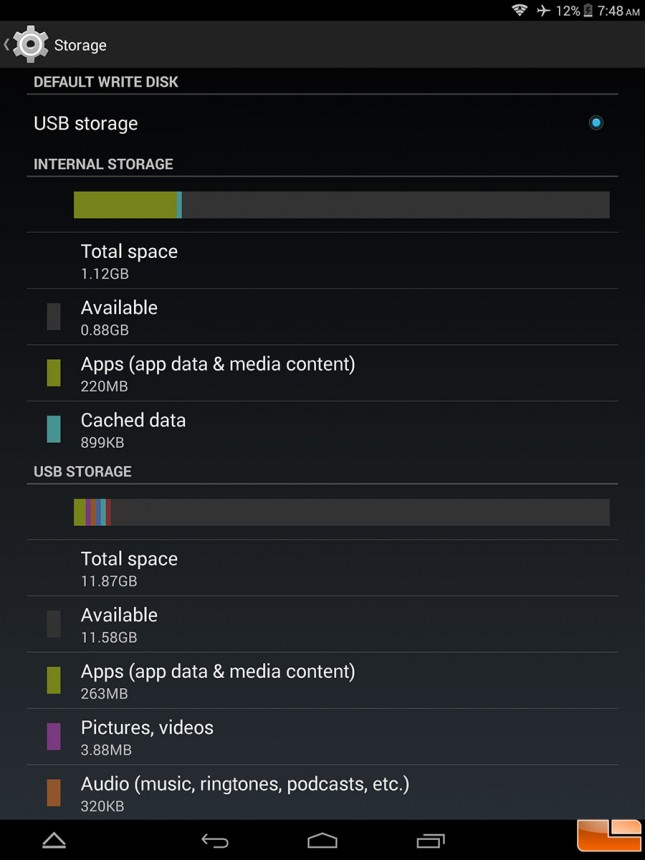 It should be noted that the 16GB internal storage drive has been partitioned into two parts. One ~2GB partition is strictly for the Android 4.4.4 operating system and the other ~12GB partition is for your Apps and general data. This was done to prevent the OS from slowing down or crashing if it gets filled to the brim.
If for some reason you ever perform a factory reset on the device the device will return to a nearly pristine state, with all of the default OS apps pre-installed. The one app that has to be re-downloaded, however, is the Key Ingredient Recipes App, which has to be downloaded by logging in to the Amazon app store (Free). The Amazon App store will detect your device and download the version with the exclusive app features for tablet owners like text-to-speech.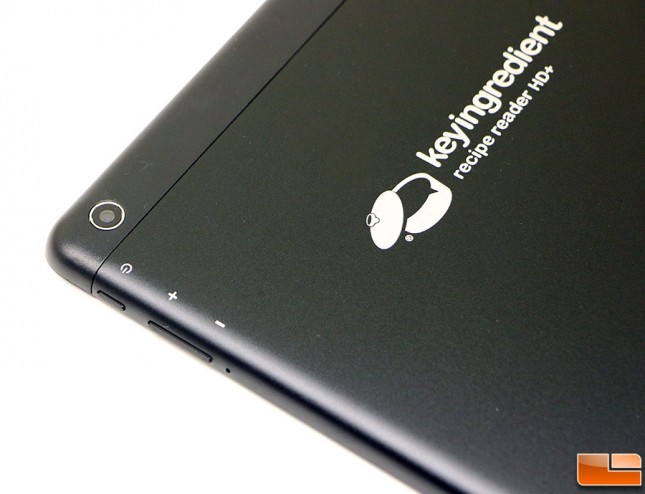 The tablet has a rear-facing 13 MP camera that allows you to take photos of your favorite recipes in order for you to save them in the app thanks to the RecipeSnap service. There is also a front facing 8MP camera that will come in handing if you want to install a 3rd party application from the Amazon App store. The power and volume rocker is located along the top right edge of the reader just below the rear-facing camera. The 3.5mm headphone jack for the included wired ear buds plugs into the port that is located along the top edge.
Key Ingredient advertises, or at least it is shown on Amazon, that this tablet features a seamless design that ensures no moisture can get inside the tablet. There is a seam all the way around the front display glass as well as some seams on the back housing, so we don't fully buy into that. In fact, I can get my fingernail into the seams and pry the casing apart a bit. That isnt what we would consider seamless. We asked Key Ingredient about this and we were told that by calling it seamless that they meant only the front and that splashes just wipe away.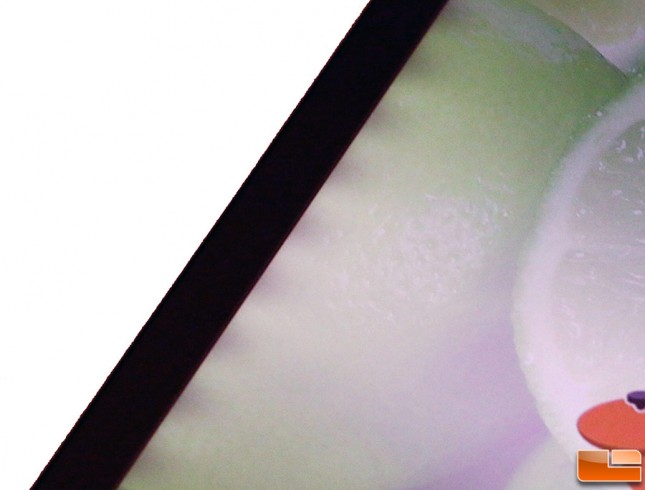 The colors on the display are pretty good, but we did notice some color issues on the left hand side of the display as there were dark bands ever so often no matter what color was on the screen.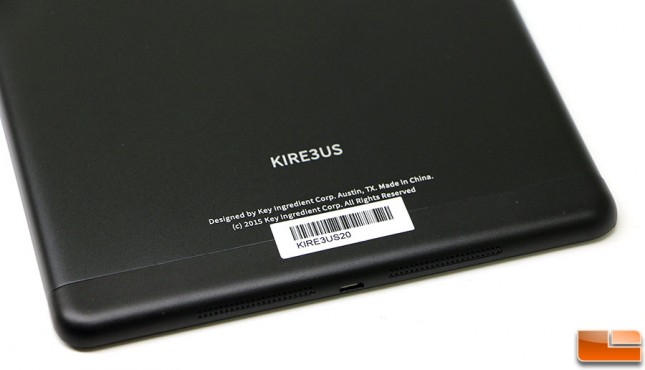 Along the bottom edge of the tablet you have the left and right stereo speakers and between them there is the micro-USB charging/data port. The battery inside is a 3.7V 6,000 mAh battery, but the actual time varies heavily by use as how you use the graphics, processor, speakers, WiFi, bluetooth, cell, etc. all will dramatically change how fast the battery is drained. You should be able to get about 2.5 to 3 hours with "moderate to heavy use" and up to 6 or 7 hours with "light and standby use". For the most part, this product was designed to be kept in the kitchen under a cabinet and plugged in to a power outlet with the provided adapter.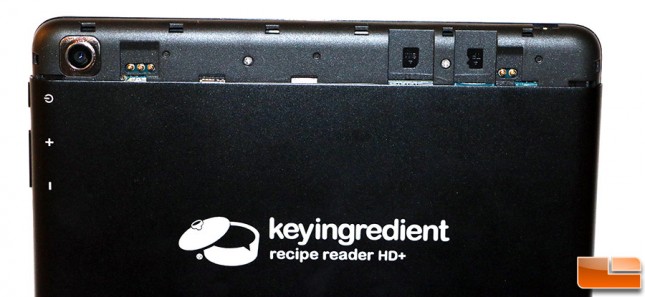 It appears that the Key Ingredient Recipe Reader HD+ tablet has a removable back cover that allows you to access the SIM and microSD slot. Pull from the very top towards you with the back facing you and the plastic cover should open easily exposing the two slots shown above. We have been told that the device will take a SIM card, recognize it and work at up to 4G speeds. The tablet also comes with a SIM Toolkit app pre-installed for those that want to add an active SIM.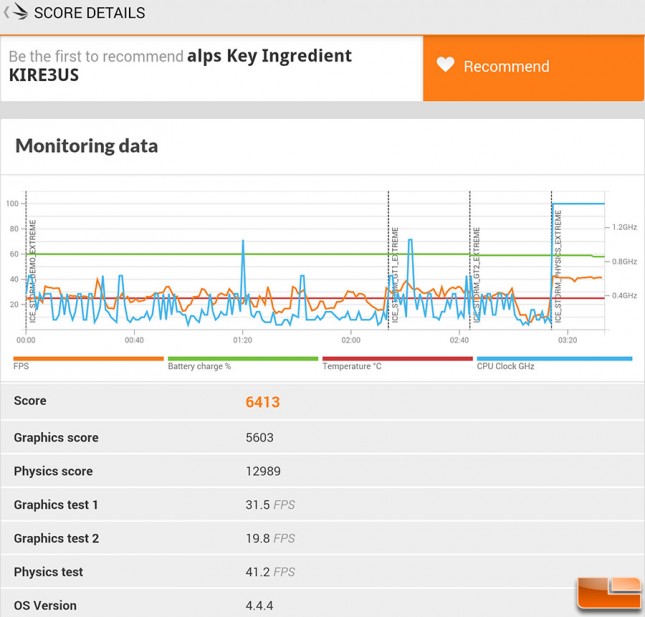 We side loaded a handful of benchmarks and ran them to check out the performance on the tablet. The results above show that we got a score of 6,413 on 3DMark Ice Storm Unlimited, which is a pretty solid score and shows that this tablet is certainly capable of playing mobile phone/tablet games with ease.
The default browser scores 1364ms on Sunspider 1.0.2 a benchmark where lower scores represent better JavaScript performance. The Key Ingredient tablet from 2014 scored 1649ms, so that represents a 17% performance improvement there.
Final Thoughts and Conclusions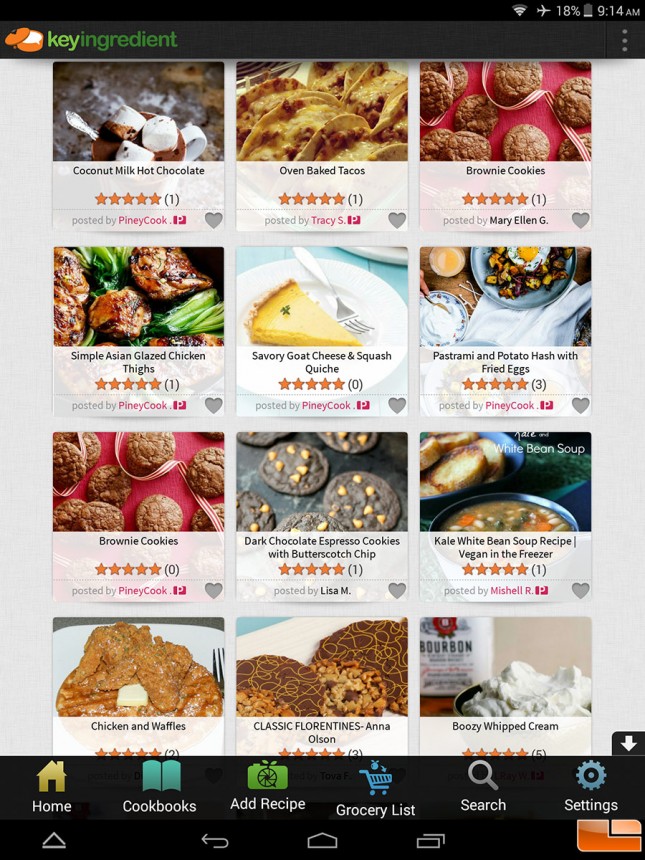 The difference between the Key Ingredient Recipe Reader HD+ App versus the one anyone has access to on the app store is this:
Text-to-speech is only available on the Reader.
Offline Cookbooks ~ allows you to sync your cookbooks and use them offline (even when your reader is off of wifi)… is only available on the Reader.
The screen of the Reader does not disable (go black) except after 4 hours of inactivity, which is really useful to have it stay on while cooking.
Free Prime Upgrade Integration – users who first log in to the reader get their account upgraded to Prime Membership for free. As a prime member, you get an ad-free experience on keyingredient.com as well as the mobile app and free RecipeSnaps! For a complete list of benefits, please click here.
Other than those features you are basically investing in an Android tablet and a tablet stand. At $199 the 10-inch Key Ingredient Recipe Reader HD+ was found to be a much better device than the last generation reader and there isn't actually too much to knock on it as it will handle your recipes and make for a good general use tablet. This is actually a tablet that you can pick up and surf the web, play games or do other things on it and want to!
When it comes to pricing this kit runs $199.99 shipped and it is backed by a 1-year warranty. It should make for a solid gift for that chef in your family this year if you think they'd enjoy the text-to-speech capabilities of this tablet in the kitchen!