Kentech Labs Ps-Mi Portable Apple iPod Audio System Review
By
A Closer Look At The Ps-Mi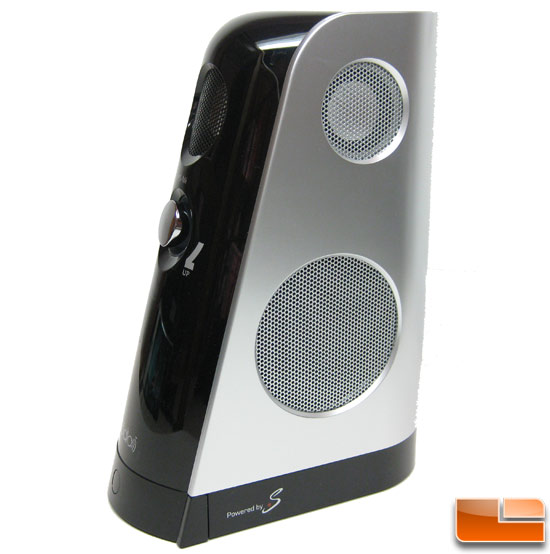 The PS-Mi has a sleek upright appearance with a black and silver color scheme that should blend in with most decors in the home and at the office. The upright orientation of this docking station is aimed towards space saving and visually sets it apart from the rest. The volume knob is located on the front of the docking station and is recessed into the front housing. The recessed area around the volume knob is not that wide, so those with moderate or large sized hands will find this knob a bit difficult to use as even small hands have to 'pinch' in to be able to adjust the volume. A simple widening of the area around this would eliminate this problem. Unlike many car radios that have a knob that can be pushed to be turned on, the power button is located on the back of the unit, which is again awkward and not easy to reach when the docking station is placed on a counter or cabinet. If Kentech Labs were to do a revision of this model, those are areas that need special attention. With that being said the remote to this unit does have an on /off switch that does work just as well.
Along with the space saving theme the actual docking station is an easy pull out tray located at the front of the machine. That has the interchangeable trays that you can switch out for your different model iPods. The Odio PS-Mi boasts three 10-watt satellite speakers and one larger 25-watt woofer. The big concept that Odio would like to get across is Point Source Audio.
"Powered by S refers to Point Source Audio, a revolutionary new speaker system technology based on the laws of physics and the theory of sound-wave propagation. The PS-Mi is built using Point Source Audio Technology, thus reproducing single, coherent in-phase acoustic wave that emanates from a single enclosure. The acoustic wave results in a crystal-clear, seamless and acoustically comfortable audio image."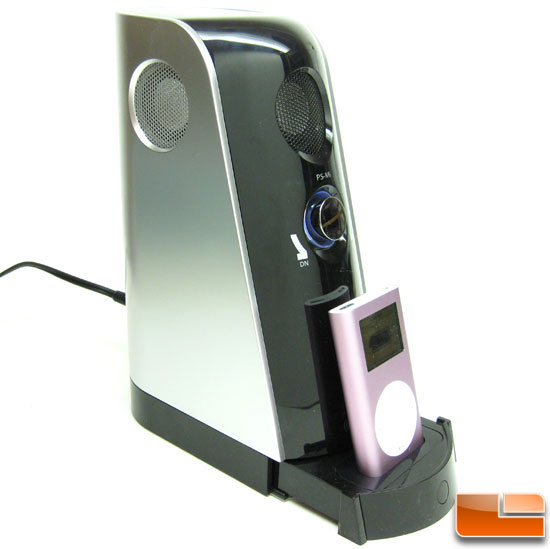 The speaker size and sound is quite impressive for this small of a model; it definitely packs a lot of punch for such a small package. Another impressive quality that goes along with the space saving aspect is that while you have your player docked on the station it automatically recharges your Apple iPod for you. That feature helps to keep another piece of equipment and extra wires out of the way. The PS-Mi, as I mentioned above, comes with USB cables and S-Video Cables — let's start with the USB cables. These allow you to sync your Apple iPod straight through your PS-Mi to your computer, which is helpful if you would like to change your playlist or add a different song or picture to your iPod. The S-Video cables allow you to hook your docking station to your television set or your PC monitor if you would like to view your photos or videos. The one drawback to this feature is that it only works with pre 2007 iPods and not current models.
I compared this model to one that I use at work, the iLuv i166 stereo audio iPod dock and AM/FM dual alarm clock system. While this model has a lot of bells and whistles it does not have the speaker power that I have with the Odio PS-Mi. The vertical configuration of the Odio would also be an added bonus for clearing up space on my desk. While the remote of the iLuv i166 is much better for navigating around my iPod, Odio could easily fix this with a few minor modifications.
When it comes to pricing, the Kentech Labs PS-Mi retails for $126.99 online and it blows away the iLuv i166 that retails online for $51.99 shipped. If you want good audio quality you'll be happy with spending the extra money and getting a better quality product.
Legit Bottom Line: The Odio PS-Mi is a powerful space saving iPod docking station that offers great sound quality without emptying your wallet.