Interview: Chris Morley on Maingear's Shift PC
By
The Conclusion of the Interview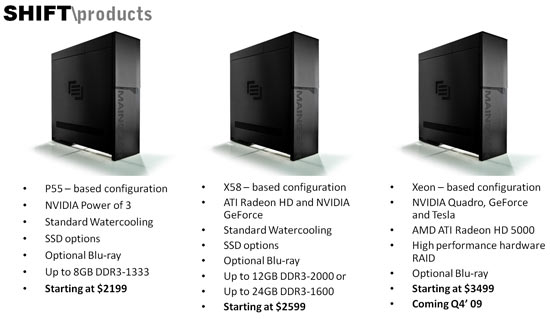 How does this product line make Maingear
standout in this extremely competitive marketplace?
Tell you what. Take a
look at the new Alienware Aurora, the Acer Predator, and the Asus gaming
desktop. We think the SHIFT speaks for
itself.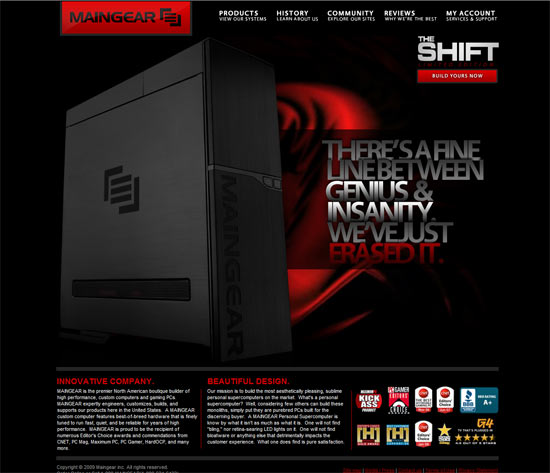 What
part of Maingears changes are you most excited about?
I guess it's a lot of
little things. The website is awesome. We're doing a better job of
talking about the details. Better product pages. More pictures and
better pictures. We've spent a whole page talking about the features of
Windows 7. We've added error-correction to our configurators so our
customers are mis-configuring systems. We've expanded our operations
and have added some wonderful talent and wonderful people. We're coming
closer together as a team and we're confident in our strategy and where
we're going. Our future goals are clear and we're all on the same page
as to how we want to get there.
What
do you see upcoming in the boutique PC market?
I know what we're doing but please don't take offense if I don't
share those plans with you at this time.
Are
there any plans to expand the Shift product lineup to include AMD processors?
Yes. AMD is an
important partner to us and we're always looking at the best way to integrate
their technologies.
Can
we expect more big announcements from Maingear 2010?
Yes. Bet on it.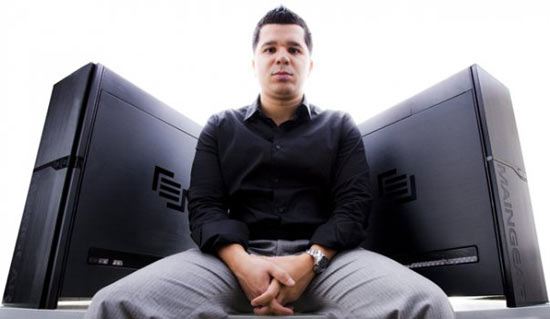 I
notice you have a personal blog, a Facebook page, and Maingear has recently
held a contest for followers on Twitter. What kind of an impact has the
proliferation of social networking had on the success of the company?
I have actually begun
to see people put down as their referral "Facebook" or "Twitter" – so
while it's not a sizeable amount, we do see it making an impact. It's
always good to share with your customers and your fans. It's more
personable. And we get a lot of great feedback and meet a lot of people
that way. Plus, Wallace Santos (the CEO of Maingear and in the Photo
Above) and I love this stuff so that's why we have blogs. Me, I can't
shut up about it, which is sometimes a bad thing. @maingear @chrismorley
Where
do you see Maingear in 5-10 years?
We'll be the ones making commercials poking fun of Apple.
Any parting words for our readers?
Hey guys, I know most
of you build your own computers. I used to write for a tech enthusiast
website and I've known Nate for years. You guys do great work and it
was the enthusiast community that nurtured my love for technology and
helped me get into this business over a decade ago. We appreciate your
feedback. We know that you're not likely to directly purchase a PC from
us. But we hope that you recognize us as a company that delivers a
quality product and then stands by it. So next time you're too busy to
build a computer for a friend or family member, we hope that we've
impressed you enough to recommend us to them as a place that will take
care of them. We'd be honored.