Interview: AMD's Terry Makedon A.K.A. CatalystMaker
By
Q & A with AMD's Terry Makedon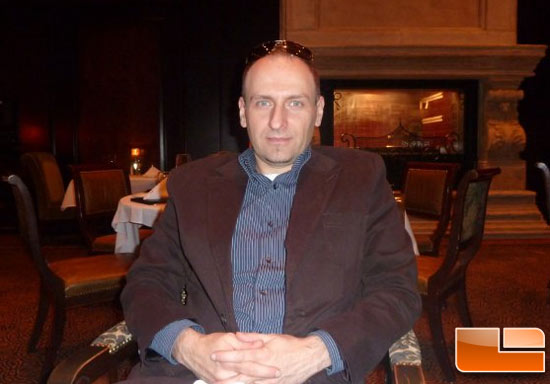 We recently had the chance to interview Terry Makedon, Manager of Software Product Management for discrete GPU's, from AMD and talked about the history, philosophy and future plans for AMD's world domination when it comes to video cards and drivers. Terry Makedon is well known in the gaming community and is well known as CatalystMaker on Twitter where he directly interacts with fellow gamers. Terry has a very unique position inside AMD as he deals directly with the development of the Catalyst driver program and at the same time he serves as the public face of the entire company when it comes to gamers. Over his tenure at AMD he has become synonymous with Catalyst drivers and rightly so as he was there when the name was thought up and when the first release took place way back in 2002. Terry recently announced that he was going to be changing positions at AMD, so when we heard that changes were blowing in the wind we had to get in touch with Terry and see what the heck is going on.
Terry, since it has been over six years since we have done an interview could you please introduce yourself to our readers so they know who you are?
Sure Nate. My name is fairly evident and my game is Catalyst. Specifically I am the Manager of Software Product Management for discrete GPU's (i.e. Radeon). I have had this job for just about 10 years now first at ATI and then with AMD. For people not in the tech industry a Product Manager is sort of the facilitator between end users and the Engineering or Developer teams. In essence me and my team define the features that the software Engineers work on, we help prioritize all the various features, and we give marketing the information they need to go market our products.
So you are the face behind the CatalystMaker username!
That is correct. CatalystMaker started 9 years ago or so when I wanted to post on various tech forums, and has been my tech handle ever since.
Have you ever counted how many driver releases that you have been part of?
I haven't counted but a rough guess would be about 100 official Catalyst releases with dozens more hotfixes and special purpose drivers.
Since you gave birth to so many drivers and had a say in each release, what driver release are you most proud of?
June 13 2002 was the date, and we launched Catalyst 2.1 – the first Catalyst ever. It was about 16 months after I had joined ATI and my first mandate from my boss back then was to come up with a strategy for GPU drivers.
With features like AMD Eyefinity, CrossFire, the OpenCL toolset the drivers for video cards have become rather complex lately. You also have Drag and Drop Transcoding, DivX & 3D Stereoscopic support, AMD PowerTune technology and other tons of other items that have been included in recent releases. It looks like drivers have gotten rather complex lately. Is it just us or has it gotten harder?
Not really, all those technologies you list are incremental, meaning that they are just built on existing driver architecture. Throughout the years you end up having a ton of really good features. The only exception to my statement is about the OpenCL stuff which is indeed brand new for the industry and does require a ton of engineering work for us to enable.
How many people does it take to bring out monthly Catalyst drivers?
I don't have exact numbers but it is in the multiple hundreds. The one bit of trivia I do know is that at AMD we had roughly the same number of hardware engineers as we did software engineers. So as many people that it takes to design and build a GPU – you need that many more people to architect, write, and test the drivers.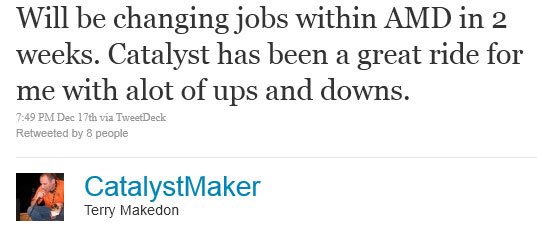 You recently announced on your twitter account (@CatalystMaker) that you are moving to a new position inside AMD in just over a week. Can you explain where you are going to and why you are leaving after ten years working on Catalyst and software drivers?
As of January 1st, 2011 I will indeed switch roles within AMD. I will be working on the exciting new Fusion APU's and will be managing the software marketing for those products. The reason for the switch is very simple. AMD will be launching something very revolutionary with our APU's (Accelerated Processing Unit). I have the opportunity to be involved in something the world has never seen before and to be part of it from the ground level. This is the reason AMD acquired ATI in fact – bringing APU's to market and combining CPU and GPU functionality in a single package. Think about the possibilities!
I feel sorry for the person that has to fill your shoes! Do you know who will be filling your current position?
I do, he's actually a good buddy of mine and has been working at ATI/AMD for a long time. He is also in the product management team that I am currently in but has been involved in hardware product management. Not sure if he wants me to reveal his name so I will leave it to him to announce publicly his new role.