Intel Z97 Motherboard Roundup with ASUS, Biostar, Gigabyte and MSI
By
ASUS Z97-Pro, GIGABYTE Z97X-UD5H, MSI Z97 Gaming 7 & BIOSTAR Hi-Fi Z97WE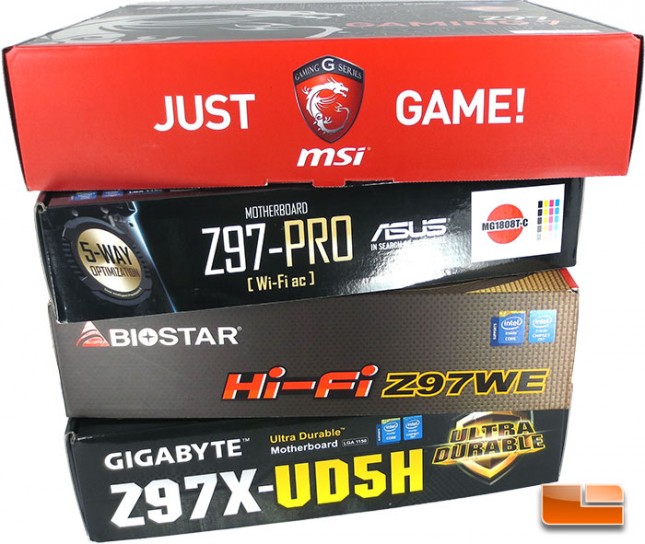 Today we are going to take a look at a handful of different motherboards from four different manufacturers. Each of the four motherboards is based on the Intel Z97 chipset with some of the latest and greatest bells and whistles. The first motherboard up is the GIGABYTE Z97X-UD5H. Then we have the BIOSTAR Hi-Fi Z97WE, ASUS Z97-Pro Wi-Fi ac, and last but by no means least is the MSI Z97 Gaming 7. Each of the four motherboards is loaded out with some different specifications and features and each carries a different price tag. Pricing is as follows (in order of most to least expensive):
While each of the boards has some different features, the key features are pretty universal. By key features I don't mean the number of USB ports or fan header, but more along the lines of the chipset features. Which I suppose does relate to the number of USB ports in the end as some of the boards will use an integrated hub or additional SuperSpeed USB 3.0 controllers. One of the newest features that is being brought to the forefront of PC computing is the M.2 port. The M.2 port is the latest and greatest for storage and offers a theoretical 10Gbps throughput! All three of the boards today have this feature on them.
All of these boards are part of the Intel Z97 Express chipset line up from their respective companies, which means all three of these motherboards will support the latest Intel LGA1150 processors (Haswell, Haswell Refresh, Devil's Canyon) that those are coming out before the holiday (Broadwell). All four Intel Z97 motherboards feature the LGA1150 socket, dual channel memory, native SATA III 6Gbps, SuperSpeed USB 3.0 and while the Intel Z97 chipset is capable of SATA Express, only one of our boards today has that feature enabled.
Now that we've taken a brief look at what we've got planned for the day, lets move on to the first Intel Z97 motherboard below!