Intel Skylake Integrated Graphics Gets Major Performance Boost
By
Intel 6th Generation Core 'Skylake' 14nm desktop and mobile processors are set to launch in coming months and some more information about the integrated graphics has been leaked to the web . The folks over at Fanless Tech have posted up a set of what appears to be Intel marketing slides that show what Intel is up to with their next-generation processors. Intel showed that they can build a powerful iGPU solution with Broadwell LGA desktop parts as the Intel Core i7-5775C 'Broadwell' processor that we reviewed last month with Intel Iris Pro graphics was a beast. The only problem with Broadwell that particular desktop part is that it was 'launched' nearly two months ago during Computex 2014, but you still can't buy a retail boxed or tray processor. Amazon shows that they'll be coming in the middle of August, but that delay and a rather steep price tag has caused enthusiasts to shift their focus to the next generation Intel Skylake series.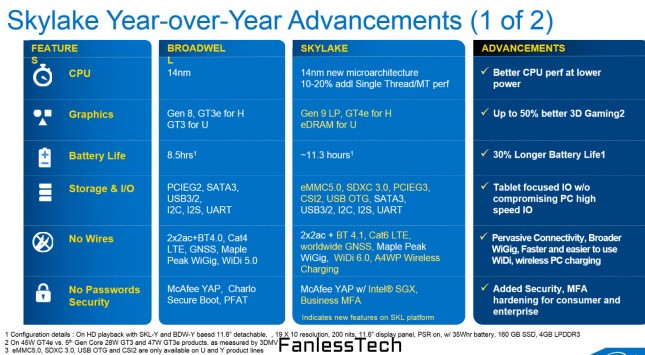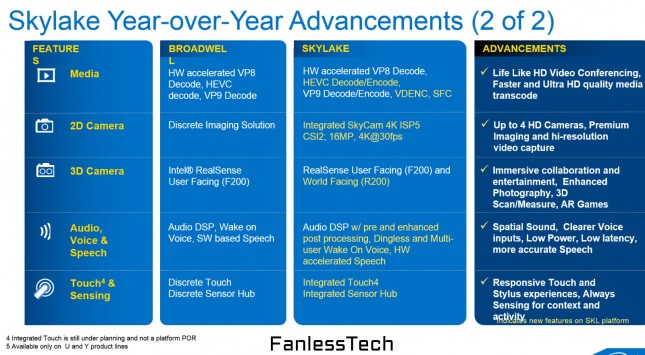 Intel appears to be launching their socketed 6th generation Core 'Skylake' processors for the desktop market first, but they'll also be coming out with a slew of mobile BGA processors later. If the leaked slides are real it looks like Intel is getting really serious about graphics and has again been able to improve integrated graphics performance by leaps and bounds. The slides show that the Intel Skylake 45W TDP processors with GT4e graphics solutions perform 50% better in Futuremark 3DMark Vantage versus 5th Gen Intel Broadwell 47W GT3e processors. This is great news as the mobile market is quickly moving to larger display resolutions and consumers will need extra horse power to play 3D games on the larger WQHD (2560×1440) and 4K (3840×2160) displays that are only going to grow in popularity in the years to come. The downside to having more pixels due to the larger screens is that the performance jump Intel is bringing to the market will be negated by that. The good news is that you can set you games to run at 720p or 1080p and will likely get respectable frame rates on processors with GT4e graphics. If Intel can get games like League of Legends playable at 1080P with close to 60 FPS, they'll really get AMD's attention on the APU side and both AMD and NVIDIA on the entry-level discrete video card market. Intel also tossed in HEVC decode/encode capabilities, so expect to see media transcoding speeds improve. Intel 9th generation integrated graphics look very promising on paper and we can't wait to see how they perform inside mobile platforms. We recently heard a rumor that the first desktop Broadwell processors won't have GT4e graphics, but there will be a Broadwell refresh happening down the road that will bring Intel's latest iGPU with eDRAM to the socketed desktop market.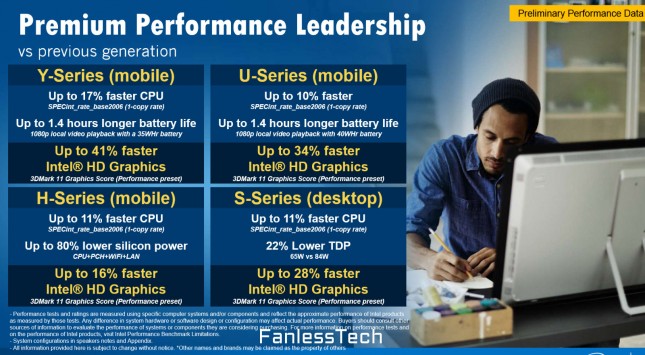 The slides show that the integrated graphics isn't the only area that Intel has beefed up though as the CPU has also gotten some substantial performance improvements. The slides show that the Intel was able to get a 10-20% single/multi-thread CPU performance over Broadwell. At the same time they have also managed a to get a 30% improvement in battery life on Skylake-Y processors over Broadwell-Y processors and that is super impressive as both chips are manufactured on the 14nm process.