Intel Optane Memory H10 Review – Best Cache Drive Ever?
By
Intel Optane Memory H10 with Solid State Storage Explained
Last month Intel introduced a new M.2 2280 'gum stick' drive called the Optane Memory H10 that combines Intel Optane (3D Xpoint) memory and Intel QLC 3D NAND Flash memory on one drive. This is super exciting as it is the first time memory and storage technologies have been combined on a single M.2 drive that works with both desktop and mobile PCs.
It has been a long journey for Intel Optane Memory to arrive in mainstream client systems, but we are finally starting to see Intel's hard work pay off. That is because the new Intel Optane Memory H10 (Intel code name Teton Glacier) helps accelerates system responsiveness and improves overall performance by a good deal. It is different than the Intel Optane Memory M10 Series that came out in Q1 2018 as a caching solution that sat in front of a storage drive. In fact, Intel is seeing up to 60% faster launch times when it comes to games with a system using the new Optane Memory H10 solution versus a system from last year using Optane Memory M10 paired with another drive. Not only is the user experience better, but only one storage drive slot is needed and that is a big deal for small form factor systems!

We should mention that Intel Optane Memory H10 with Solid State Storage drives come in three different capacities and that all are single-sided. The capacities that are coming to market first are 256GB, 512GB and 1TB drives. The smallest 256GB drive comes with 16GB of Optane memory while the larger capacities come with 32GB of Optane memory. Intel went with the SMI 2262 NVMe controller on all of the drives for those that are curios what SSD controller is used for this series.
Intel Optane Memory H10 is initially being released to the OEM market where they will find there way into Ultrabooks and mobile products. Motherboard makers have already started adding support for these new hybrid drives to their latest UEFI/BIOS revisions, so eventually these will be headed to the 'DIY' channel. Since these are OEM only drives for the time being no pricing guidance was offered on what each drive costs. What Intel did inform us is that we would likely see the 256GB drive on systems in the $799 to $949 price range, the 512GB drive in the $949 to $1,499 range and the 1TB drive in systems over $1,499. System vendors determine system price points, but that is a rough estimation on where you'll find systems with Intel Optane Memory H10 solutions.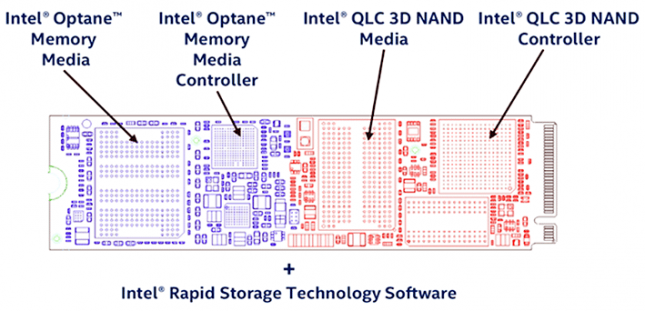 The Optane Memory H10 M.2 2280 drive uses the usual M.2 slot and is a PCIe 3.0 x4 device. What makes this drive really unique is that the lanes are bifurcated between the Optane Memory media and QLC NAND. So, you basically have two separate drives residing on the single M.2 board with the PCIe lanes split evenly between the two. This is why existing platforms need to have UEFI/BIOS updated as they need new 'hooks' in place to handle each drives own dedicated controller and storage media. Intel Optane Memory H10 will work only in systems running Windows 10 64-bit systems with Intel 8th and 9th Gen processors along with Intels Rapid Storage Technology (RST) software. One can imagine how hard it would be to get thousands of platforms ready for these drives, so we understand why this is rolling out on OEM PCs first.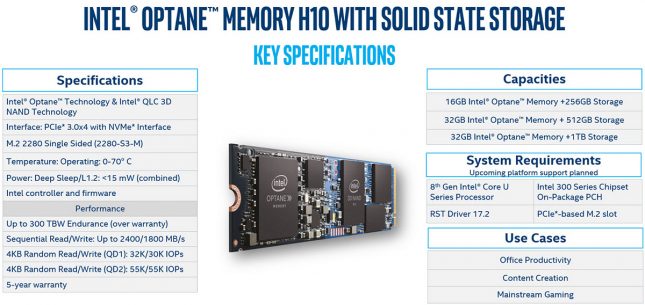 When it comes to performance you'll find some variance depending on the capacity drive that you are looking at. The flagship 1TB model offers sequential speeds of up to 2,400 MB/s read and 1,800 MB/s write. Random 4K performance is rated at up to 330,000 IOPS read and 250,000K IOPS write and the latency is 7s read and 18s write. The 512GB model comes in slightly slower with sequential speeds of up to 2,300 MB/s read and 1,300 MB/s write, Random 4K at 320K read and 250K write, and the same latency values. The smallest 256GB drive has sequential speeds of up to 1,450 MB/s read and 650 MB/s write, Random 4K at 230K read and 150K write, and latency at up to 8s read and 30s write.
When it comes to endurance the 1TB drive is rated at 300 TBW, the 512GB drive is 150 TBW and the 256GB drive is 75W TBW. All are backed by a 5-year warranty and are looking at 1.6 million hours Mean Time Between Failures (MTBF). If you are interested in power numbers the 512GB drive and 1TB drive are rated at 5.8 Watts active power with an idle L1.2 power of <13mW. The 256GB drive has an active power rating of 5.3 Watts with an idle L1.2 power value of <12mW.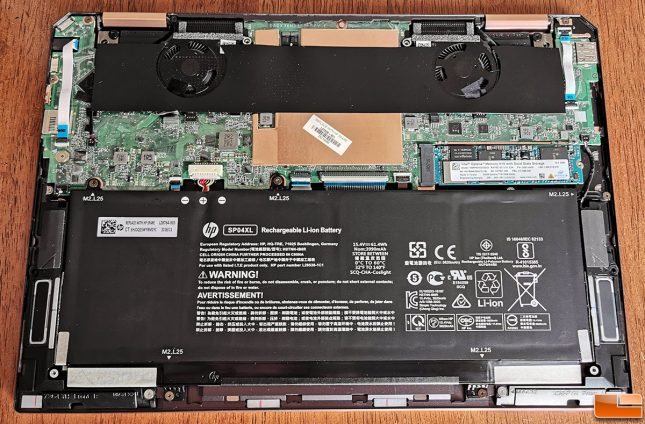 In order to be able to try out Intel Optane Memory H10 we were provided with an HP Spectre x360 Convertible laptop with a special UEFI/BIOS version to support this new drive. Key hardware features on this Windows 10 v1809 notebook would be the Intel Core i7-8565U CPU and 16GB of RAM, but we are going to be focusing on the drive inside. In our situation that would be the brand new Intel Optane Memory H10 drive that has 32GB Intel Optane Memory + 512GB Storage on it that had model number HBRPEKNX0202A on the label.
Let's take a look at the benchmark results and our conclusions on the next page!