Intel NUC NUC6i7KYK Skull Canyon Mini PC Review
By
Intel NUC NUC6i7KSYK – Skull Canyon Arrives
If you are a big fan of the Intel NUC mini-PC series, but didn't think they had enough power for your needs, we have a special treat for you. We've spent the past week playing around with the Intel NUC code named 'Skull Canyon' that features the latest 6th Generation Intel Core i7-6770HQ 'SkyLake' quad-core processor and Intel Iris Pro Graphics 580 (GT4e). This is the first Intel NUC to feature a mighty Intel Core i7 quad-core processor and it also sports cutting edge technologies like Thunderbolt 3, two m.2 slots for running SSDs in RAID, support for six USB 3.0 ports, DDR4 memory and more.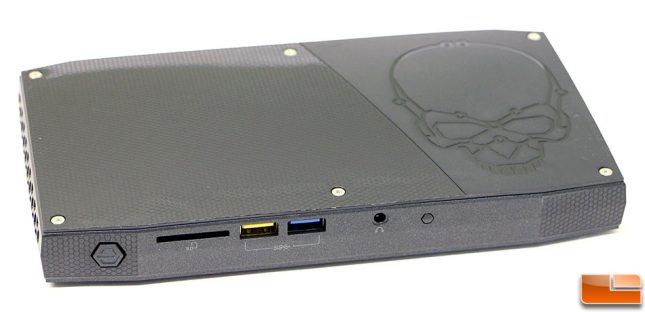 The Intel NUC Kit NUC6i7KYK measures in at 211mm x 116mm x 28mm and is the largest NUC ever designed. It also just happens to be the most power hungry as comes with a massive 120W power brick to power the 45W TDP 6th generation Intel Core i7-6770HQ quad-core processor with Intel Iris Pro Graphics 580 that has 128MB of eDRAM. This is obviously the flagship NUC model is is targeted at gamers and power users that are looking for as much power they can get in a tiny form factor like this. The dual M.2 slots both feature the PCIe x4 interface and RAID can be enabled in the UEFI for truly unprecedented storage drive performance for those willing to run RAID 0. If the Intel Iris Pro Graphics 580 isn't enough you can use the USB 3.1 Gen 2 interface (the USB Type C port) to attach an external discrete graphics card for all the graphics power you'll ever need. Priced at $635.77 shipped, the NUC6i7KYK is expensive, but it is the most powerful and flexible NUC ever released.
Intel NUC6i7KYK Features
Intel Core i7-6770HQ 'Skylake' Processor, 2.6GHz Base/3.5GHz Turbo, quad-core, 45W TDP
Intel Iris Pro Graphics 580 GPU, 72 EUs, 128 MB eDRAM cache (Skylake-U GT4e)
Two 260-pin slots for up to DDR4 3200MHz SO-DIMM memory, 1.2V/1.35V, max. 32GB
Standard HDMI 2.0 port (4K 60Hz)
Mini DisplayPort 1.2 port (4K 60Hz)
Four USB 3.0 ports (2 on the front, 2 on the rear)
Intel I219-LM Gigabit Ethernet LAN adapter
Intel Wireless-AC 8260 WiFi adapter (802.11ac, dual-band, max. 867 Mbps, Bluetooth 4.2)
Support for two M.2 SSD cards (sizes 2242 and 2280) and one internal SATA III port
SD card reader (support SDXC cards and UHS-I – Uses PCIe x1 interface)
Infrared sensor and 3.5mm audio jack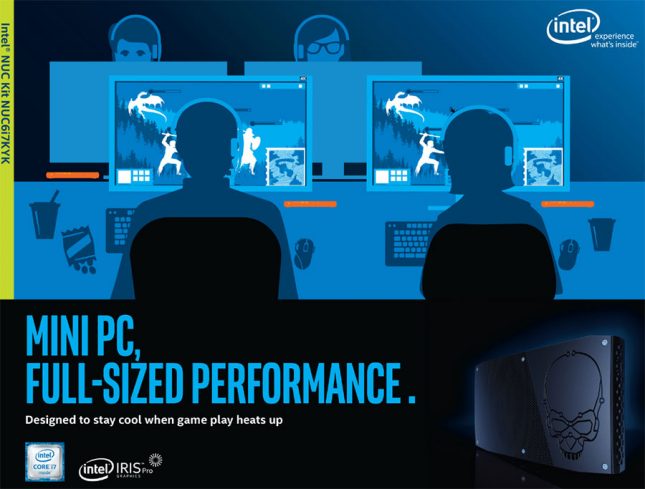 Intel is marketing the Intel NUC KIT NUC6i7KYK as having 'the features you need to unleash powerful game play' with 4K 60Hz display support thanks to a full-sized HDMI 2.0 port and Displayport 1.2 video outputs. The NUC6i7KYK also sports a Thunderbolt 3 port (USB Type C), so you have a 40Gbps connection available to run external graphics or something else that needs plenty of bandwidth down the road.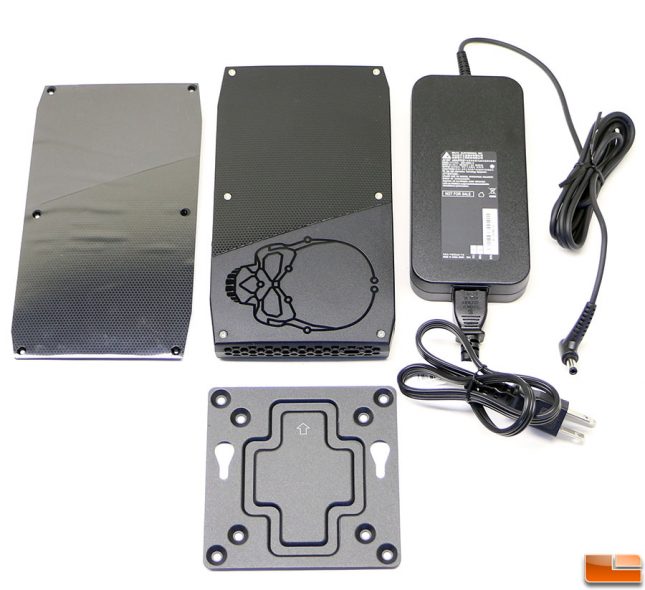 Like most all of the previous Intel NUC mini PC kits you'll need to add your own storage drive, memory kit and operating system of choice. Intel provides an embedded Intel Dual Band Wireless-AC 8260 combo adapter (802.11ac wireless card & Bluetooth 4.1) that has a max throughput rating of 867 Mbps, so you don't need to purchase a WiFi card. Since we are taking a look at the Intel NUC Kit NUC6i7KYK it meant that we had to use an M.2 PCIe SSD. We went with a Samsung SSD 950 Pro M.2 PCIe NVM Express 512GB drive ($317.00) for our storage needs. Kingston just recently launched new 32GB (2 x 16GB) HyperX Impact dual-channel DDR4 SO-DIMM memory kits, so we selected the HyperX Impact 32GB 2400MHz DDR4 CL14 SO-DIMM memory kit ($133.99 shipped) to complete the build. The total hardware cost for this setup would be $1086.76. At nearly $1,100 this turned out being a fairly expensive build and that is before any software costs are added up!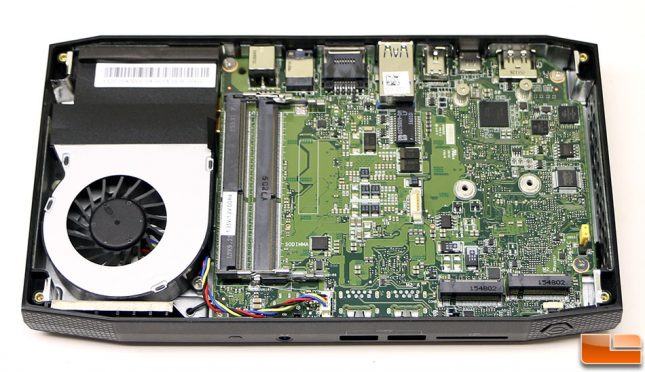 Building the NUC kit is simple as you just need a Philips screw driver to remove the bottom cover of the enclosure and then you pop in your DDR4 memory kit of choice into the open slots and screw in the M.2 SSD that you purchased. After that you need to download and install the latest UEFI and then install the operating system of your choice.
The BIOS/UEFI on the NUC6i7KYK is fairly robust and you can make as many alterations as any other NUC model that we've ever seen. We've included a gallery above to shows the main menu, performance options, where RAID is setup for the dual M.2 slots and the onboard devices menu. Note that if you want to install RAID you need to follow this setup procedure as you need to download and use both the Intel RST driver (RST_Win7_8.1_10_14.10.0.1016.zip) and the F6 Driver Diskettes (RST_f6floppy_Win7_8.1_10_64_14.10.0.1016.zip).
Our retail model NUC Kit NUC6i7KSYK came with BIOS version 0034 and we easily updated our unit to BIOS version 0035 (latest internal build) to ensure we had all the latest bug fixes and improvements for our testing. Intel offers five different ways to update the UEFI, so be sure to take a look here to find the latest UEFI version and the install via your preferred method.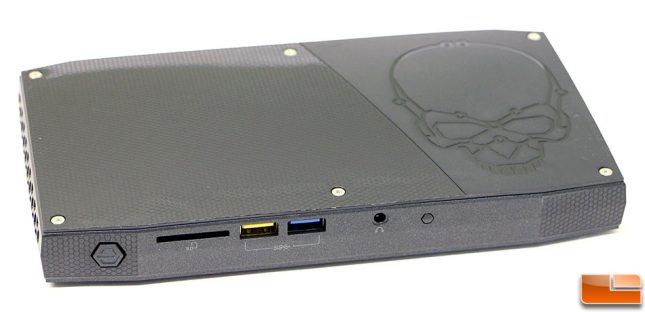 On the front panel you have the power button, two USB 3.0 ports (yellow port being able to charge devices even if the NUC is turned off), 3.5mm headphone/microphone combo jack and a IR receiver port on the front panel.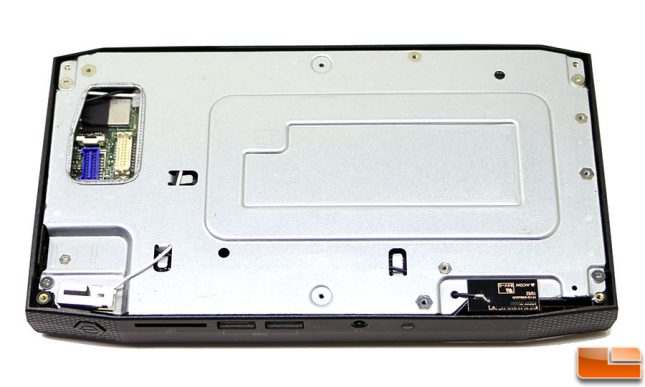 Intel includes two top covers and you can choose to install one with or without a skull on it. Intel is hopeful that someone will release custom lids if you'd like as companies like GORITE have offered replacement lids in the past that add two additional USB 3.0 ports. In the image above you can see the USB 3.0 header is accessible and ready for such an aftermarket product. This is the most USB 3.0 ports ever supported by any NUC model!

On the back of the NUC6i7KYK you have the power port, standard sized HDMI 1.4b port, 3.5mm headphone / TOSLINK connection, Gigabit LAN Ethernet jack, two USB 3.0 headers, DisplayPort 1.2 port, USB Type C (Thunderbolt 3) and full-sized HDMI 2.0 port.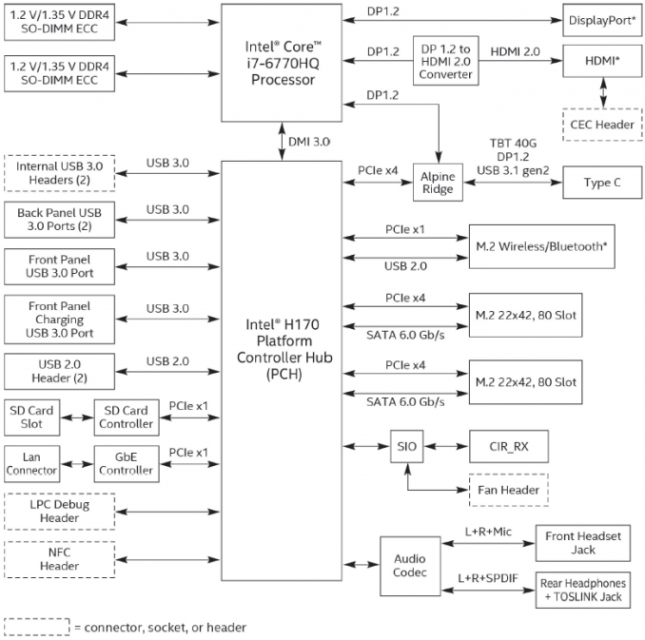 Here is a block diagram for how everything is connected to SoC on the NUC6i7KYK.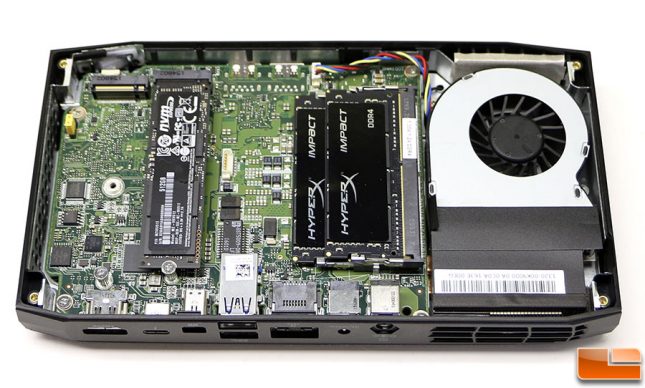 And of course a look at our completed build along with HWiNFO64. The latest version of HWiNFO64 doesn't yet support the Intel Core i7-6770HQ processor, but it correctly detects the Intel Iris Pro Graphics 580 processor.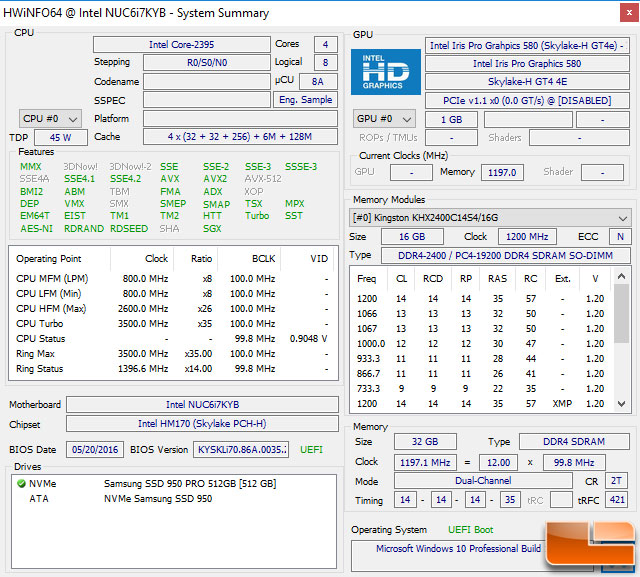 Now that we have a basic feel for the features and price of the NUC6i7KYK we can jump into benchmarking!