Intel NUC NUC6i5SYK Skylake Mini PC Review
By
Intel NUC NUC6i5SYK – Your Gaming Solution
The size of the PC market has been flat to decreasing in recent years, but Intel has always found ways to maintain solid profitability in their PC division. Right now Intel's strategy appears to be focusing on the growing 2 in 1s and PC gaming market, but there is also growth and profitability to be had with the Intel NUC mini PC lineup. Intel has recently released their 4th generation NUC code named 'Swift Canyon' that features the latest 6th Generation Intel Core 'SkyLake' series of processors. Intel has also moved over to DDR4 memory for the very first time with this series, but if you wanted to see a Thunderbolt part on a Core i3 or a Core i5 NUC model you'll have to keep on waiting.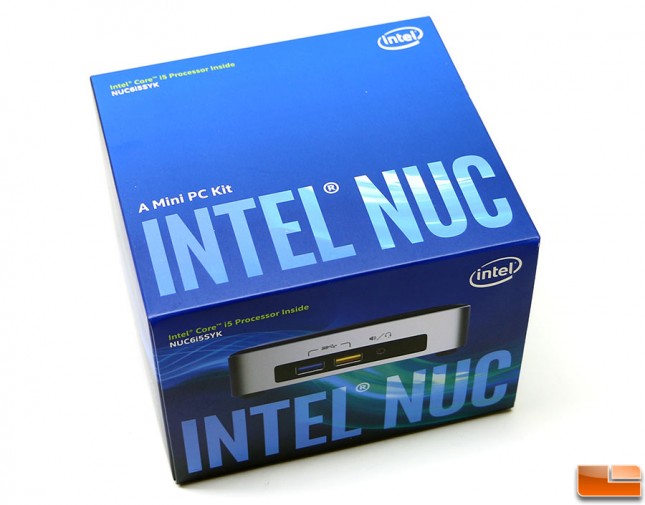 The Skylake powered NUCs have been around for several months now, but we just recently got our hands on one and have been able to take it out for a test drive. The NUC Kit NUC6i5SYK / NUC6i5SYH are the mainstream Intel Core i5 powered models that we'll be looking at closer today. The units have the same internal components, but the NUC6i5SYK ($376.99) comes with an enclosure that doesn't support the room required for a 2.5″ storage drive while the NUC6i5SYH ($356.99) comes with a taller enclosure and cables that does support a 2.5″ drive. Both models feature the same hardware inside and have the same level of performance. The processor Intel is using on these models would be the 6th generation Intel Core i5-6260U processor with Intel Iris graphics 540 that has 64MB of eDRAM. This model has much improved graphics thanks to the Intel Iris Graphics 540 and is arguably the most wanted new feature for this NUC generation.
Intel NUC6i5SYK Features
Intel Core i5-6260U 'Skylake' Processor, 1.8GHz Base/2.8GHz Turbo, dual-core, 15W TDP
Intel Iris Graphics 540 GPU, 48 EUs, 64 MB eDRAM cache (Skylake-U GT3e)
Two 260-pin slots for DDR4 2133MHz SO-DIMM memory, 1.2V, max. 32GB
Standard HDMI 1.4b port
Mini DisplayPort 1.2 port
Four USB 3.0 ports (2 on the front, 2 on the rear)
Intel I219V Gigabit Ethernet LAN adapter
Intel Wireless-AC 8260 WiFi adapter (802.11ac, dual-band, max. 867 Mbps, Bluetooth 4.1)
Support for M.2 SSD card (sizes 2242 and 2280) and one internal SATA III port
SD card reader (support SDXC cards and UHS-I)
Infrared sensor and 3.5mm audio jack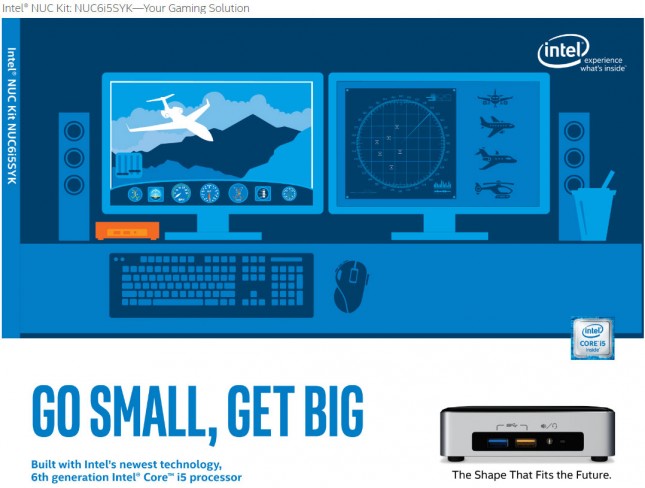 In fact, Intel is marketing the Intel NUC KIT NUC6i5SYK as 'Your Gaming Solution' with 'no add-in graphics card required for amazing 3D graphics performance'. Those are pretty bold claims, so we'll be putting more focus than usual on gaming in this NUC review.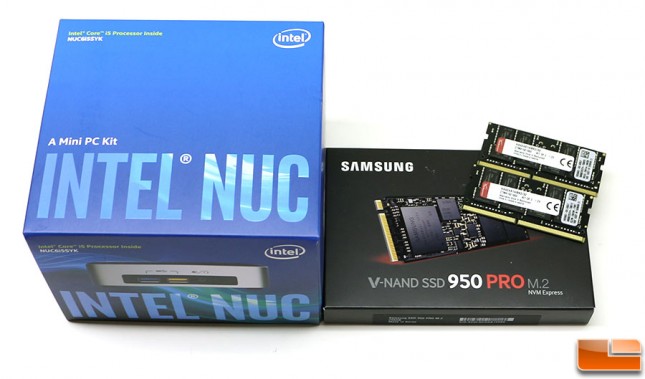 Like most all of the previous Intel NUC mini PC kits you'll need to add your own storage drive, memory kit and operating system of choice. Intel provides an embedded Intel Dual Band Wireless-AC 8260 combo adapter (802.11ac wireless card & Bluetooth 4.1) that has a max throughput rating of 867 Mbps, so you don't need to purchase a WiFi card. Since we are taking a look at the Intel NUC Kit NUC6i5SYK it meant that we had to use an M.2 PCIe SSD. We went with a Samsung SSD 950 Pro M.2 PCIe NVM Express 512GB drive ($317.99) for our storage needs. Kingston just recently launched new 32GB (2 x 16GB) HyperX Impact dual-channel DDR4 SO-DIMM memory kits, so we selected the HyperX Impact 32GB 2400MHz DDR4 CL14 SO-DIMM memory kit ($172.07 shipped) to complete the build. We later learned that Intel has limited or locked memory overclocking on all Skylake mobile processors except Core i5 and Core i7 quad-core processors with a TDP of 45W or greater. We forgot about this when getting the parts for our NUC build, so save yourself a few bucks and get yourself the HyperX Impact DDR4 2133MHz dual channel kit in your choice of 8GB ($48.57), 16GB ($69.99) or 32GB ($169.99) capacities.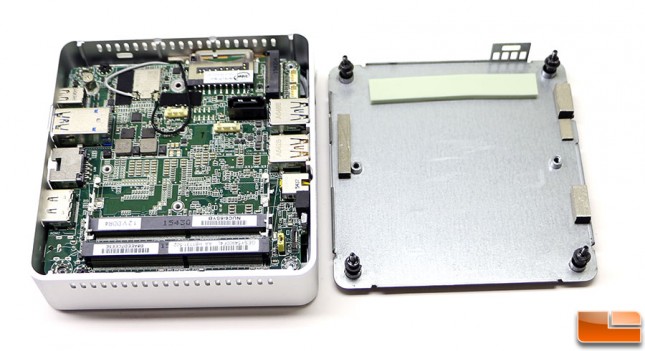 Building the NUC kit is simple as you just need a Philips screw driver to remove the bottom cover of the enclosure and then you pop in your DDR4 memory kit into the open slots and screw in the M.2 SSD that you purchased. After that you need to download and install the latest UEFI and then install the operating system of your choice.

There have been four BIOS/UEFI updates since the initial production version was released, so chances are you'll need an update and we suggest performing one with the USB Flash drive method before installing the OS. Our retail model NUC Kit NUC6i5SYK came with BIOS version 0028 and we quickly updated that to BIOS version 0042 (latest) to ensure we had all the latest bug fixes and improvements. Intel offers five different ways to update the UEFI, so be sure to take a look here to find the latest UEFI version and the install method you prefer.
There are two USB 3.0 ports on the front with the yellow port being able to charge devices even if the NUC is turned off. You also have a 3.5mm headphone/microphone combo jack and a IR receiver port on the front panel. The power button is up top along with the hard drive activity light. You can replace this top cover with custom lids if you'd like. A company called GORITE sells different color lids for $9.75 and you can also expand the NUCs USB ports by adding a $19.75 cover that adds two additional USB 2.0 ports.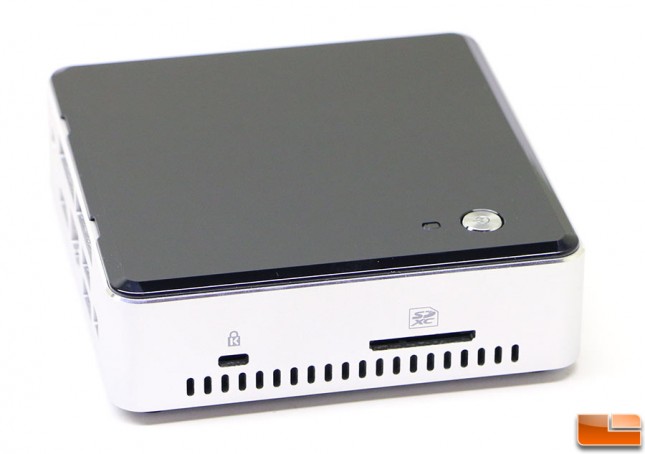 On the side of NUC there is a full sized SDXC memory card slot and a Kensington lock.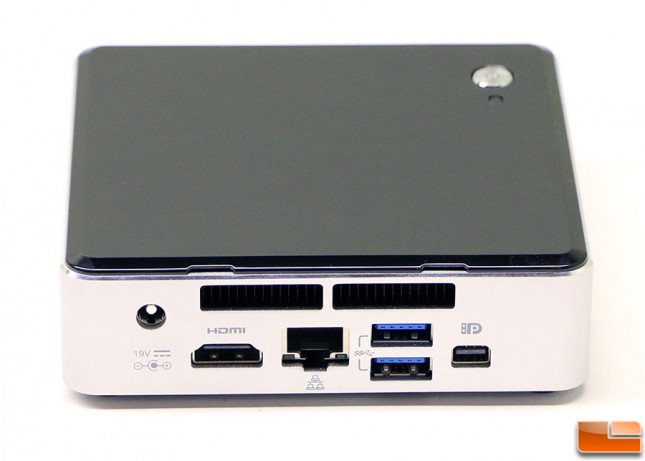 On the back of the NUC6i5SYK you have the power port, standard sized HDMI 1.4b port, Gigabit LAN Ethernet jack, two USB 3.0 headers and finally the DisplayPort 1.2 port for 4K panel support. It would have been nice to see Thunderbolt 3 or USB Type-C support on this model, but it looks like Intel is reserving those features for their highest end model, the NUC6I7KYK.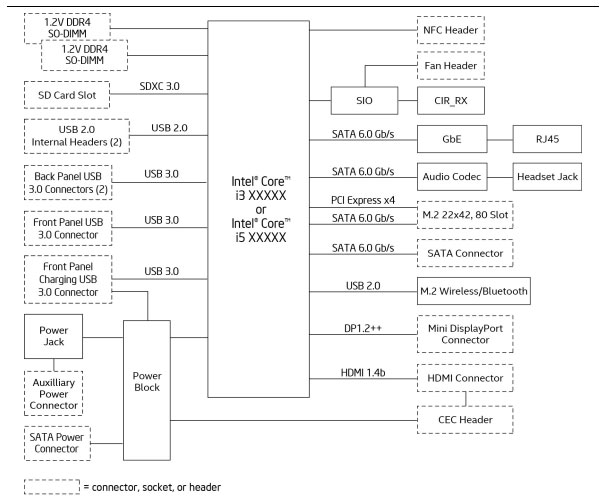 Here is a block diagram for how everything is connected to SoC on the NUC6i5SYK.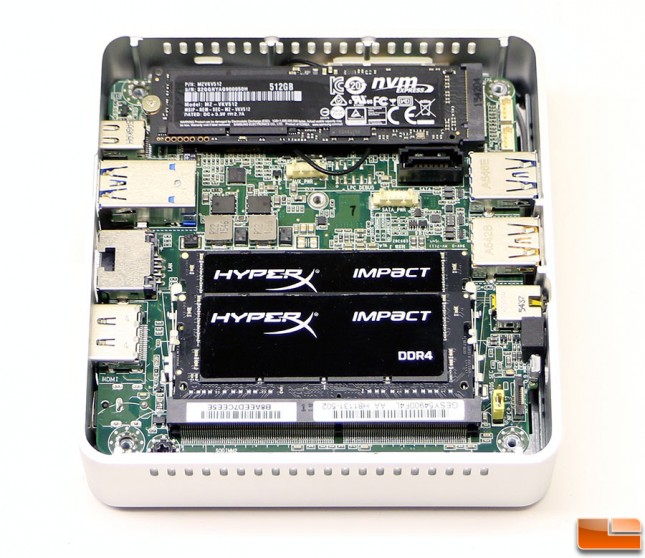 And of course a look at our completed build!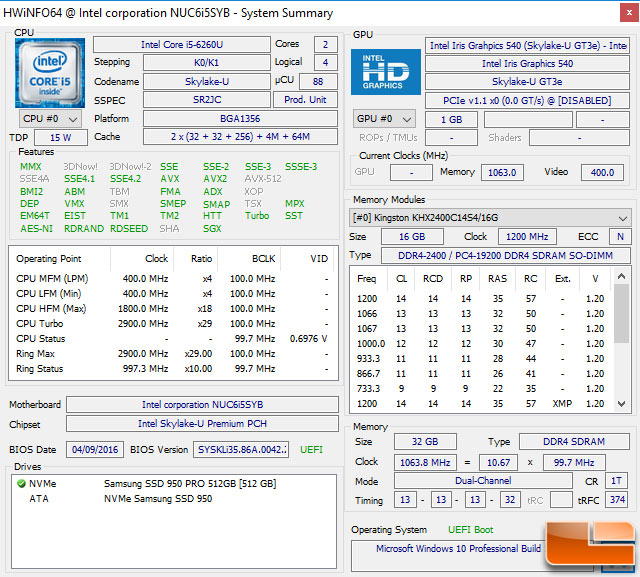 Now that we have a basic feel for the features and price of the NUC6I5SYK we can jump into benchmarking!